We saw the first glimpse of Ubuntu OS for phones not on an official Ubuntu device but on an Android phone, the Nexus 4. Later, it was ported to a range of Android devices and many of our devs are still working on porting it to more devices. Fortunately, I had had the opportunity to taste the flavor of Ubuntu on my Galaxy S3 a couple of months ago. This new operating system for smartphones really looks beautiful and intuitive but it has its limitations, at least it its ported state.
The first Ubuntu phone, named Edge, has already been announced and will come to those who have already ordered it in the upcoming months. Anyway, the very thought of Ubuntu Touch for mobile brings the well familiar clean and attractive lockscreen. If you have ever looked at that lockscreen with animated rotary shape with glow around it with desire, it has finally been fulfilled by XDA member Rotary Heart who has come with a lockscreen replacement app that closely imitates the look and feel of the Ubuntu Touch lockscreen.
Actually, the app was released about a week ago and I was to publish this post on the same day it arrived but server related issues with the site withheld me from doing that. The Ubuntu Lockscreen for Android  is a cool options for Ubuntu lovers and users who keep seeking for some novelty on their device.
Ubuntu Lockscreen for Android has an extensive set of options for customization that let you toggle the the app ON or OFF and set time for enabling the LS when the screen goes off. Besides, you can choose between fullscreen mode or LS with the status bar showing on the top, assign a default home launcher for the app, enable or disable lock screen notification for battery, alarm, unread text message and missed calls. The app also allows you set preferred apps for viewing SMS and calls.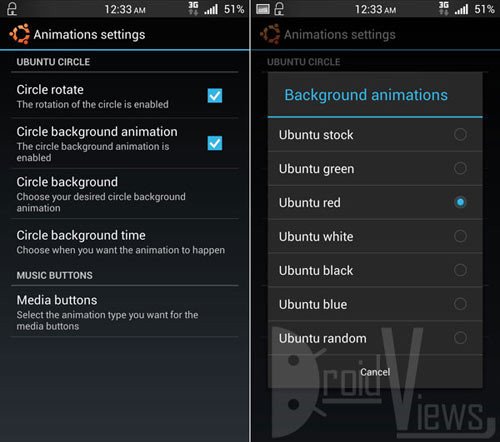 Of course, there are other features too for customizing animation and circle colors and adding a music control buttons that can be made to appear or disappear simply by tapping on any part of the screen. The app also takes care of security issues by letting you set a password before you can unlock the device. However, there are a few things that Ubuntu Lockscreen lacks. The most noticeable feature that the apps falls short is the inability to change the lockscreen background, otherwise it is just awesome! And yes, unlocking the device with Ubuntu Lockscreen  enabled requires swiping finger from right edge of the screen to left.