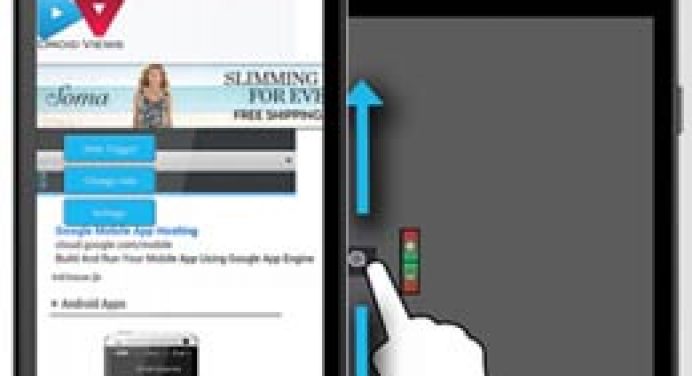 Smartphones with big displays are great for watching videos and surfing the web but when it comes to operating them with a single hand, it might sometimes feel irritating. If you have a phone with about 4-inch screen or less, you can reach any part of the screen. However, there are still some features that you simply can't use without having to use both your hands.
While most Android devices allow zooming  images or browser windows by double tapping  the screen with a single finger, it might still not prove sufficient where you desire a specific level of zoom on your device.
The pinch-to-zoom is a very intuitive and intelligent way of zooming the screen of a phone or tablet device but it still requires the involvement of two fingers. It is said to have invented by a computer scientist named Myron Krueger in 1983 and was later used for the first time on screen-based multi-touch music device by Bob Moog and Hugh Le Caine in 2005. The first example of pinch-to-zoom technology on a smartphone was demoed on the iPhone by Steve Jobs in 2007. As for Android, it got the pinch-to-zoom for the first time (in 2010) with the release of Nexus One which came with Android 2.1 Eclair. This zoom feature then worked only on apps like Gallery, Browser and Maps.
We love zooming screens with 2 fingers because it feels nice and allows scaling things just to the level we want. However, there are times when one might not have both hands free to play on one's phone. What would you do if you have to zoom the screen with a single hands? The answer lies in a new app for Android devices that is aptly called Assistive Zoom.
Taking advantage of root access, Assistive Zoom makes a system wide modification to enable a single-finger zoom function that works pretty much like pinch-to-zoom. It works on any app screen that supports pinch-to-zoom. It works on any pinch to zoom enabled window. All you need to do is to start the app after installing it and then tap the floating button at the screen's edge and swipe your finger up or down to zoom in or out.
Assistive Zoom works on any rooted Android device from Froyo (2.2) to latest Jelly Bean (4.2) with root privileges. It's a tidy app with rich options for customization. You can control things like zoom speed, trigger/button style, size and transparency.
I tested this cool app on on my rooted HTC One and discovered some new features not mentioned even on the Google Play app page. Besides zooming in on out on apps and windows that support pinch-to-zoom, Assistive Zoom also also lets you scroll through the a list. It worked great in call-logs and contacts.
If you got root on your Android device, must give it a shot. The app is still in beta stage and we look forward to some better graphical changes to it.