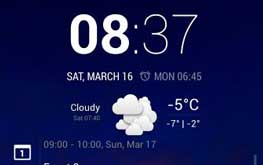 CyanogenMod, the most popular aftermarket ROM for Android devices, does not need any introduction to the active users of the greatest OS for mobile devices. The ROM is available for almost all Android devices and it is because of the CM developers that even low range and older devices that do not get the latest version of Android from the OEMs, are blessed with it.
CyanogenMod has always been known for its speed and performance and when it comes to visual aspects, there is one more thing that it is known for! Yes, you guessed it right— the Chronus widget that has now been renamed as cLock Widget. If you want to stick with the stock ROM or have been using a non-CM based custom ROM, you can still have that beautiful clock weather widget on the lock and home screens of your Android device. The credit for bringing this widget to other devices on Android 4.2 or above goes to XDA member DvTonder, who also happens to be CyanogenMod UI and Experience Team Developer.
The new cLock widget is inclusive in nature as it packs various things into one. It shows time, weather and calendar event information in a beautiful, neat and minimal style that is captivating. There is nothing new about this app as some of you might already be using it for quite a while. The developer has recently updated the app to version 2.2.6, introducing some bug fixes and new features.
Features
Here are some of the features of the cLock widget from CyanogenMod ROM:
Can be added to the home or lock screen both
Analog or Digital clock modes
Shows Alarms
Change font bold/normal in digital clock, date and alarm
Color or monochrome weather icons
Supports minimized weather widget
Calendar panel with a scrollable list of upcoming events
Tapping event opens calendar at selected event and tapping calendar icon the current date
Supports font color change for all text
Configure widget when adding or from the cLock app in the app drawer
Allows highlighting upcoming calendar events
Download the app file from below and copy to your device, then install it as any normal Apk file.