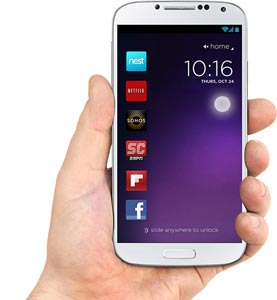 We have always stressed that being an open source operating system is one of the strongest holds of Android. It makes its source code available to individual developers who, taking advantage of things, make awesome apps with features alien to the users of other mobile platforms like iOS, Windows Phone, etc. As opposed to the restricted and controlled environment of other OSs, Android encourages people to give a fly to to their imagination and realize things easily. It's a country of the free!
The app that we are going to review today is just another example of how much flexibility Android might provide to an app developer! Thinking of an app like this cannot be entertained on iOS at all. This new app is called  Cover Lock Screen. Though the app is in a beta state currently, it's based on an exciting idea and therefore it is very promising too. Cover Lock Screen is available for download at the Google Play Store but only the users of United States, Canada and Europe with a device at least Android 4.1 or greater version of the OS.
Cover is a just a simple lockscreen replacement app for Android devices but what makes it so special is its very ability of being intelligent enough to learn the pattern of how and when you use a specific app. The app then populates your phone or tablet's lockscreen with apps that you might most likely tend to use in a certain location or context. According to the developer—
Cover automatically recognizes when you're at home, work, or in the car and learns which apps you use most in each context. So when you're in the car, maps are right there. At work, your calendar and documents are at your fingertips. You can set a custom ringer volume and wallpaper for each location.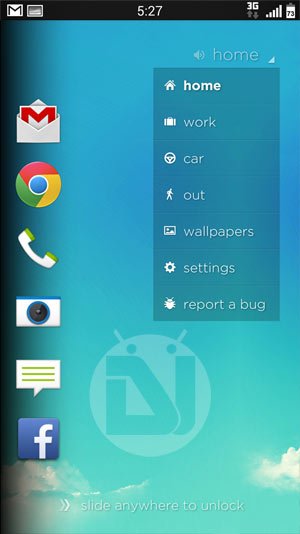 There is nothing new in having shortcuts and widgets on an Android lockscreen, but to be able to have the right apps at the right moment is a fantastic idea. The app uses GPS to detect your work, home or traveling location and keeps updating the list of shortcuts based on that location and frequency with which you use an app. In this way, user's behavior and location lie at the very core of Cover.
Cover is a commendable not just for presenting relevant apps at your disposal. By sliding your finger over an app icon, you will get a peek into that app right from your lockscreen. Here are two screenshots to give you a fair idea:
Cover has a clean design and it leaves a fair impression with its smooth and quick performance. It is a brilliant replacement for your device's stock lockscreen. We highly recommend this new rising star to all our users. You can download Cover for free from the Play Store. Those who are not from the US, Canada or Europe, can download the unsupported version of the app in the form of an APK and install it.