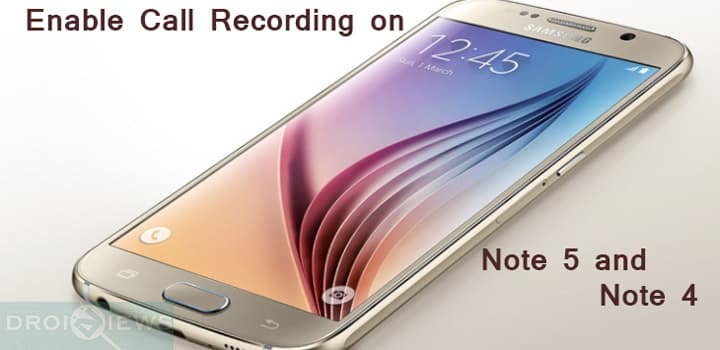 The Galaxy Note 5 is the latest flagship phone from the Samsung and is a much talked about phone in the market for its unbeatable specifications. The stock firmware features loads of  functionalities found in most of the Samsung devices. However, the manufacturer missed out on one thing and that is, the call recording feature.
Samsung along with other manufacturers don't usually provide the call recorder in their stock firmware; either it is absent or hidden. You either need to manually make changes to the system files or enable it from there. To solve this and make your work easy, here is a simple application that will enable the call recording feature on Samsung Galaxy Note 5 and Note 4.
A recognized developer at XDA has developed an Android application that will replace the add call (+) button with record button. This won't just replace it but also enable the call recording feature on Note 5 and 4. Moreover, this app has no control over recording nor does it record calls itself. This tool simply enables Samsung's hidden call recorder.
The apk file is different for the two Galaxy Note devices. So be careful when you install them and verify the files. The app has been tested on Note 5's N920I variant and Note 4's N910*/ N915* variants, that means most of the variants of Note 4. Users with other variants can try at their own risks.
To enable call recording, all you need is a rooted Note device and the "Enable native Call Recorder" apk file from the download section. Install the application onto your phone. Once you install the apk file, open it and grant root access with SuperSU when prompted. Within the app, tap the "enable call recorder" and restart the phone. Now you will be able to access the call recorder during calls. You can also uninstall the app once enabled.
Download Section
Download | Native Call Record for Note 5
Download | Native Call Record for Note 4