In general, both new Apple users and those who migrate from the Android ecosystem, both rely on the iTunes software for their file management, backup, and other needs. While it is arguably a good product to help you in simplifying the above-mentioned processes, it is not the best and it certainly lacks some essential features.
So, if you are to shift from an Android phone to an iPhone or an iPad, then you would definitely be looking for a simple solution to help you in making the migration process easier and as quick as possible. If that is the case, then forget iTunes, you should be using AnyTrans, which is currently one of the best software out there to assist Android users jumping to the Apple ecosystem.
It provides the users with essential features like transferring all your files from your Android device to the iOS device, seamlessly synchronizing all your data to the iCloud, backing up all your precious data in a safe place and much more. AnyTrans works both on all popular versions of Windows and MacOS making it the best possible choice for all kinds of users.
Apart from newly migrating users, already existing Apple users are also looking for a better iTunes alternative. This is mainly because iTunes imposes a lot of restrictions in terms of file transfer and it practically occupies a lot of your storage and your RAM which makes it a bad choice for people with older computers or computers with slower processors. To ensure that you make the right decision, we will be reviewing the AnyTrans product with the list of all its pros and cons, the features and the usability.
AnyTrans Review
AnyTrans is a PC software which aims to be the best possible alternative to Apple's popular iTunes Software and it manages to achieve it in many aspects. It could be used for transferring files to and from your iPhone, iPad, iPod and your PC or Mac. The latest beta version of AnyTrans also supports transferring files from your Android device to your iOS device through a feature called iOS mover.
The software supports transfer and management of all kinds of files including, Audio, video, images, voicemails, messages and even the bookmarks and passwords present in the Safari browser of your iOS device. You can also create and manage backups of your iOS device using AnyTrans and connect it with your iCloud account to access all of your online files and even download them for offline usage.
Must read: How to Control Android Devices with Text Messages
The full version of AnyTrans costs about $39.99 but you can download the trial version and try it out for a week before making the decision to purchase the full version. However, the trial version only supports a maximum of 50 file transfers a day. The interface of AnyTrans is quite simple and has been designed in such a way that even a new user who is not familiar with the Apple ecosystem could use it with ease.
Pros
Support for transfer of a lot of file formats
Automatic conversion of incompatible files
Compatible with all major versions of Windows and Mac
Time taken for file transfer is less
Attractive and Interactive UI with support for themes
Cons
Cancellation During Loading or Transfer is not possible
The Trial period has very limited usage
CPU and RAM Consumption could get high sometimes
Features of AnyTrans
iOS Mover
One of the most useful and essential features of AnyTrans is the recently introduced iOS Mover. Since an alarmingly high amount of users are transferring from Android to iOS these days, the iOS mover feature might seem extremely useful to these people. The feature could help you to move all the files from your old Android device to your iOS device. You could also backup these files to your iCloud account and access them from any iOS device you own without having to manually transfer every time. The good thing is, the iOS Mover feature is completely free to use for all users and so you don't actually need a license code to use it.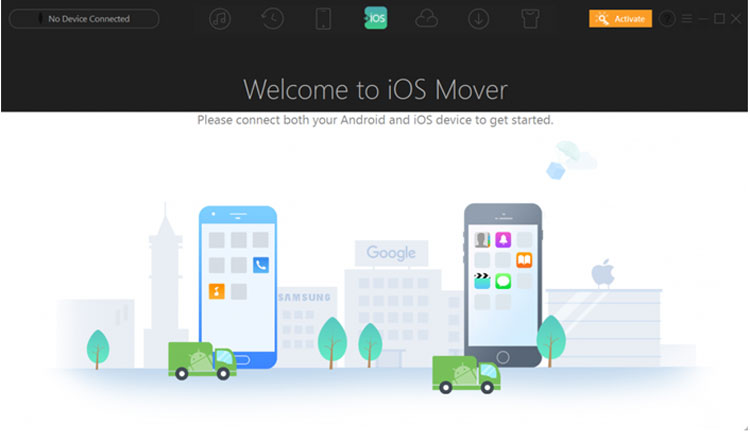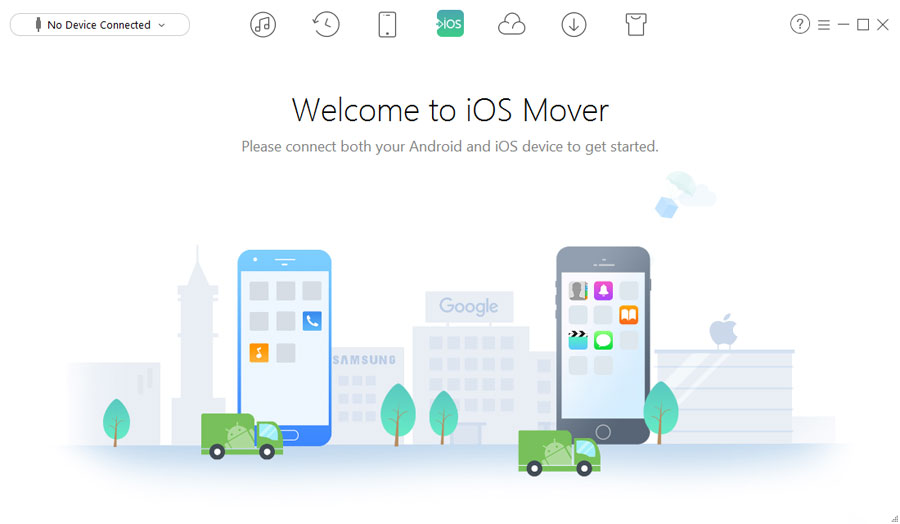 To make use of this new iOS mover feature, you have to connect both your old Android device and the new iOS device to your PC. AnyTrans will now automatically detect the connected devices and will display you all the files present on the device. You can now choose to either transfer all the files from your Android to your iOS device or choose only the most important ones you need.
iTunes Management
The iTunes library tab present in the AnyTrans software, allows you to manage all kinds of files that you have stored in your iTunes library. You can copy or move them to your computer, delete them, open them and even copy new files from your computer to your iOS device. The software also supports transferring of multiple files at once which is much faster and practical than selecting individual files.
Backup And Restore
As already mentioned, AnyTrans allows you to backup all types of files from your iOS device, including music, videos, pictures, contacts, messages, browser history, and passwords. All these data will be stored on your PC hard drive and you could access or restore them anytime you want. The restoring process is quite simple and could be used if you ever format your device.
iCloud Integration
Another useful feature in AnyTrans is the iCloud integration. You could just open the iCloud Manager tab from the home page and then sign into your cloud account using your Apple ID and password. Once you log into your iCloud account, you can now export any type of content you want from the cloud to your PC hard drive for instant offline access. The content includes contacts, photos, videos, and reminders.
Download Videos
The Media downloader tab in AnyTrans is kind of an added bonus, where you can download any kind of video from the web and the software will automatically convert it to the supported format to play on your device. You could either choose to save the downloaded file to a location on your PC or directly download it to your iOS device. AnyTrans automatically recognizes when you copy a downloadable link and then pastes it on the URL bar for you.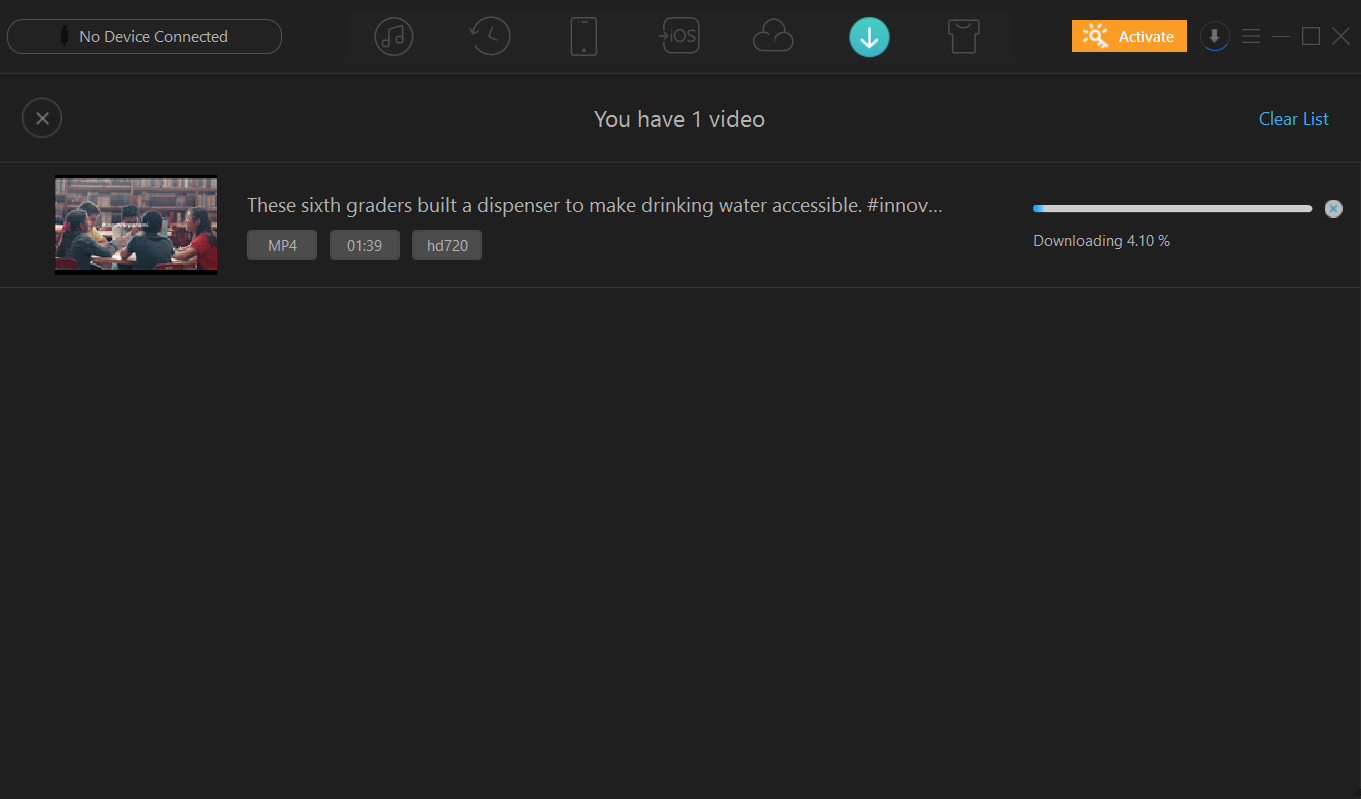 Download and Installation of AnyTrans
Step 1:
The installation process of AnyTrans is pretty simple and it takes only a few minutes based on the speed of your internet.
Step 2:
Click here to download the latest trial version of AnyTrans to your PC running Windows or MacOS. You can also purchase the full version from here. If you want to learn more about the software, then head over to this link.
Step 3:
Once downloaded, just open the setup file and choose the location to install and within a few seconds, the installation process will be completed.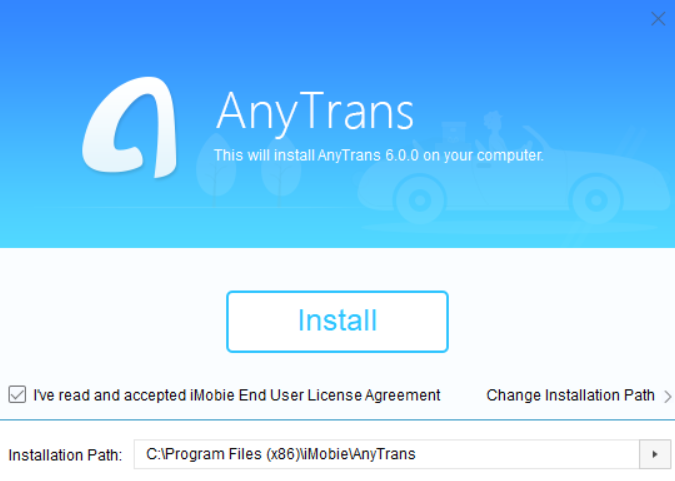 Step 4:
You can now connect your iOS device to your computer using the USB cable.
Step 5:
The AnyTrans software will automatically detect your iOS device and you can now proceed to perform your preferred action by selecting the appropriate tab.
Also read: How to Enable Hidden Internal Settings on Facebook & Messenger Apps
Final Thoughts
On the whole, AnyTrans could possibly be the only software you need for all your transfer and management needs of your iOS devices. It has the potential to be the perfect alternative to Apple's iTunes and has some really useful features like iOS mover and iCloud integration. If you are willing to spend some money, then look no further than AnyTrans.