Welcome to the fifth round up of DroidViews Weekly. There are tons of apps and games in the Google Play Store and hundreds are added everyday. Although we, at DroidViews, try our best to cover all the amazing apps and games on daily basis, we cannot review each and everyone of them.
That's why we have started this new section where we will share with you 10 new/old/recently updated less known apps and games which we find useful and fun but were not able to share with you earlier. This will be a weekly round up.
1. Material Islands
This is a live wallpaper with focus on minimalism, material design, and beautiful shapes and colors. Simple figures and forms are combined in order to create islands of different kinds, and each island changes appearance according to the time of the day.
2. Instadict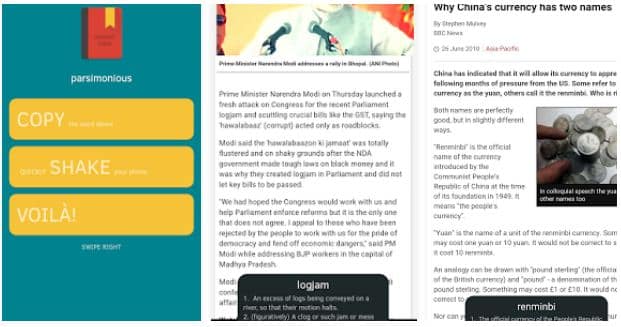 Instadict lets you view a word's meaning anywhere! Just copy the word and shake your device horizontally to get it's meaning. No need to interrupt what you're doing. It can also work offline given you have the dictionary pack.
3. FlatCons White Icon Pack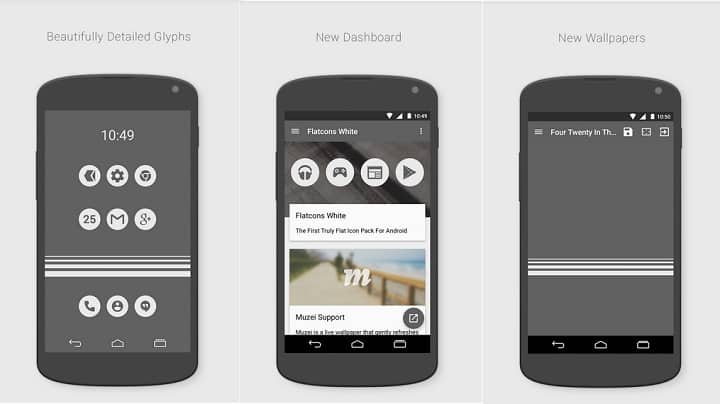 Flatcons include 1300+ white rounded icons which look beautiful with black-gery colored custom wallpapers that it offers. It also supports Muzei wallpaper and comes with an analog clock widget.
4. Gravity Beats
Gravity Beats is an action-puzzle game where you control a space shuttle. Your mission is to collect discs from pink platform and bring it back to yellow platform. Controls are simple and it can be played with just a few touches.
5. Studystorm
Studystorm includes a huge collection of study tutorial videos for subjects like maths, science, English, etc.
6. Interlocked
Interlocked is an amazing puzzle game that can easily test you to your limits. Each level, you're given a unique and beautiful 3D puzzle consisting of blocks that hold each other together.
7. Ink Space
Ink Space is a small experimental drawing tool which uses the accelerometer on your android device to move the drawings you make in 3d. The project itself it fairly straight forward you can draw, move the phone by tilting in different directions, adjust line that you are drawing, create an animated line which pulses and re-draws itself and record an animated GIF of whatever you make.
8. Simplenote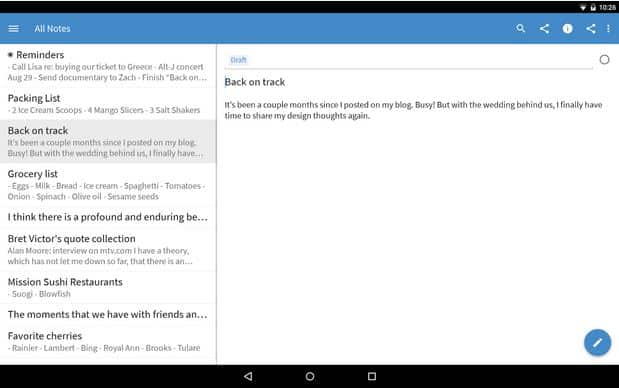 Simplenote is an easy way to keep notes, lists, ideas and more. Your notes stay in sync with all of your devices for free.The Simplenote experience is all about speed and efficiency. Open it, write some thoughts, and you're done. As your collection of notes grows, you can search them instantly and keep them organized with tags and pins.
9. Sloth Launcher
Get quick access to your apps, shortcuts and quick-toggles just when you need them. Create multiple scenarios by using different trigger which will ensure that your apps are only available when needed.
10. Screebl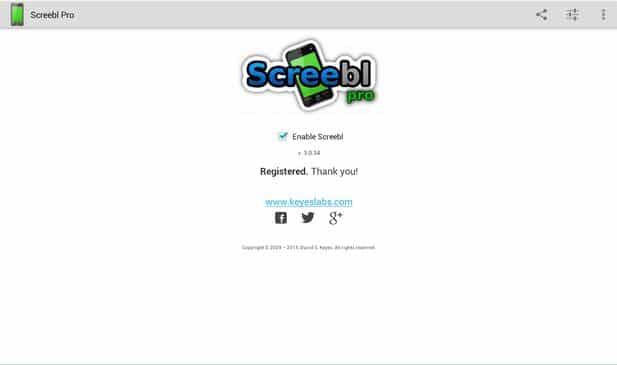 Screebl is an application that controls your screen based on orientation. Screebl works based on a simple observation: we generally hold our phones or tablets in roughly the same positions when we're using them. Screebl uses the accelerometer in your mobile device to detect how you're holding your phone, and when your device is within a configurable range, the screen is kept on. Move out of that range, and Screebl releases the lock and the screen is allowed to go off.