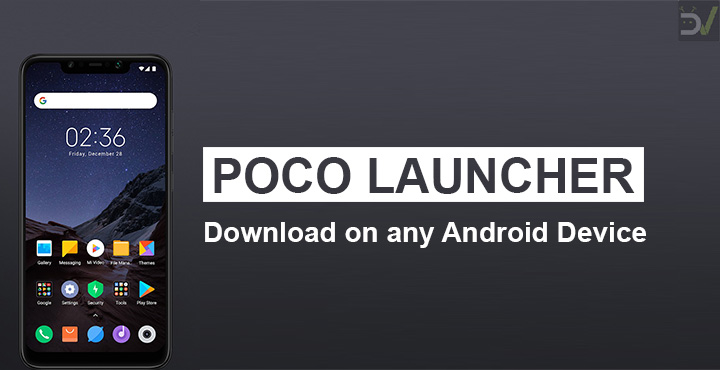 Xiaomi recently launched a new sub-brand along with the aggressively priced Poco F1 smartphone. The Poco F1 does not run on MIUI or stock Android but a customized version of MIUI. Xiaomi calls this MIUI for Poco which is optimized for speed and has quite a few changes. The very first of these that one will notice is the Poco Launcher which has an app drawer, unlike the MIUI launcher.
Just the simple addition of an app drawer means the Poco Launcher looks sleeker and less bloated than its MIUI counterpart. Naturally, it has earned a lot of praise from the enthusiasts. In fact, Xiaomi is so proud of its launcher that the company is working to make it available for all Android devices. Xiaomi is testing Poco Launcher in a limited beta program on the Google Play Store.
Install Poco Launcher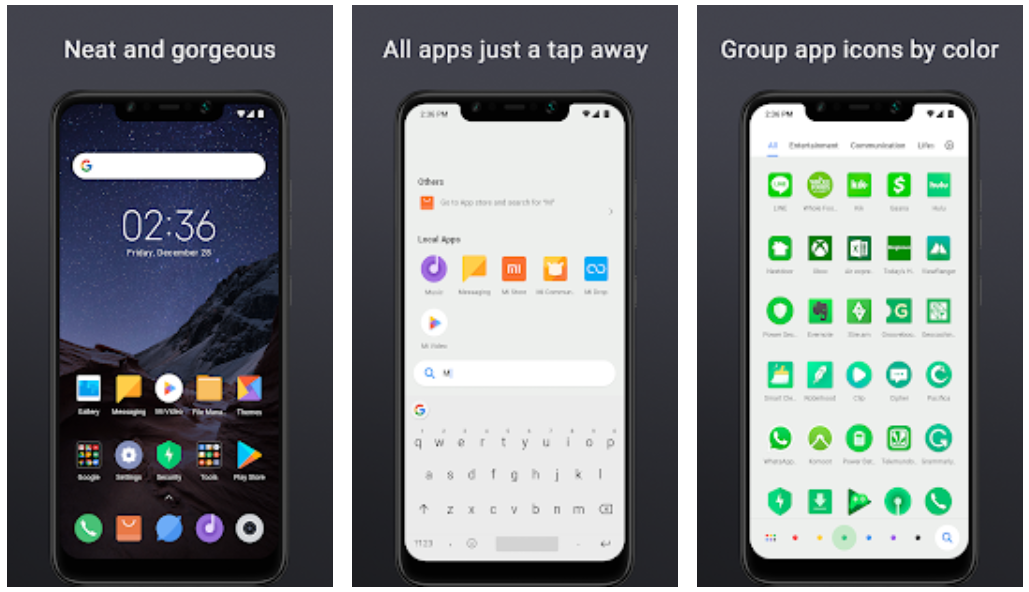 As mentioned, the Poco Launcher is in a closed beta so it is quite likely that it doesn't yet support your device. Even if it does, the beta program might be full and until Xiaomi opens it up to more people you can't install it from the Play Store.
No need to be disappointed though because you can still install the APK from a third-party source such as APKMirror. It's a trusted website for millions of users so we're pretty sure you'd be safe downloading your APKs from there. As of this writing, the latest version on the website is POCO Launcher 2.6.0.3 beta.
Don't miss: Lean Launcher Offers a More Customizable Pixel Launcher Experience
Features
Clean Home screen – POCO puts all apps in the App drawer, so your Home screen looks neat and clean.
Convenient search – App recommendations, icon color categories, and lots of other customizable features allow you to find what you need much faster.
Manage apps – Group apps by category automatically or create custom groups to always keep important things just a tap away.
Customize icons – Use third party icon packs to give your Home screen a truly unique look.
Privacy protection – Keep your apps private by hiding their icons.
Fast and smooth – POCO Launcher is born for breakneck speeds. Forget about slow system animations!
Look and Feel
Over the years Xiaomi has earned a reputation for itself. It makes great products at affordable pricing. However, simplicity hasn't been something the company has ever been known for. In contrast, the Poco Launcher is exactly that. It's pretty simple but it is also well polished like Xiaomi's MIUI skin or any of the company's affordable products.
When you launch it for the first time, it runs you through an initial setup and asks you to allow it the permission to access notifications and storage. You also get to choose whether you want to keep your current wallpaper or use the one included with the launcher. It's the same wallpaper you see in the screenshot above. Although if you do choose to keep the current wallpaper, your wallpaper still gets changed to something the launcher thinks is your wallpaper. This could probably be a bug considering this is still in beta.
When you do get to the home screen, it is pretty uninspiring. It looks a lot like the OnePlus launcher which is perhaps the company Xiaomi is looking to compete against. Looking like the OnePlus launcher is not necessarily a bad thing though. It still has the MIUI style folders and it automatically guesses a name for the folder depending on the kind of apps inside. Poco Launcher does support icon packs but you cannot change icons for individual apps yet. It may look like OnePlus Launcher but it's in a pretty nascent stage.
App Drawer
The inclusion of an app drawer on a launcher by Xiaomi is probably why the Poco Launcher has been making headlines. The home screen may look uninspiring but it is the app drawer where Xiaomi sprinkles a bit of its MI magic dust. The search bar is at the bottom of the app drawer which is great. It's quite the opposite of Pixel Launcher which has a search bar at the bottom of the home screen but the top of the app drawer.
Must read: 5 Tips to Get the Most Out of Google Chrome
The app drawer is also divided into several categories. These are Communication, Entertainment, Photography, Tools, News & Reading, Shopping, Games, Lifestyle, Finance & Business, Personalization, and Knowledge & Education. Automatic categories that you cannot customize in any way have never worked great for anyone. They're confusing and make finding things harder if not done right.
For instance, the presence of News & Reading and Knowledge & Education categories. I expect my Kindle or Google Play Books app to be in News & "Reading" but they're not. Then I find out there's another category which can be pretty much summed up under reading. The Sketch app from Sony should be under Photography but I have no Idea what it is doing under Knowledge & Education. These are subjective choices that will differ from user to user. Besides, it is much easier to search or scroll through a vertical app drawer both of which are possible on the Poco Launcher. So the launcher itself has rendered the categories pretty useless.
If you dive into Settings though you can turn on Group icons by color. This is something interesting and new. It categorizes your app icons based on the most prominent color from an icon. It's more helpful than the categories to be honest because usually, you do know which icon would go under which color. The implementation though isn't that great. Consider which color category you would put the Play Store icon in. Probably white. But that's not an option on the Poco Launcher for some reason.
Also, look at the Zee5 icon above. It's clearly black and there is a group of black icons but strangely Zee5 is in the green group. So, great idea but not so great in implementation.
Verdict
Let's start with the fact that it is still quite early for Poco Launcher. It may improve on things in time. It'll be surprised if the issues with app categories and color groups are fixed anytime soon but perhaps in a few months, they might be. If you're not that worried about customization though and just want a simple launcher but not a Pixel Launcher you can definitely give it a try. It's hard to think the Poco Launcher will convince anyone to move away from their favorite launchers though.
Related suggestion: DroidViews Best Android Launchers Recommendations