Huawei has been making really nice looking laptops for a few years now. The Huawei Matebook looks even more similar to Apple's MacBook that the name suggests. Huawei isn't shy about it either. The company recently announced a couple of new devices in its portfolio. Those are the Huawei Matebook  Matebook 14 and the Huawei Matebook X Pro 2019. The device comes with some new stock wallpapers and you can download the Huawei Matebook X Pro wallpapers in 4K resolution right here.
Huawei Matebook X Pro 2019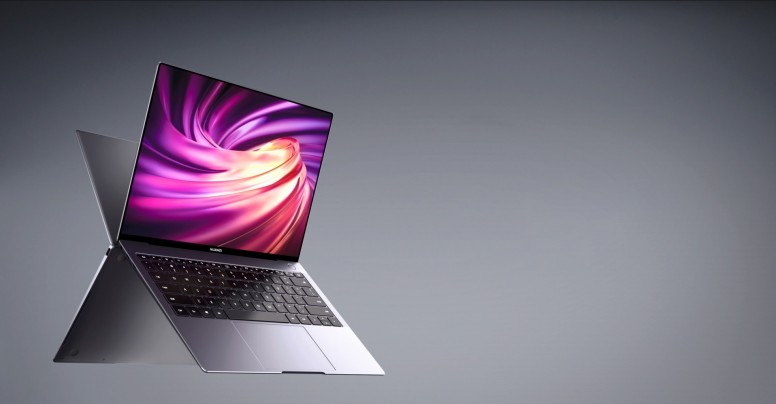 Before we get to the Huawei Matebook X Pro 2019 wallpapers, here are a few things about the laptop. If you wish you can skip the general knowledge session and head right for the wallpapers. The Huawei Matebook X Pro is a successor to the critically acclaimed Huawei Matebook X, launched in 2018. It's difficult to come up with a significantly better device within a span of one year when the previous device was already so good. Most of the changes in the Huawei Matebook X Pro are, therefore, not quite major.
The standout feature of the Huawei Matebook X Pro 2019, apart from the pop-up camera, is the 3:2 aspect ratio of the display. Yes, it still has that pop-up camera which looks cool but isn't ideal for video calls. The display aspect ratio is the same as what Microsoft uses on its surface line up of products. It is considered better for productivity given all the extra vertical space it provides.
The device features an all-metal unibody design and houses a quad-speaker set up. Quad speakers on high-end laptops are becoming more common but Huawei's offerings are Dolby Atmos tuned.
What's new
It manages to step up its game with even thinner display bezels, a quad-core i7 processor. The CPU isn't the only new thing about the device though. It also features a more powerful 25-watt GPU with Nvidia GeForce MX250. On the read, the Huawei logo loses the lotus symbol is now simply a text logo like Samsung's or Google's.
The included Thunderbolt 3 port now supports PCIe lanes and the device packs in NFC with Huawei Share 3.0 software. There's also a newer cooling solution that Huawei calls New Shark Fin 2.0.
Specs
Display
13.9 inches, 3000 x 2000, 260 PPI, Touch
Aspect ratio
3:2
Contrast
1500:1
Max Brightness
450 nits
Size
11.96 in × 8.54 in × 0.57″= in
Weight
Approx. 2.93 lb
CPU
8th Gen Intel Core i7 8565U
8th Gen Intel Core i5 8265U
GPU
Intel UHD Graphics 620
NVIDIA GeForce MX250 with 2GB GDDR5
Storage
256GB NVMe PCIe SSD
512GB NVMe PCIe SSD
1TB NVMe PCIe SSD
Memory
8GB LPDDR3 2133MHz
16GB LPDDR3 2133MHz
Ports
3.5 mm jack, Two USB-C, Thunderbolt, USB-A 3.0
Fingerprint sensor
Yes (Power button)
Camera
Front camera: 1MP
Audio
Dolby Atmos
Quad Digital Microphones, Quad Speakers
Battery
57.4Wh
Colors
Space Grey, Mystic Silver
Huawei Matebook X Pro 2019 Wallpapers
There are six wallpapers in the Huawei Matebook X Pro 2019 wallpapers. These have a resolution of 3000 pixels by 2000 pixels which, if it wasn't obvious, gives them a 3:2 aspect ratio, same as the Huawei Matebook X Pro's display. There are 6 high-quality wallpapers in the pack. The Matebook X Pro 2019 wallpapers featured below are just for preview. Please download
Download Matebook X Pro 2019 wallpapers
Huawei-Matebook-X-Pro-2019-Wallpapers.zip
Browse Our Huawei Wallpapers Collection
Recommended Wallpaper Packs