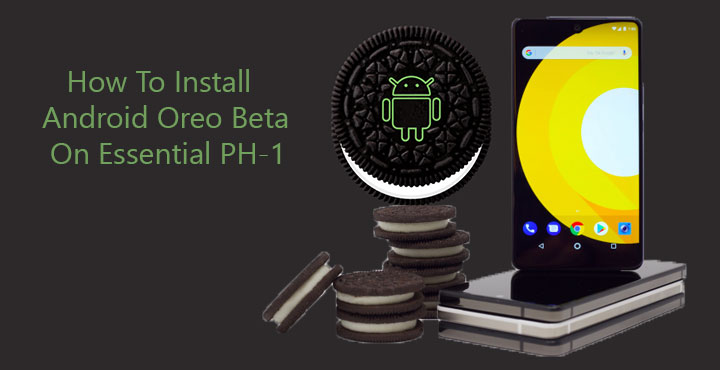 Andy Rubin's Essential Products didn't exactly have a dream start with their very first Essential PH-1. The Essential Phone suffers from many issues and even after being delayed over and over, it still seems like an unfinished product. To Essential's credit, the phone has received quite a lot of software updates in these past few months. Those updates and $200 price cut later, the Essential Phone does not seem like such a bad deal. But while some problems have been fixed while some still remain. The original Nougat firmware is apparently marred by performance issues and lags. If you've been disappointed by that too, you'd be glad to know that you can now install the Oreo beta update on your Essential PH-1.
Enrolling in the beta program does not require as many details as some other OEMs make mandatory. All you need to provide is your email address and then you can go right ahead and download the update. But before you excitedly go ahead there are a few things you should consider.
Note
A word from Essential:
The Oreo Beta is pre-release software that may contain software bugs. We welcome and encourage you to let us know about issues you experience via our online form; however, our support team will not be equipped to troubleshoot any software issues that you may encounter on the Oreo Beta. If you decide that you don't want to continue on the Oreo Beta, you can download and revert back to the latest production software build from the Current Builds section of this site. Downloading the Oreo Beta from us will not affect your Essential Limited Warranty rights, but may affect the terms of any third party warranty you may have.
Essential also advises that you should backup all your data beforehand, just in case things don't work out for you. Being a beta software as this Oreo update is, there are bound to be issues and so far, there are two known issues with the said beta update:
Increased Bluetooth battery drain.
Android Auto users may face issues with certain vehicles and head units.
Hopefully, the improvements in smoothness, usability, and camera quality should compensate for these issues.
Requirements
Essential PH-1 running on the latest stock firmware from Essential.
A Windows, Mac or Linux computer with ADB and Fastboot installed on it.
Enable USB Debugging on your phone.
Download Oreo Beta – Essential PH-1
To enroll in the Essential beta program and get the download link, go to their official beta builds page. Scroll down until you see a text field labeled Email Address*. Enter your email address here and then click Agree. Opting in to receive developer updates in not necessary to receive the download link.
On the next page, click on the download link and you'll be able to download the PH1-OTA-OPM1.170911.130.zip file. The file size is 995.56MB so make sure you are on a Wi-Fi connection. Alternatively, you can just click on the download link below to download the firmware but we're not sure whether that will work without first providing your email to Essential. It should, in theory.
How to Install Android Oreo Beta on Essential PH-1
Launch adb on your PC. Mac and Linux users can do this by launching the terminal. Windows users can follow the steps detailed at the bottom of this guide.
Connect your phone to the PC with a USB cable and Allow USB Debugging if asked.
Boot your phone into recovery mode using the following adb command.

adb reboot recovery

In the recovery mode, hold the Power button, then press the Volume Up button one time.
When the menu appears, select Apply update from ADB.
Now enter the command below and make sure the word sideload appears next to the name of your device in the command window.

adb devices

Sideload the update zip to your phone using this command.

adb sideload 

<path to>

PH1-OTA-OPM1.170911.130.zip

Where <path to> (text in green) is the path to the downloaded PH1-OTA-OPM1.170911.130.zip file. For instance, if you placed the file on your desktop on a Windows PC, the command you enter should be:

adb sideload C:\Users\username\Desktop\PH1-OTA-OPM1.170911.130.zip

Once the update is complete, select Reboot system now to reboot your phone.
The update may take a little while to get installed and so may the first boot after the update.