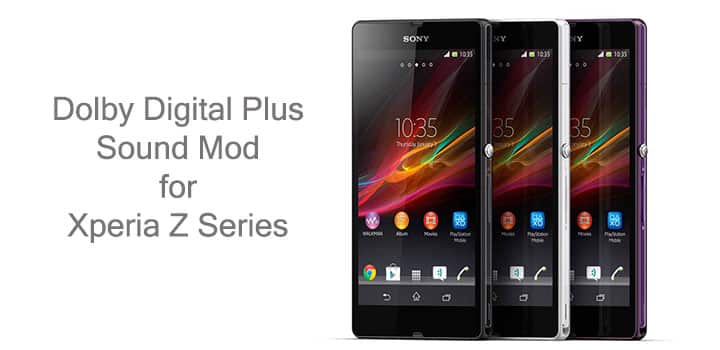 Dolby and Beats brings the best sound to your device. If you are a music fanatic, then you know the difference between normal and Dolby sounds. Not all devices get the privilege to enjoy these sounds. However, developers and maintainers port such sound mods to their devices, and this time its Sony Xperia Z series. If you want to experience the Dolby Digital Plus and Beats Sound Mod on your Sony Xperia device, then here is a tutorial to upgrade your device's sound and enjoy music at its best. This sound mod has one of the best headphone boost and bass you can get. There are no extra sounds added to the mod for that matter.
The Dolby Digital Plus and Beats Sound Mod have been tested on Sony Xperia Z series and other devices won't work. Moreover, the mod is developed for Lollipop firmware and for some KitKat firmware this might work. Also, you need a Custom Recovery like TWRP installed on your Sony Xperia phone as the process involves flashing the zip file through it. After the installation, you need to enable the Dolby sound mod and set the mod to permissive. The SELinux mod changer app has already been added to the app. So after the installation just open the app and change the settings.
Disclaimer
We at DroidViews are not responsible for any damage to your device whatsoever. We won't be held responsible if you brick your phone. Although installing the following files won't affect any of your apps, data or media; a backup is highly recommended. Get to our backup guide through this link.
Download Section
Dolby+Digital+Plus+&+Beats+Stock+5.0.2.zip | Dolby Digital+ and Beats sound mod for Sony Xperia Z Series
How to Install Dolby Digital Plus Sound Mod
Download the sound mod file from the download section.
Now place the zip file in your device's internal storage where you can easily locate the file. Transfer both, the sound mod and the sound fix files into your phone's storage.
Reboot into TWRP Recovery. To boot into TWRP, power off your phone and then press and hold volume down and power button at the same time for a few seconds.
Once in TWRP, click install and select the sound mod zip file from the location.
Now confirm the swipe operation to flash the zip file.
Once installed, reboot to system.
This is an important step and is a must. Go to your app drawer and open SELinux Mod Changer App. Set the mod to Permissive.
Now enable the Dolby Digital Sound Mod from Music Settings.
Now that you have everything set, plug in your headphones and turn on the music to experience the change. If your speakers do not work after the mod installation, then you need to flash the fix file listed in the download section. You need to go through the same procedure to flash the file. For any queries, comment down below.