One of the major reasons why Android became such a big phenomenon it is today, is because of its open nature and the fact that the users can customize it whichever way they want. When the first ever Android smartphone, the HTC Dream, was released all the way back in 2008, who would have thought that one day Android was going to be this world-dominating feature-rich ecosystem? Beats me!
When we talk about customization in Android, it is impossible to ignore these words – 'MIUI'. I still remember the good old days where I used to flash the heck out of my phone (at that time), the Sony Xperia Neo V. As much as the MIUI is lauded for its flexibility in customization, it is also heavily criticized for missing out on a few necessary features, time and again. We will cover them all, one by one.
Today, we are going to discuss one such much needed missing feature and an easy workaround to get it back. Usually, it's very easy to disable any app on Android by going to Settings> Apps, but what would you do if the "Disable" option is itself disabled? If you got MIUI 8 on your phone, we have a workaround for you. Thanks to Thri11 from XDA!
Related article: Download MIUI 8 ROM for Your Android Device
Disable Any App in MIUI 8
If you own a Xiaomi device running MIUI 8 or have flashed MIUI 8 custom ROM in your current non-Xiaomi device, you might have noticed that it is not possible to disable apps that come pre-installed with the ROM. This could get quite annoying if you don't use a particular app but are forced to have it on your home screen just because it came with the ROM. Worry not fellas, we have just the trick to get it done!
To demonstrate how this is done, we will make use of the Hangouts app. Hangouts is one of the many apps that comes pre-installed with the ROM and cannot be disabled through the regular MIUI settings app, meaning 'Disable' button itself will be disabled (Ah, the irony!).
Don't miss: How to Fix PIN Errors After Restoring Nandroid Backup in TWRP
Necessary Downloads
Before proceeding any further with the tutorial, you need to install a free app called 'QuickShortcutMaker' from the Google Play Store. Click below to download the same:
[googleplay url="https://play.google.com/store/apps/details?id=com.sika524.android.quickshortcut"/]
Steps Disable Any App on MIUI 8 without Root
Assuming you have successfully installed the above app, follow the below steps one by one:
From the list, tap on the one you wish to disable. For demonstration purpose, 'Hangouts' app is used here. After you tap on the app, the 'Disable' button should be enabled for you by now. Just tap on the 'Disable' button.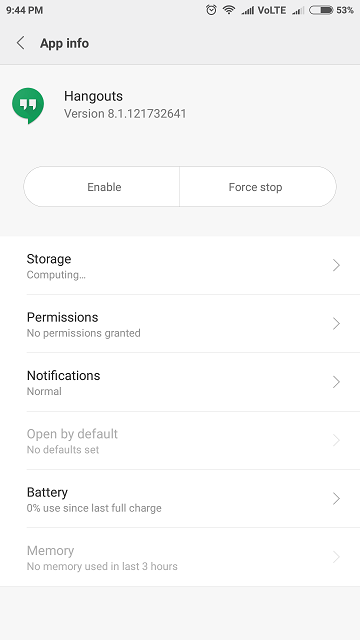 Voila! You have successfully disabled the app that you don't need. Good job, pat yourself on the back! That was pretty easy, wasn't it?
Please do note that the only limitation to this method is that you cannot disable any MIUI native apps (for example, the Music App which is made by Xiaomi itself) that come pre-installed. All the other pre-installed apps (for example, Google Play Books, Google Play Movies, etc.) can be disabled.
Also read: Download Latest ADB and Fastboot SDK Platform-Tools (Win/Mac/Linux)
If you are facing any issues with your phone's software or hardware (not necessarily limited to MIUI or Xiaomi) do let us know in the comments below. We will cover it as soon as possible.