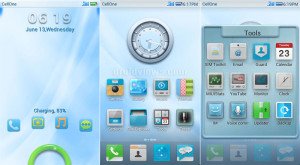 D-Minor is a beautiful old theme for MIUI that was previously available only for Gingerbread edition ROMs, but its creator, Malanore, has now released a new version of the theme that is fully compatible with the MIUI V4. I tested it on my Galaxy S2 and was just amazed by its smooth design and look. Originally, the theme was in Chinese, so I translated the Chinese text and did a little modding job here and there. Download MTZ file for the D-Minor Theme for MIUI V4.
The theme has a beautiful lockscreen that mimics Sense 4.0 but still is different from its charging animation and cool effects on the unlock ring. The theme features Signa Community icons that go well with its overall design.
The analog clock on the homescreen looks amazing. The theme maker has touched almost all elements of the MIUI framework together with many system apps. To discover more, download this theme from below and tell us if you liked it or not.
Download D-Minor Theme
Read next: Display Notch – A Good or Bad Thing? A Discussion