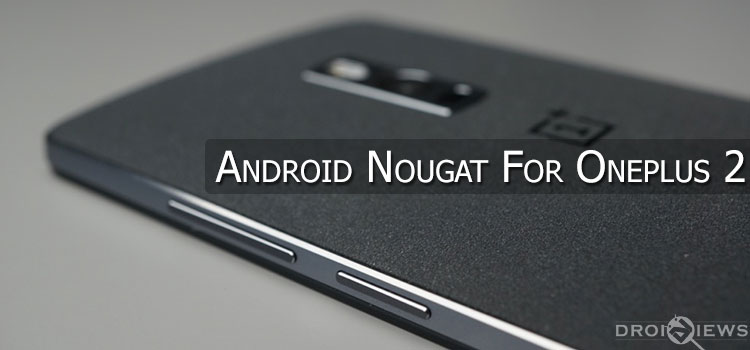 Android 7.0 Nougat was recently made available for Nexus devices by Google. Android N has been on testing phase for about five months before its final release. There have been various optimizations in order to improve battery life and performance of your device in the Android Nougat.
Also Read: What's New In Android 7.0 Nougat?
OnePlus might be planning or rather working on to bring the latest version of Android to its devices but we all know that it would definitely take few months to push the update to its devices. Again, the update for OnePlus 2 would eventually get delayed as OnePlus 2 is last year's flagship device. However, if you are eager to taste the latest version of Android Nougat on your OnePlus 2 right now, follow the guide given below.
Since the release of Android Nougat, the developers at XDA have shifted their focus on porting it for the devices they are using. Due to such attempts many Android devices have already received the port of Android N. Seraph08, a developer at XDA has successfully ported the CM14 for OnePlus 2.
Though the development for Android N and CM14 is still in its early days but the build by Seraph08 seems to be working fine. Most of the things are already fixed in this build but there a few still that needs to be fixed. But if you want to try out Android N and see how does it perform on your device, go ahead and follow the steps given below.
Being in its early stage you might face few app crashes and bugs. But they appear very rarely, at least for me. Unfortunately, Alert slider doesn't work at the moment but should be working in coming updates. I also faced some problems with Youtube and Spotify, both were unable to play the content. Rest seems to be working fine in this unofficial build of CM14. Make sure to backup your current ROM before flashing this ROM as you might want to revert back.
ScreenShots
Things You Will Need
OnePlus 2 with a Custom Recovery Installed (TWRP)
You would need a custom recovery to install a custom ROM on 1+2! Follow the guide linked below if you don't have one.
Download the Gapps package of your choice by clicking the Link given above. Make sure to select Android 7.0 and ARM64 as the platform.
Also Read: How to Root OnePlus 2 and Install TWRP Recovery
Steps to Install Android 7.0 Nougat on OnePlus 2
Step 1. Download the ROM and Gapps from the link given above and transfer them to your device's storage.
Step 2. Now make sure your device has the latest version of TWRP recovery installed. Then boot your device into recovery mode. To do so, turn off your device then press and hold Power + Volume Down keys for a few seconds. When you see the Oneplus logo let go the Power key and keep holding volume down key until you are booted into the custom recovery.
Step 3. Now select the backup option of the TWRP and check mark all the partitions. Then swipe to start the backup process.
Step 4. Once the process of backing up is complete go back to home screen of TWRP and select Wipe option. Then choose Advanced wipe and select Data, System, Cache, and Dalvik Cache partitions. Again swipe to confirm/start the wiping process.
Step 5. After wiping of data is complete again go back to home screen of TWRP and select Install option. Then browse for the zip file of ROM and select it. Swipe right to start the installation.
Step 6. Once ROM installation is complete install the Gapps zip file in a similar manner as you installed the ROM zip file.
Step 7.  Now Reboot your device to System. First boot may take slightly longer than usual, so be patient.
Congrats! you have successfully installed CM14 on your OnePlus 2. Enjoy the latest version of Android on your device and try out the new features available in the Android Nougat.
If you want to keep yourself updated with the latest build of this ROM, then follow this thread at XDA forums.
Feel free to drop your questions regarding installation procedure in the comments section below. We will try to resolve your issues as soon as possible.