Previously, people used to carry their data in floppy disks. Then came CD's, and then Pen Drives. Slowly and slowly people realized that they could buy an SD Card for their Android device, and store all of the important data in it. Some people have important data like contacts, messages, and photos stored on their Android device which could be very confidential. What if they lose their Android device?
You may think they're doomed! But worry not! The Google Play Store has millions of applications available for download. Obviously, some of them are security applications, like antivirus or anti-theft ones. In this article, we're going to take a look at the top Android security applications which will protect your Android device and the data in it even when lost. The applications we're going to review are free, so everyone will be able to test them out. Let us get right into it!
1. Where's My Droid
Remember the old Google Play Store, which was known as the "Market"? Well, there were not many applications on the old Google Play Store at that time. But one of the first security applications to find and locate your Android device was Where's My Droid. Where's My Droid has survived till date with a lot of positive reviews, and you can get it on the Google Play Store for free. Nowadays, there are many applications like Google's 'Android Device Manager' to find and locate your stolen Android device. But you can't do much with it. With Where's My Droid, you have a number of features like ringing your device, or sending a GPS Flare to it when lost. We'll cover up all of the notable features of the application.
The first and the best feature of this application is the ability to ring your Android device when it's lost. You can make it ring even when it's on silent. Apart from this, you can even select the 'Vibrate' option, which will vibrate your Android device when sent an attention word. Another great and notable feature of it is that you can check the 'Torch' box, to turn on the flashlight of your device. The Siren mode replaces your phone's ringtone with an alarm-type siren. Else, you can choose your own ringtone.
The GPS mode lets you find and locate your stolen Android device by enabling the GPS on it. You can even send a 'GPS Flare' which signifies that the battery on your Android device is low, and shows you the location of where it is. The GPS mode is the most trustworthy in this list, as it is very accurate.
Passcode authorization ensures that no one can change any of the application's permissions.
If the thief who stole your device is too smart, he might want to change the SIM or the SD Card of your Android device. Worry not, Where's my Droid sends you a notification when it does!
You can text any attention word, which will in turn hide the calls/messages received on the device, and will enable the GPS or ring mode.
Most important, this application doesn't suck up much memory or RAM of your device, meaning no battery drain.
Where's My Droid can be used from any Android device to locate and find your stolen one. Where's My Droid also provides a Web Client named 'Commander' which does the same. Where's My Droid comes in two different versions, Paid and Free. You can get almost all the benefits in the Free version, but if you want these extra benefits, you might want to buy it!
You can take pictures with the camera of your stolen device, and can easily make out where your device is.
You can remotely lock your device, making it impossible for the thief to use it.
Also, you can remotely wipe your Android device's data if you want, using the Pro version.
You can even deny access to the thief to uninstall any of the applications, this way all your data will be safe and sound.
So, if you want to find and locate your Android device remotely, and have access to all of its features even when lost, Where's My Droid is always there for you! The Pro version disables the advertisements from the application! You can download Where's My Droid using the following link:
2. Lookout Security and Antivirus
This security application is a much more trusty one, because it comes from a top developer. If you use antiviruses on your Android device like Avast, 360, or more, you might want to try this one out. Not only is Lookout Security and Antivirus application to protect your Android device from threats or viruses, but it also locates and find your Android device for you. Lookout security requires a registration which is free.
Once you have a Lookout account, and the theft mode enabled, you can easily find and locate your Android device when lost. While Lookout Security and Antivirus doesn't has as much as awesome features like Where's My Droid does, Lookout Security does what it does best. Every feature in it is absolutely trustworthy, there is no doubt that it'll fail. Let us take a peek at its most notable and amazing features which will help you to find and locate your Android device.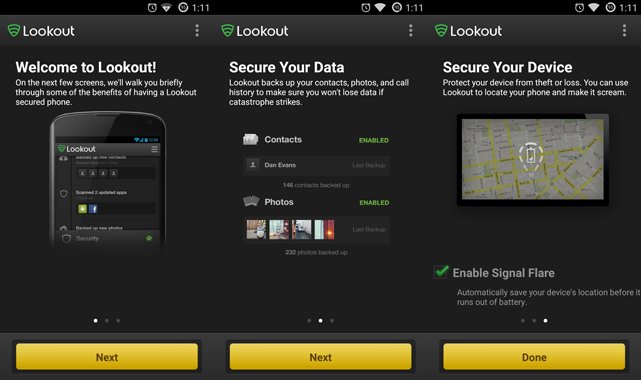 Lookout Security and Antivirus protects your Android device from threats, malware, viruses and a lot of bad things that could slow down, or worse, brick your device.
You can easily backup all of your important images, videos or documents. So even if your device gets stolen, you'll still have all of your important data with you.
Signal Flare allows the device to automatically save the last location before the device turns off because of low battery. This will help you even if your device runs out of power.
The Locate and Scream feature makes it possible for Lookout to locate and make your Android device ring loudly anywhere, and anytime.
So, Lookout Security can be more trustworthy than most of the security applications out there. You can get the premium version of the application to get the following features:
You can get an image when someone tries to mess up with your device, and then you can easily track them down.
You can lock and wipe all of the data on your Android device to be more secure.
You can take a backup of your contacts, call logs or even your images with the Pro version.
You can get the free version of Lookout by clicking the following link :
3. Vault – Hide SMS, Pics, and Videos
This security application is a little bit different from the other two in the list. While Lookout, and Where's My Droid help the user find your lost Android device, Vault instead helps you lock the applications. Do you ever feel insecure when someone else starts using your device? You have this feeling that they might open some images/videos or messages that are confidential to you. And trust me, you can't do anything about it. But, now you can!
With Vault, the user can easily hide his/her SMS, Pictures, and Videos. As the name suggests, Vault keeps all the hid videos, or images in the app itself. The stuff you hide can only be viewed when entered a password. Vault doesn't only hide images/videos from your Android device, but also the applications. You can choose a specific application which you want to hide, say Facebook or WhatsApp, and they will be unlocked only when entered the correct password.
With Vault, you can chat on Facebook securely, because Vault safeguards that from anyone too! Although this is what we need to safeguard your confidential images, videos, SMS, and applications, you can still get the following extra features with Vault by upgrading to premium.
Fake Vault is a feature of the application which lets you create a decoy vault, in case someone curiously asks what's inside the vault, and you can't really show your secret information. In this case, just go ahead and show them the fake vault in which you can store information which isn't too confidential, and they'll believe you. This way, your real information will still be safe and sound.
Break-In alert makes it possible to take a snap of the person attempting to open your vault. If the passcode attempted by the person is incorrect, then your Android device will quickly take a snap of him/her.
Stealth mode simply hides the Vault application itself from your Android App Drawer. To re-enable it, you need to type in a specific passcode in your device's dialer.
If you still don't trust this application that much, you can save all of your important data on the Vault cloud, which can only be accessed by you.
Camouflage is another great feature of the application which displays a fake Crash message when you open a locked application. This way no one is going to doubt you about your privacy.
You can download the Vault application for free on the Google play store by clicking the following link:
So, in this article we reviewed the top 3 security applications that we think are perfect for your Android device. Using all of these applications at once will make it almost impossible to ever loose your Android device. While you can find and locate your lost Android device using Where's My Droid and Lookout Security, you can lock all of your confidential applications/files and images using Vault! Make sure you check them out, and if you have any questions regarding this, feel free to leave a comment below!