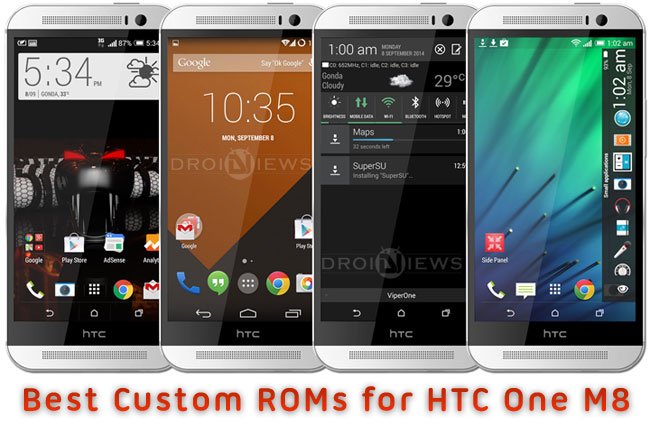 Having been a Samsung fan for a long time, it was about one and half year ago that I switched to an Android phone from HTC and since then I heartily believe that HTC make the best smartphones in terms of build quality, beautiful design and good UI experience. I have been fortunate enough to own half a dozen flagship devices from different Android OEMs at the same time. Based on my comparative use and personal experience, I think the HTC One M7 and M8 are far better than their competitors whatsoever.
However good an Android smartphone might be, there is always scopes of making it even better, especially if you have root privilege and a custom recovery installed on it. If you own an HTC One M8 and want to enjoy custom ROMs to get better performance and usability, we are here to help you with that. Custom ROMs come with a host of system tweaks, mods and optimizations. The HTC One M8, being a very popular device, has been a darling in the developer community and you can easily find a host of custom mods and ROMs for it, numerous enough to confuse you.
To clear your confusion about choosing the right custom ROM for your HTC One M8, we decided to test more than 10 ROMs and spent more than 3 days with each of them. Below, we have listed some of the best custom ROMs for HTC One M8. Of course, our selection is based on things like fast performance, good battery life, great features and capability of customization.
Requirements:
A rooted international HTC One M8
CWM or TWRP Recovery installed on the phone
S-ON or S-OFF
Best Custom ROMs for HTC One M8
1. Android Revolution HD
Developer: mike1986
Android Revolution HD is definitely the most popular custom ROM for not only our HTC One M8 but also for the M7. Now if a thing is immensely popular, there must be reasons for it. Since its isone of the most regularly updated ROMs, Android Revolution HD always offers the latest HTC Sense. It's the best option if you want to stay closest to stock HTC ROM while enjoying various system tweaks and mods.
Android Revolution HD is installed via Aroma Installer and so it lets you add and remove apps, features and mods before you install it on your M8. The ROM performs very fast and gives good battery life. It is clean and stable and avoids any kind of visual changes in the stock HTC Sense. Below, we have listed down some remarkable features of the ROM:
Based on the latest HTC software updates
harmon/kardon audio mod
Bloat apps removed to give you a cleaner app drawer, free more RAM and space.
Fully optimized and tweaked system
Fully de-odexed
RAM optimizations and improved management
GPU UI rendering
Improved EXT4 performance
Aroma Installer
Adobe Flash Player support
Data, cache and system partitions mounting tweaks
Improved EXT4 performance
CPU governors tweaked for
Inbuilt Xposed Framework Installer and Sense 6 Toolbox module
Latest BusyBox pre-installed
Supports open VPN
Supports system RO/RW commands
Lots more….
Download the ROM
Download Android Revolution HD
2. Viper One M8
Developer: j to the 4n
If you love HTC Sense UI, Viper One M8 is another great option for you. Unlike Android Revolution HD, this ROM is known for heavy customization and tweaks. The ROM comes with Venom Tweaks app that lets you add new dimensions to the stock HTC Sense. The ROM also brings a host of other exclusive apps like Venom Pie, Venom Hub, Venom SuperUser, Venom File Manager, Venom Extended QuickSettings and so on.
As you see in the screenshots, Viper One M8 is capable of overwhelming the user with its numerous options for customization. You can use custom themes and icon packs and make visual changes in the Sense UI for novelty and personal touch. If you want to go beyond Sense while still using it, Viper One M8 is just an ideal ROM to pick.
3. CyanogenMod 11 for One M8
Developer: CyanogenMod team
If you want a deviation from HTC Sense and try something lighter, faster, sleeker and flatter, you have a great alternative that lets you enjoy the pure Vanilla flavor of Android in its raw state. Unlike ARHD and ViperOne, CyanogenMod is a non-Sense ROM. It's the most popular aftermarket ROM for a plethora of Android devices and is known for its fast performance, clean user interface, third-party theme support and decent battery life.
We tested the latest version of CM nightly and it performed pretty stable. It allows modifying certain aspects of the phone's UI such as the lockscreen, notification drawer, status bar and so on. To further enhance your HTC One M8, you can download hundreds of free and premium themes from the Google Play Store. Since the ROM package does not include Google apps, you'll have to flash the Gapps Zip package after flashing the ROM.