If you're a daily Android user, you may have precious data stored on your device such as pictures, videos, or important documents. Most of the Android devices let the users expand their device's memory with an external SD Card. So, if your phone gets damaged, your data stored in the external SD Card will still be intact. But what would happen if your device gets lost, or worse, stolen? With the thief goes your phone, and the precious data stored in it. In this case, you might feel helpless. Worry not! You may have heard of 'Cloud Storage'.
Cloud Storage makes it possible for you to upload and save your gigabytes of data on an online source. So no matter what happens to your Android device, you will always be able to recover the data stored in the Cloud with just a tap.
It may be quite hard to choose between the perfect Cloud Storage application, so in this article, we present you the top 3 Cloud Storage applications available for Android. Note that, for you to use Cloud Storage, you'll need an internet connection to upload and download files to and from the online source.
3. Dropbox
You probably saw this one coming. Dropbox is one of the many cloud storage applications for Android device out there. Previously, we had Dropbox only for PC's, but now with the Android application you can carry loads and loads of data with you over the air. With Dropbox you can simultaneously store and view documents, pictures, and videos on your PC as well as your Android device. Once you download and install Dropbox on your Android device, it'll ask you to connect it to your computer. Once downloaded and installed on your PC, you can now enjoy all the benefits of Dropbox.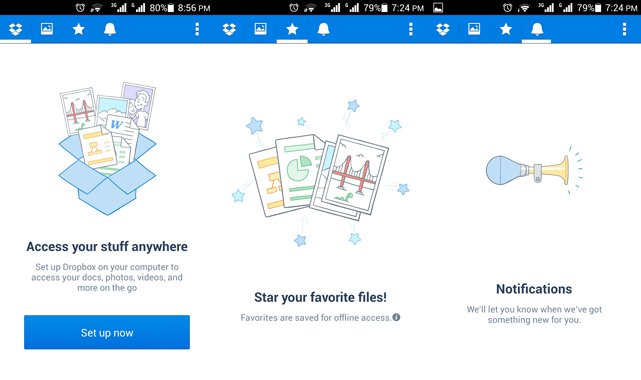 Now that you can use Dropbox on your Android device, you can easily carry your important data, and view it whenever, and wherever you are. You can edit files on the Dropbox application, and the file will automatically be saved on your computer as well. You can safely upload your pictures or videos with your Android device and it will be saved on the cloud. Linking Dropbox to a computer gives you even more advantages.
You can even share the pictures/videos or any other documents with your friends and family! To add a photo to Dropbox using your Android device, simply pounce into the gallery, and tap the 'Share' icon next to the image that you want to save. Click on the 'Dropbox' option, and you're done! Your image will be saved on the cloud storage, and even on your computer. To view the saved images on your computer, simply navigate to C:\Users\Username\Dropbox.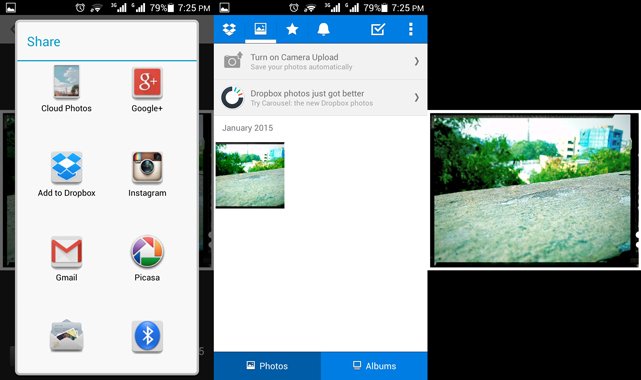 To be extra safe with your documents, you can add a pass code, which will be required to view the files on your Dropbox account. To do that, simply pounce into the settings tab, and scroll down to find "Require App Passcode" and then check it. If you love Dropbox, you can upgrade to a premium account to enjoy those extra benefits. With a premium account, you get :
1 TB of cloud storage.
The ability to sync all your files across all of your computers, phones, and tablets.
The ability to automatically backup any photo you take.
And, for the premium account, you only have to pay $10 a month. That's a great deal, go get it! Anyway,  if you want to have a backup of your files/photos/videos not only on the cloud storage, but also somewhere safe on your computer, Dropbox will be the application to satisfy your needs! You can download Dropbox using the following link:
2. OneDrive
If you are a Windows user and an Android user too, you may want to checkout OneDrive, which is an incredible could storage application. Just like Dropbox, you can download any file irrespective of its type. With OneDrive, you can backup photos, videos, and documents to your cloud storage. Although many people may think that this is the only Microsoft product on our list, this is no ordinary cloud-storage application. Because OneDrive is made specifically for Windows devices, you need not download any additional software on your Windows PC or mobile.
OneDrive is available on the Google Play Store. OneDrive provides a minimalistic design and easy-to use options. OneDrive lets you easily manage and share both your personal files, as well as professional files on the go. To be able to use OneDrive for Android, you'll need to have a Microsoft account. If you're using Windows 8/8.1, you probably already have one.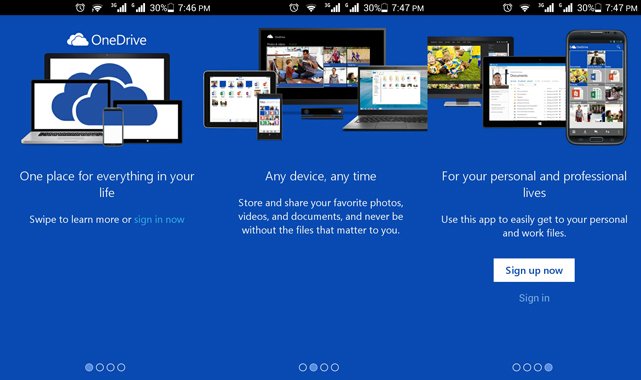 Once successfully signed in, you can backup almost about everything you want. All of your previous backups done from your Microsoft device will appear. You have an option to create a folder to make your files organized. If you want to let others edit a file, you can always invite them to edit it. If you truly are an Android fanboy, you must have a device with at least Ice Cream Sandwich, or above. If you do, you can enjoy special benefits! Some of them are listed below:
Ability to automatically upload any photo you take with your Android device to the storage cloud.
You can select multiple files to download, instead of selecting and downloading them one-by-one.
You can organize all of your files by making folders.
You will get improved app support with Word, and other Microsoft products.
The best part about OneDrive is that it is even more powerful when you use it with Microsoft products like Excel, Publisher, or Word. You can get the OneDrive application for free on the Google Play Store by clicking the following link:
1. Google Drive
Our final and the most recommended choice to store all of your documents and files on the cloud is obviously the Google Drive. You obviously must have made it out that Drive is a product of Google. Google made Android, meaning that the best and the most compatible cloud storage application for Android devices is this. Easily find your backed-up files using the search icon above. Google Drive's Material Designed UI lets the user to seamlessly scroll between the photos, videos or any other files on your cloud storage.
Just like Microsoft's OneDrive, Google Drive also allows the user 15 GB of cloud storage. Also, to make it even more convenient, Google Drive lets you invite users to edit/modify your existing files or documents, just like the OneDrive. Unlike the other two cloud storage applications, Google Drive allows the viewers to like, or comment on the file you want. To keep things even more organized, you can create folders. Most of the cloud storage applications require an internet connection, but Google Drive allows the user to view the saved documents offline. You can view your recently backed-up files.
While you can directly backup photos or any other documents from your Android device, there is a desktop application available for you to sync all of your documents seamlessly. As said before, Google Drive enjoys the benefits of the Android features. If you have a Chromebook lying around, you can use it to backup or restore files too. Also, Google Drive offers built-in editing suite, like spreadsheets, and presentations.
You can download Google Drive on the Google Play Store by clicking the following link:
So, we just discussed the top 3 cloud storage applications available for your Android device. While Dropbox is specified for only backing up files and restoring them, Google Drive and Microsoft's OneDrive lets you edit the files, and utilize them with specific applications like Word, Excel and PowerPoint. If you're a type of a person who has a ton of storage to be saved in a cloud, and want to upgrade your package, Google Drive is the cheapest.
While OneDrive and Dropbox don't provide much options and expensive prices, Google Drive only asks you for $10/month for a whooping amount of 1TB, which is more than a normal person needs. We have left the links for all the three applications above. Use them all, and let us know in the comments below about your experiences!