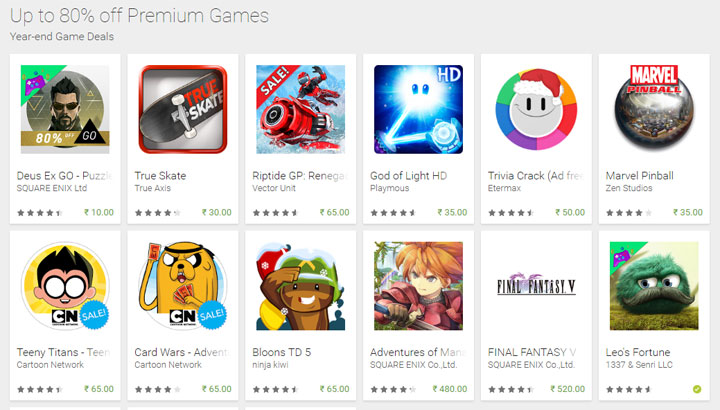 Happy holidays, everyone! With the holiday season upon us, Google has been greeting users with lots of amazing offers and discounts on some of the best apps, games, books, movies, and music albums of the year. If you have been wanting to buy something from the play store but were not able to due to high prices, this is the perfect time to get them off your wishlist. So without further delay, let's get into it.
Disclaimer: Since tons of amazing stuff is on sale right now, it's quite difficult to mention each and every one of them. We are only mentioning some of the most popular apps and games, as well as those which are at a heavy discount and would have cost you a lot on any other day.
Some of these deals may vary from region to region. Discounts may not be available in certain countries.
Some Best Apps and Games
Apps
Games
Some other amazing games like Deus Ex Go – Puzzle Challenge, God of Light, and Geometry Dash are available for 10, 35, and 40 Rupees respectively in India.
Other than all the awesome stuff mentioned above, you can get a 50% discount of purchasing movies from the Google play store. Just follow this link and redeem the code.
A lot of movies in India can be rented for just 20 Rupees and, some other blockbusters can be purchased for 25 Rupees.
Google is also providing 80% off on some awesome books in India and I bet this offer is available in other countries but I don't have any credible source to tell you for sure.