Your Homescreen is something that is observed first when you unlock your device and so comes the user interface, which is one of the major term of attraction when you show your device to your pals or family. To many, a smooth and fast UI depicts a lot about the device's hardware, but what if I say that you can get the same even on a low end device. Mobo Live brings a lot of possibilities to your device's launcher application.
Most of us here are blindfolded by famous and well-known launcher applications like Nova Launcher, Apex Launcher etc, even I was, until I met Mobo Live.
Introduction to Mobo Live
Mobo Live is a powerful new android launcher that is more customizable than you needs. It is brought to you by the Mobo Live Team (visit Developer's website). It offers a large list of unique and useful features, appealing looks, attractive and operative widgets and a lot more for its users to cherish. Any Android device user, no matter of your model or make, running on Android 2.1 and further has full liberty to taste each and every bit of this launcher App.
Major Features Offered  by Mobo Live
Theme Support
A grand variety of beautiful and stunning themes are available, which can be downloaded, installed and applied easily by just pressing the Themes icon on your Home screen.
Customizable Dock
The dock holds a sum of 15 icons, 5 icons at once which could be slided left/right. The icons and shortcuts can be changed, themed and modified at any point by long-pressing the icon or under Preferences >  Home screen Settings
Cleaner
A real-time assisting App is already in-built. You can clean your phone with single one tap.
Clear all/selective Apps and manage device's memory
Delete temporary, log and other junk files
Manage Apps, ads from appearing in Notification Bar
Disable/enable/manage the Startup Apps (for rooted phone)
Detect and delete installed APK files
Delete and manage other Large files like Videos, zips and much more
Tap on RAM Booster icon to quickly clear and reserve the device's memory
Security
Manage suspicious, risky app permissions and Startup apps. Also control the use of data for certain apps.
Widgets
A wide variety of widgets include analog clock, 365 Weather, Cleaner, Power Saving & Power Control. Long-press  on an empty space on the home screen. Single tap on any widget to place it directly on your desired home screen.
Effects & Animations
A series of remarkable effects to outcast the beauty of your home screen while you are sliding and swiping. Long-press on an empty space on the home screen, go to the Effect tab. Single tap on your desired animation to select it.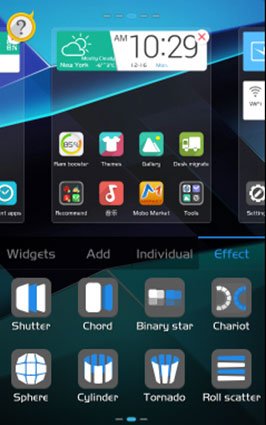 Folders
These are the best way to categorize your Apps and put them all under one roof for ease-to-access. You are served with two amazing folder styles i.e iPhone & Android 4.0 that can be changed anytime under Preferences > Customize settings > Folder style
Backup
To preserve your Personal Data and Applications, this app certainly comes to your service. So now, no risk to lose any of it, you will already have everything backed up. To access, go to App drawer, slide to Manager tab and tap on Backup.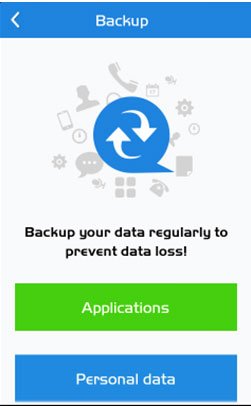 Battery Saver
Manage battery saver profiles, observe battery consumption and optimize the app memory to reserve more battery time.
File Manager
A supportive file manager to manage Photos, Videos and Music. You can also listen to your favourite music and videos, and view your pictures.
App Manager
Uninstall apps, manage APKs, Transfer APK files between Internal memory and SD card and manage default apps, all using a single App.
Recent Install & Recent Apps
Recently installed and used spps shall be displayed under this, so that you can easily make use of them, all of them at one place.
What do we think?
Just as you Install Mobo Live and you start using it, you will be guided at every step possible to make the most out of this very App. Most of us use 3rd party Apps but Mobo Live includes In-built apps which very simple yet unique and are very efficient which includes Backup, File Manager, App Manager, Battery, Cleaner and much more. The animations are snappy at all times, whether you open/close the app drawer or any Apps, on the other hand the transition effects between various screens is very attractive. The User Interface is now fast and more responsive than that of most of the launchers I have put to use.
One of the most appealing feature is the use of gestures, you can swipe from top to bottom to view Quick settings panel and swipe from bottom to top to view the Mobo Live menu. I've used almost all the launchers available, but Mobo Live has been the bright shine in darkness. It has served me with all the essential features and apps that any user would desire from its launcher. We shall definitely advise everyone to try Mobo Live once and we assure that you will never look back.
The latest update was made on December 9th and is tagged version 5.0
Kindly give us feedback using the comments. You are more likely to put feedback either on the App page on Play Store or use the feedback option under Preferences > About Mobo Live.