The Google Play Store has millions of apps and games. Whatever your requirement might be, you'll find not one but many apps to get it realized on your device. Having many choices for the same functionality is really great but it also sometimes become challenging for the user when it comes to selecting just one that is the best.
We all want a phone with big storage capacity so that we can store a lot of files and data at the same time. Some phones come with a file manager app pre-installed, while other have none. The stock file browsers do not let you browse the files on the root storage of your device. And therefore, they are useless for advanced users. Thus the presence of an efficient root file explorer app on the device is also compulsory for browsing and managing those files.
Just typing "file manager" in the search at the Play Store will bring you hundreds of results, but only a few of them will be found useful in the true sense. Personally, I like an app that is not only functional, but also has a beautiful and clean user interface. While there is no extent to which an app can be better, the new file manager app from XDA member Leducbao is really something worthwhile to consider if you have been prowling for an efficient root file browser.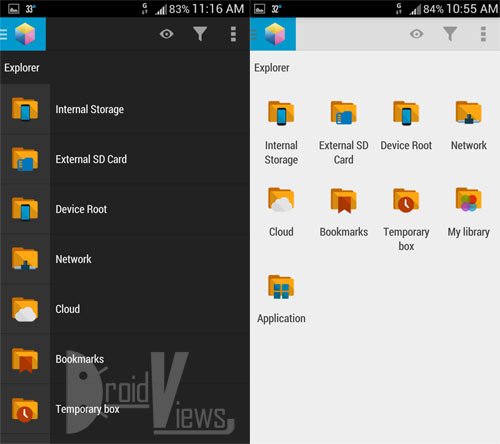 The AntTek Explorer app is really the most beautiful app in its class with all basic and many advanced features you would find even the best file browser apps that exist today. The app supports features like multi-threading, 8 file-view styles, setting a storage path as home, dragging and dropping files, layout customization, contextual toolbar, cloud support, zip tool, inbuilt media player, source code viewer, root explorer and so on. You can also choose from 5 preset themes, one of which allows you have custom background.
Antek has a fantastic user interface that appeals at the very first sight and its customization features makes its more desirable. The app is still in beta and has not yet hit the Play Store. I have been a hard-core fan of ES Explorer for a long time but since I used in on my HTC One and S4, I feel I have fallen in love with it. With a hope that you would like it too, I finish this review. Cheers to all!