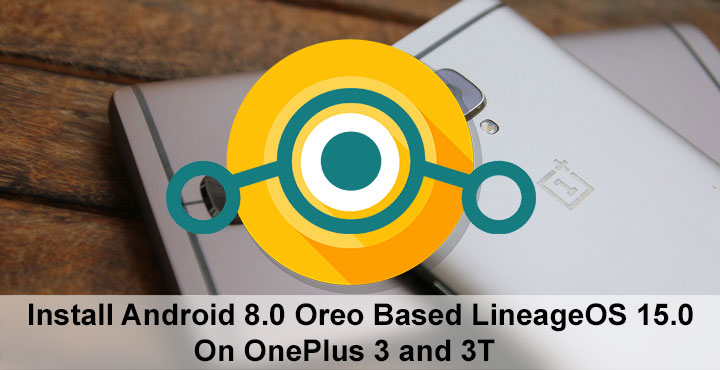 Until the numbers for OnePlus 5 are out, the OnePlus 3 and OnePlus 3T will probably be regarded as the most popular OnePlus devices. After a lukewarm response to the OnePlus 2 and OnePlus X, the 2-year-old company had a lot riding on the OnePlus 3. Not only did the device sell like crazy, it was also the very best smartphone under the $400 mark. The Chinese OEM has already promised to update both the 3 and 3T to Android 8.0 Oreo eventually. But when you have a OnePlus you don't need to wait for an official update to someday appear. Perhaps it shouldn't surprise many that an unofficial build of LineageOS 15.0 has already appeared for the OnePlus 3 and 3T.
The unofficial build by akhilnarang is in the early alpha stage of development, therefore expect a lot of bugs. The camera does not work yet, nor does Bluetooth or anything dependent on it. The Alert slider and screen off gestures don't work either but the developer expects to fix these sooner than other issues. In any case, if you are a flashaholic and just have to try out the latest and greatest version of Android right now you can do so on your OnePlus 3/3T.
Warning: The ROM is in an early alpha stage as already mentioned so you know what you're getting into. Other major or minor bugs might also be present that have not been mentioned here. Before you go ahead and install the ROM, you must be ready to deal with the issues. Furthermore, installing custom ROMs can prove to be quite the risk and you may end up with an unusable device. Neither the developer of the ROM nor DroidViews takes any responsibility for anything that happens to your device. Proceed at your own responsibility.
Screenshots
Requirements
A OnePlus 3 or 3T with an unlocked bootloader.
A custom recovery such as TWRP must be installed on the device.
Make sure your device has at least 50% battery left so as to prevent any accidental shutdowns.
Downloads
How to Install Android Oreo Based LineageOS 15.0 on OnePlus 3 and 3T
Download the ROM and GApps files and transfer them to your OnePlus device.
Power off your phone.
Once turned off, press and hold the Power and Volume Down button simultaneously. Continue to hold the two buttons past the OnePlus splash screen boot logo until your device boots into recovery mode.
Once in recovery mode, select the Backup option from the TWRP main menu and then select the partitions you would like to backup. It is recommended that you create a complete NANDroid backup of your current ROM, including all the partitions. This way, you can always restore your device to its existing state after trying out the new ROM.
The Backup process can take quite a while depending on the partitions you've selected but once it's complete, go back to the main menu.
Now go to Wipe > Advanced Wipe and select system, data, cache and dalvik cache. Swipe at the bottom to wipe these partitions. Remember to not select the internal storage unless you want to wipe it.
Select Install from the main menu and then browse to and select the ROM zip file (lineage-15.0-20170906-UNOFFICIAL-oneplus3.zip).
Tap on the Add more zips button and this time select the GApps file that you've downloaded.
Swipe at the bottom to start the flashing process.
After the flashing is complete, you will notice that a Reboot system button appears at the bottom. Tap on it.
You probably already know this if you're here, but the first boot can take a while. Considering this is just an alpha build, the first boot might not even happen for you and you should be ready for that possibility as well. Nevertheless, wait at least ten minutes and if it still doesn't boot, reboot your device to recovery mode as you did previously. In the recovery, select Restore and then select your backup. Swipe at the bottom to restore and then tap Reboot system once the process is complete.