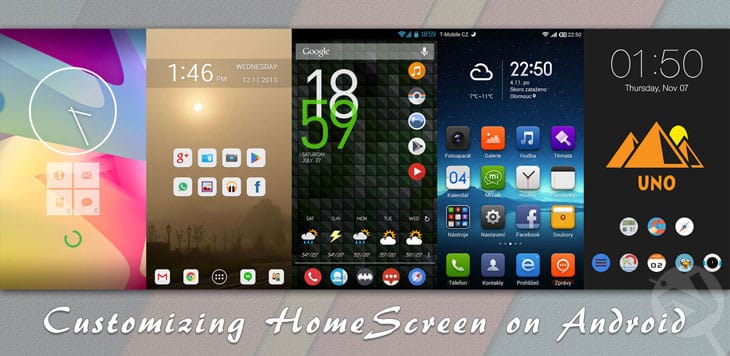 My passion for mobile technology and how it can benefit everyday life began with the purchase of the original iPhone in 2007. But after a few generations of the iPhone, I began to grow tired of the limited personalization and customization options afforded by the fruit company. Follow the home screen customization tips mentioned below to get that perfect setup.
I had successfully explored mobile apps and had embedded the use of mobile technology in my daily life. But I had a yearning for a more open approach to an operating system. Out of curiosity, I began to look beyond the ringed-fence Apple products and discovered Android.
My first Android device was a Samsung Galaxy Note, and at first, I was confused by the seemingly limitless customization options. The Android operating system was very different from iOS and I needed a starting point from which to learn.
Android Home Screen Customization Tips
The home screen seemed a logical place to begin. I was excited about having the freedom to place and even design my own home screen elements. Screenshot one represents my early exploration of the Android home screen. Here I have simply chosen the wallpaper, placed app icons and a weather widget. Screenshot two shows a little further personalization of the weather widget after I discovered the HD Widgets app. HD Widgets is available from the Google Play App Store and it allows the user to create many kinds of widgets. Different styles, colors, and sizes of widgets can be created to suit your needs.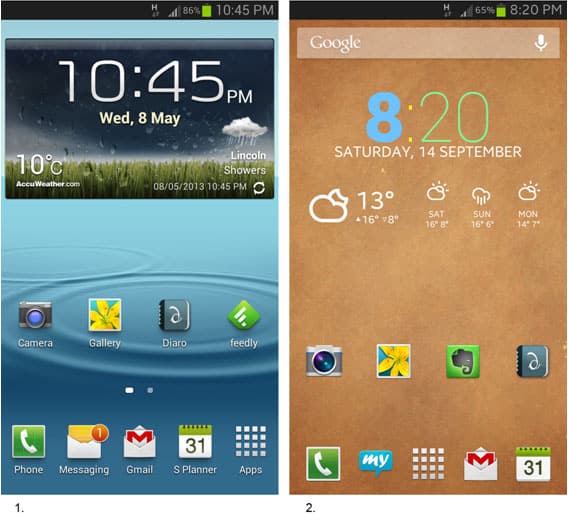 As my confidence grew, I began to explore some of the many custom launchers available on the Play Store. Nova Launcher is one of the most popular. It offers the user many personalization options. These include a near-stock Android experience, changing of the home screen grid size, app drawer layout and use different icon packs. It is also possible to backup your favorite home screen designs so that you can easily apply them later.
Screenshot three shows a home screen design created using Nova Launcher, the icon pack used is called Lipse Icons. The time and date widget were created using Zooper Widget Pro. Screenshot four shows an iOS inspired home screen, again created using Nova Launcher. To achieve this design, the grid size was changed and I applied a set of iOS icons.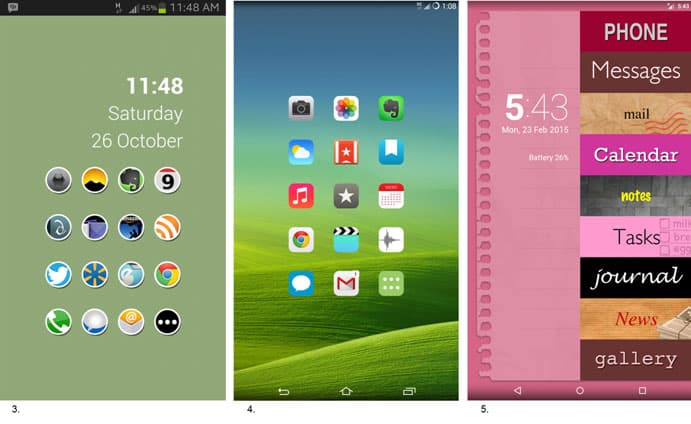 Finally, screenshot five shows a very different approach to home screen design. The launcher used here is Buzz Launcher. This design was more complex and time-consuming to create. Firstly, the 'organizer' inspired layout was created in Photoshop. Exact screen and grid dimensions provided the structure in Photoshop for the design to fit onto.
The completed Photoshop design was then applied using Buzz Launcher. The time, date and battery widget was created using Zooper Widget Pro. Whilst Buzz Launcher offers almost limitless creative opportunities for the experienced home screen designer, new users can choose from a larger selection of user-created designs. These can be downloaded and applied quickly and easily. Below are some well-known apps and tools to help you with getting the best possible home screen setup on your Android device.
[googleplay url="https://play.google.com/store/apps/details?id=com.teslacoilsw.launcher"] [googleplay url="https://play.google.com/store/apps/details?id=cloudtv.hdwidgets"] [googleplay url="https://play.google.com/store/apps/details?id=com.xwidgetsoft.xwidget"]
You can download beautiful wallpaper packs and awesome free and premium icon packs at the Google Play Store.
I hope this article shows how it is possible to personalize your Android device and provides you with a little inspiration and motivation for your own home screen designs.