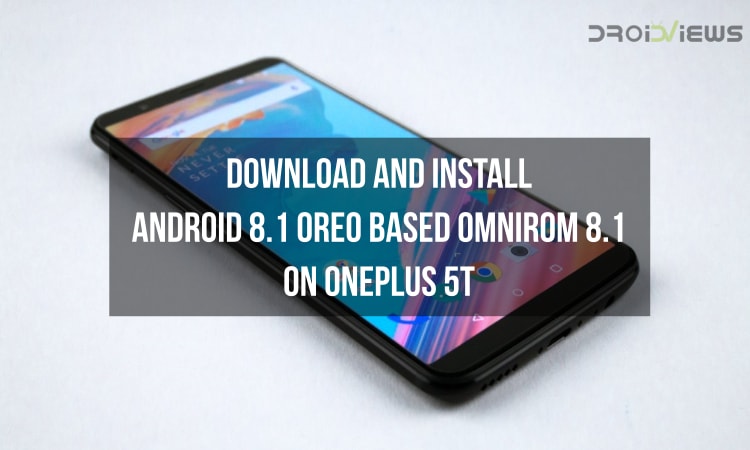 OnePlus's latest flagship smartphone of 2017 was the OnePlus 5 but the company later upgraded this smartphone with the launch of OnePlus 5T. The OnePlus 5T came with an edge to edge display along with a Full HD+ display and the smartphone also had the Dual camera setup as seen on the OnePlus 5 also. Apart from that, the smartphone came with Snapdragon 835 processor along with a combination of 6GB RAM and 64GB internal storage along with a higher variant of 8GB RAM and 128GB internal storage.
Now, we have also known that the OnePlus 5T was launched with the older version of Android which was Android 7.1.1 Nougat but the Android 8.0 Oreo update was already released. However, the company has rolled out the Open Beta 1 update for the OnePlus 5T which brings Android 8.0 Oreo to the device. Although, we should consider that the OnePlus 5T running on Open Beta 1 will be unstable to use as it is an early development build. Thus, you can now get the latest version of Android which installs Android 8.1 Oreo on your OnePlus 5T with the help of OmniROM 8.1. This build comes with the help of XDA Senior Member, darkobas, who is also the Device Maintainer for this ROM.
One thing to note with here is that the OmniROM 8.1 currently does not support no-verity file to be flashed currently which means that you will not be able to encrypt this particular build of the OnePlus 5T. Apart from that, it is also known that the OmniROM currently does not support SuperSU or Magisk flashing as well which means that you will not be able to get root access on your phone with this build
Now, if you are satisfied with not having encryption as well as not having root access then you can proceed with the installation of this ROM on your OnePlus 5T. In order to flash this ROM on your device, you can scroll below and get the full step by step guide to install OmniROM on your OnePlus 5T
Known Bugs
USB tethering is not currently working on the latest build of OmniROM 8.1 for OnePlus 5T
Other than the above bug, there are no major known bugs in the current build
Prerequisites
You need to have an Unlocked bootloader and TWRP recovery installed on your OnePlus 5. If you have not already unlocked your OnePlus 5 and installed TWRP recovery then follow our tutorial to Unlock Bootloader and Install TWRP recovery on OnePlus 5T
Also, you need to have at least 50% battery or more left on your smartphone so that you can proceed with the installation process.
It is also recommended that you take a backup of all the important files on your device so that you are not at any risk of losing important files on your device during the process as this process involves completely wiping your device.
Downloads
Steps to Install Android 8.1 Oreo-based OmniROM 8.1 on OnePlus 5T
First of all, you need to read the steps to be followed in the Prerequisites section above and proceed with the installation process if you have completed the same.
After that, you need to reboot your smartphone into TWRP recovery. For this, switch off your OnePlus 5T completely and press Power + Volume Down button for 2-3 seconds and you will boot into TWRP recovery.
In the TWRP recovery, make sure to wipe the data on your OnePlus 5T completely from the Wipe section.
Once you have wiped all the data from your smartphone, download the files mentioned in the Downloads section above which include OmniROM 8.1 ROM and GApps package compatible with LineageOS 15.1 for OnePlus 5T
Now, transfer both the files to your OnePlus 5T via a USB cable from your PC and go to Install section of TWRP
After this, select the OmniROM 8.1 ROM which was transferred to the smartphone and swipe to flash the zip file.
Now, select the GApps package zip file and swipe to flash this file also.
After this, wipe cache and reboot your OnePlus 5T to the system.
Once rebooted to the system, you will see that your smartphone is now running the latest version of Android which is Android 8.1 Oreo on top of OmniROM 8.1 along with all the Google Apps installed.
Now, you will need to follow the above steps carefully to install the Android 8.1 Oreo-based OmniROM 8.1 ROM on your OnePlus 5T and you will get the latest version of Android on your smartphone. Also, note that this ROM is an early development ROM and you will have to flash this ROM at your own risk but we have known that all the major features have been working currently.
However, you can comment with any of your questions regarding the installation in the comments section below and we will make sure to solve any of your questions as quickly as we can.
source: xda