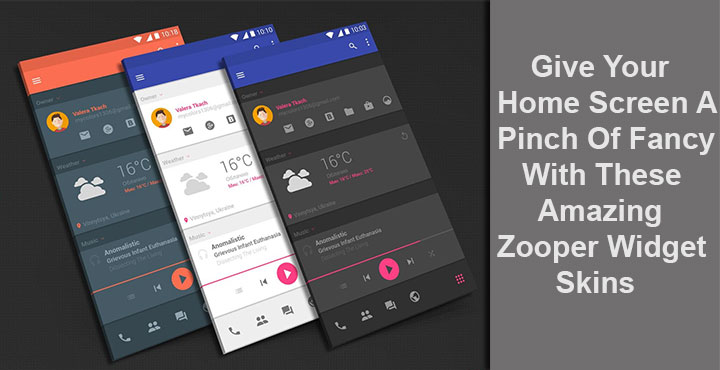 Out of the various number of ways users can customize their Android device, widgets truly stand apart. Widgets have long been an advantage to the Android platform when compared to iOS or Windows. Microsoft did, to some extent solve this with live tiles but it's not quite the same. Below are some of the best Zooper Widget skins for Android devices that you must try to get a great home screen setup.
A widget not only provides function but it also provides a visual appeal in many cases. Just type "widget" in the search bar on Google Play Store and you'll get a rough idea of how popular widgets are on Android. If you do, there's a good chance you may also come across an app called Zooper Widget.
Yes, Zooper Widget is an app rather than a widget as the name would suggest. But it is an app that lets you create some amazing widgets and share them too. This is why there are a ton of Zooper Widget skins available on the Play Store and elsewhere on the internet. We'll list 5 such Zooper Widget Skins here for your fancy but let's first show you how to use them.
How to apply Zooper Widget skins
Assuming you have Zooper Widget Pro installed, just long-press over an empty space on your home screen and select Widgets. Scroll all the way down to find Zooper Widgets. Select one of the different available sizes and then drag it to place it on your home screen.
You'll now have a semi-transparent widget on your home screen. Tap on it and you'll see a list of options you have. If you have installed a Zooper Widget skin from the Play Store, it will also be found here in the list, select it. In the screenshot below, you can see I have the Alloy Zooper Widget Skin installed.
When you tap on the Zooper widget skin, you'll be able to see all of the various widgets presets available. Usually, most skins provide a wide number of such options. Select the one you like by tapping on it.
Now, you have the option to make changes to the selected widget skin, but you don't necessarily have to. You might feel the widget is too small at times which is where the Scaling option would really come in handy. There are a lot of other options here as well but this isn't the post to discuss all of those. Once you're satisfied with the look just tap the back button. The selected skin will be applied and you'll see it on your home screen.
1. Alloy Zooper Widget Skins
[googleplay url="https://play.google.com/store/apps/details?id=garvit.ch.AlloyZooper"/]
You've already seen this one in the above demonstration. An alloy is an amalgamation of different metals. True to the philosophy of its name, Alloy is an amalgamation of Zooper Widget skins of different styles and varieties.
Don't miss: 5 Paid Icon Packs Currently Free on the Google Play Store
2. MIN
If the name didn't already make it clearer, this widget pack is full of minimal widgets for your home screen. Some of these widgets are simply stylish English text. Like, instead of "7:35" it's "Seven Thirty-Five" in a stylish font. With the right set up this could look quite unique and beautiful. The MIN widget pack would look good with almost any kind of home screen set up really but if you want a complete minimal look, you might want to try these icons as well – Min, Whicons, and Lines.
3. Aura
[googleplay url="https://play.google.com/store/apps/details?id=njad.aura.zooperpack"/]
Aura is a really big Zooper skin with over 70 widgets, as its Play Store page says. There could be many more in by now and we're not counting. The widgets all have an interesting choice of color palette and they might not just go with any kind of home screen set up. If you do dig the look, you might also want to try the Aura icon pack. It's an icon pack from the same developer and uses the same color palette as the widgets. Unlike the widgets, the icon pack in not free though. Some other icon packs that'd really go well with Aura are Viral, Halo and Saturate.
4. Typographical II
[googleplay url="https://play.google.com/store/apps/details?id=com.dosartstypographical.zwskin"/]
Typographical is actually only a tiny bit "graphical" and a lot of "typo". Which is what a name like Typographical suggests so you get what you expect. These skins are some of the most beautiful Zooper skins you'll ever use. Best of all, they look good no matter what kind of a set up you have. They'll fit right in.
Must read: Today Weather is a Simple & Beautiful Weather App for Android
5. Flat Material Zooper Widget Skins
[googleplay url="https://play.google.com/store/apps/details?id=com.bedefined.flatmaterialzooper"/]
Love Google's Material Design? With Flat Material zooper skin, you can bring material design right onto your home screen. This widget pack features not only skins that complement your current set up but also skins that can totally replace it instead.