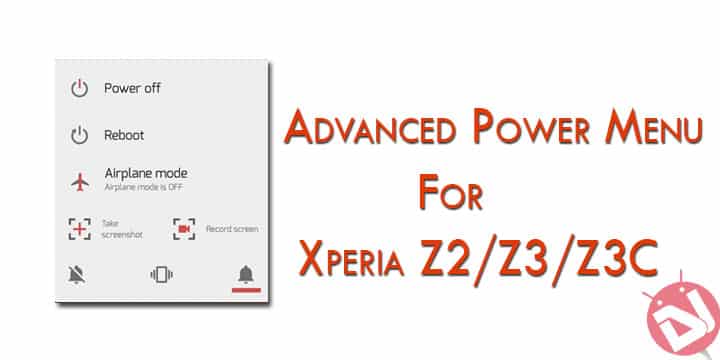 Power Menu is the easiest button to press on a smartphone. It is usually placed at a convenient position on your smartphone so that you could easily wake up your smartphone when required. Though it is an easy and convenient button to press its functionality is limited to lock and unlock your device or to Power On/off your smartphone on stock firmware. But using Advanced Power Menu mod you could add many options to your Power menu.
You may have used a custom ROM on your device and enjoyed extended functionality with your Power button. This MOD by XDA Senior member Rajeev lets you add extra options to your Power menu on a stock rooted firmware. Your previous Power menu gets replaced by a more featureful menu which has lot more options than your stock one has. Here's the list of options that you could have with just a long press of your Power button.
Features
Reboot
Reboot To Recovery
Fast Reboot
Bootloader
Safe mode
Patched Services (Superuser Mod)
Mobile Radio Active Bug Fix
Power Menu Icon Support Theme
ScreenShots
How to Install
Follow this guide to install Advanced Power Menu on your Sony Xperia Z2/Z3/Z3C.
Things You Will Need
 Xperia Z2/Z3/Z3C Lollipop 200/232/236 Firmware
Deodexed Stock ROM on your device
Custom Recovery like TWRP should be installed on your device
Advanced Power Menu MOD| Mod_by_Rajeev_Deodex.zip
Steps To Follow
Download the Advanced Power Menu Mod from the link given above.
This will download a zip file, copy this zip file to your device.
Now boot your device into Recovery mode.
Once in the recovery, perform a backup of current ROM using the Backup option in the recovery, just in case anything goes wrong or you want to restore to your previous settings.
Now, select Install option in the custom Recovery and browse the zip you have downloaded, then confirm to install it on your device.
Reboot and Enjoy!
Install Advanced Power Menu on your Xperia device and easily boot your device onto different modes. Also, take screenshots on your device using this Advanced Power menu. It is a must-have if you use a stock deodexed rooted ROM on your Xperia device.
Leave us your queries in the comments section below, we will be happy to help you.