Recovering deleted files is a hectic task in Android smartphones, and the techniques aren't consistent as well. If you accidentally deleted a file in Android device, consider it gone forever. In Windows, you can quickly retrieve the deleted data from the Recycle bin in a couple of seconds. However, when you delete the files in Android, they're completely wiped from the disk. If Android has the recycle bin feature, we will use PCs less. In fact, you can add Recycle bin on Android phones right now using a simple app.
Currently, Android devices don't give you inbuilt option to recover deleted files. But you can retrieve deleted text messages and other files using 3rd party software on Windows. Dumpster is a simple app available on Google Play Store which can help you add recycle bin on Android devices. I've tried many such apps to counteract my hastiness in deleting junk files on my device. Dumpster is the best app that I've found which can mimic the exact functionality of recycle bin you find in Windows. Once you install the app and enable it, all the deleted files can be recovered from the Dumpster app. I know you want to try this app as soon as possible, so let's see how to add recycle bin to Android device using Dumpster app.
How to Add Recycle Bin on Android Phone
Dumpster app is available on Google Play Store for free. So, grab the app from the below widget and read further on how to configure it.
Configure Dumpster App
Once you download the app from the above link, open it from the app drawer. Open the app settings menu by swiping right on the screen or clicking on the hamburger icon (three vertical lines) in the top-left corner. Click on Settings » Protect Settings and toggle what you want dumpster to save. You can save files like images, videos, audio, documents, apps, and other files. You can even configure cloud backup but you need to pay for that, and it's not even necessary if you ask me.
Dumpster listens to the delete calls in your device and saves whatever you've deleted. So, make sure to turn on the "Auto Clean" option from the settings so that it won't clog your storage.
How to Recovery Deleted Files
The dumpster will now capture every file you've deleted on your device as per your configuration. If you need to recover a file, just open the Dumpster app. You'll see the list of files that are deleted from your device. Just select the file(s) you need to recover and tap on the Restore button at the top-right corner of the app. You can also permanently delete the unwanted files from the Dumpster app. It's as simple as that.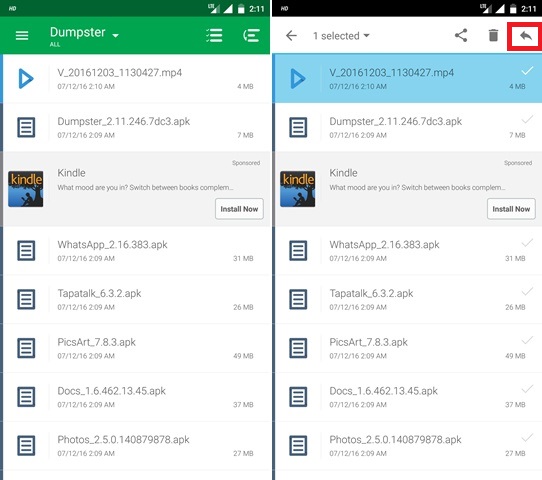 So, do you find this app useful? Well, believe it or not, you have a recycle bin on Android device now.