Google came up with Google Assistant as a personal assistant for you, it shows pretty useful information when needed in the form of Now cards and performs basic voice commands and searches. But we are limited to a specific set of voice commands that don't enable us to control our device. But with Commandr for Google Assistant you can add voice commands to Google Assistant to control your device.
Commandr is a supplement to Google Now, it adds more voice commands to the already big list of voice commands supported by Google Assistant. If you have a rooted phone you could even turn off your phone with just a voice command and do other useful things just with your voice. Commandr can be used with Tasker to create unlimited possibilities of voice commands. You could control all smart devices around you. It is easy to set up and few commands can be very helpful in our daily lives. Commandr also has full Android Wear support, so just command your smartwatch to perform a task.
How to set it up
Make sure you have enabled 'Ok Google ' detection from any screen to enjoy totally hands free experience. To do so, just go into Settings option of  Google Assistant> Voice> Ok Google detection. Then choose from 'Any screen' option. Google Assistant will ask you to train voice model, just repeat 'Ok Google' three times or till you get successfully trained. Now for setting up Commandr you need to enable Accessibility service, opening the first time Commandr will guide you through the process to do so. Now make sure you have enabled the option 'Enable Interception' in the Commandr app. That's it, now you are good to go, just say 'Ok Google' followed by the command.
If you have Xposed installed on your device just enable Commandr in the Xposed installer and Reboot device. Then enable the option in Commandr app to enable Xposed. It will then ask you to install another module Google Search API and open the XDA thread for it, download and install it. You could disable Accessibility service once you have enabled Xposed for Commandr.
Here's the list of in-built commands you get with Commandr:
Flashlight On/Off
Wifi On/Off
GPS On/Off (some devices)
Bluetooth On/Off
Wireless Hotspot On/Off
Pause/Resume Music
Previous/Next Song
Read Unread SMS
Read Last SMS From Contact
Play Google Music Playlist
Chatbot (for Siri-like functionality)
Cellular Data On/Off
Read Unread Gmail
Raise/Lower Volume
Silence/Unsilence Ringer
Set Volume to Percentage
Unlock/Lock phone
Take a Picture
Shutdown (Root)
Reboot Recovery (Root)
Restart (Root)
Clear Notifications (Root)Wolfram Alpha
Send Whatsapp message
Enable/Disable Rotation Lock
Enable/Disable Sync
Night mode (Disable wifi, data, and ringer)
Enable/Disable Airplane Mode (Root)
Enable/Disable Car Mode
Screenshots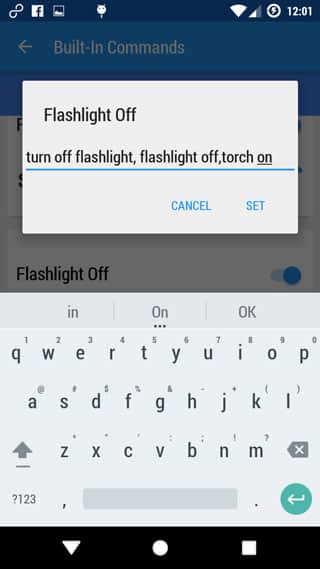 Commandr also provides with the option to change what should you speak/say to perform a task. You can add multiple commands for a single task also. You also have the ability to choose which commands you want to enable, you can disable others.
Using this app extensively I found few commands that require root like lock phone did not work or didn't work properly. Leaving them rest worked as they are supposed to. Try it out and tells if all the commands work for you. in the comments below.
Read Next: List of 70 OK Google Commands for Google Assistant