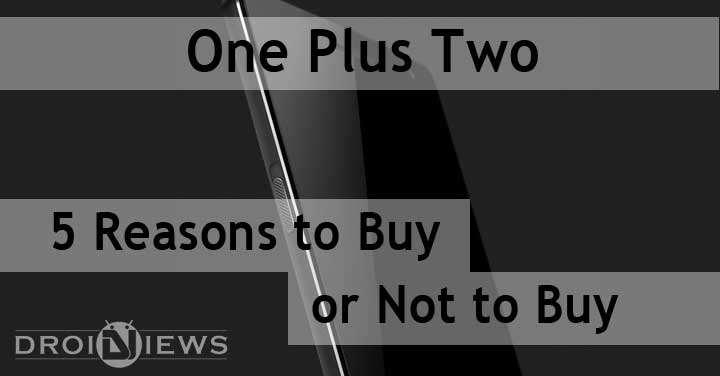 If you were one of those who were dazzled when Chinese company OnePlus announced the One also noted as the 'flagship killer' then you weren't alone. The device was instantly a huge hit in the community and with the features being offered at that price point just made you drool over it.
So when the rounds of its successor's launch started to circulate everyone was just in huge anticipation for its release. Although heavily leaked, finally on July 27 they launched and revealed the OnePlus Two.  Holding and abiding closely the formula that made the One such an intriguing phone, the Two is just as good
From a specifications perspective, the OnePlus 2 features a 5.5-inch, 1080p LCD screen, a Qualcomm Snapdragon 810 2.3 GHz 64-bit processor, comes in either 16GB of storage with 3GB of RAM or 64GB of storage with 4GB of RAM.
The rear camera is an almost identical 13-megapixel sensor with optical image stabilization, two-tone flash and a laser focusing system while the front camera captures selfies at 5 megapixels. Staying close to its mid-budget price range the 16GB model will retail for $329, while the 64GB version will go for $389. Which is fair when you start counting all the additional features OnePlus has included over their first device.
Before you start about whether you should get this device, or whether it's going to be worth the money, will it last long? Here are 5 reasons why to buy and 5 reasons why not to buy the OnePlus Two.
5 Reasons Why You Should Buy OnePlus Two
Significantly Nicer Body Material
Most of the frame is made of aluminum, but the back keeps the same textured, and grippable material from the One. That back is easier to replace this time, a handful of new backs including wooden options are available too. The unusual textured back looks amazing, and the contour of the phone means it fits in the palm more snugly which improves overall handling.
USB-C connector and Side Switch
Moving forward with new technologies the OnePlus 2 sports the all new reversible USB-C type connector for charging and data transfer. Taking cue from the Apple's Lightning Port, this is a huge plus for those looking to keep up with the current trends. Also included it's the iPhone like side switch to toggle the 3 main notification settings All, Priority and Silence. This improves usability so you don't have to turn your device each time you want to switch profiles.
Fingerprint Sensor
Another great new addition is the fingerprint unlock sensor. With the phone locked, it takes less than a second for the sensor to get the phone open and ready for use. Much like the iPhone, you have to back up the fingerprint sensor with a traditional on-screen lock, but it seems whatever OnePlus are using here it's a hit.
Oxygen OS
OnePlus has added its own in-house software called OxygenOS ditching CyanogenMod from last year's flagship. OxygenOS breathes using Android 5.1 and it's a very clean skin, with minimal extra features such as gestures to tap the screen to wake it, or draw a circle on the screen to launch the camera and the ability to swap between on-screen navigation buttons versus using the capacitive buttons below the screen. Also included by OnePlus its very own in-house camera app, which is sure to get the best out of the sensor
The Shelf
The biggest addition is something OnePlus calls "the shelf." When you swipe to the left from your home screen, you'll see an area that collects your favorite contacts and most used apps depending on how frequently you use it. OnePlus says it'll extend the functionality of the shelf over time,
5 Reasons Not to Buy the OnePlus Two
Now here are 5 reasons in my opinion why not to go for the OnePlus Two, but in the end the choice is all yours.
Lack of NFC
One of my biggest concerns is when a device is branded a 'flagship killer' it's usually supposed to mimic the features a flagship would possess but at a lesser price point. With the growing trend of wireless pay and payments done through NFC and also they lose the ability to connect with most of the wireless devices and speakers in the market that work on NFC. So the lack of NFC on the OnePlus Two is a huge let down for me.
Sub-Par LCD Display
A phone that can boast features like the Two does, its display does suffer from mediocrity. Not going for a say AMOLED or IPS display and instead going for a simpler LCD display really affects the look and operational feel of the device. With manufacturers nowadays opting for 2k or even 4k displays for handsets in the same price range as the OnePlus Two.
Invite System
Even though OnePlus claimed that getting the device would be easier and less cumbersome compared to when the OnePlus One was launched last year, it still means that you'll anyway have to wait for quite a while to get your hands on the newly launched OnePlus Two. And with already close to a million people already registered I'll say it is going to be long wait indeed.
Limited Storage
Even though one might argue that 64GB is sufficient enough storage for a smartphone, but considering Apple and a few other flagships come with the 128GB option. Also a middle ground 32GB model would have also be welcomed as it would easily please a lot of the neutral public who consider 64GB to be too much and 16GB to be too less since OnePlus isn't offering expandable storage on the Two.
No IR Blaster
Another huge let down for a feature filled device is the lack of an IR blaster. Many of the current generation of flagships come with a pre-equipped IR (Infra-Red) sensor that allows you to use the device and interact with household appliances such as your Television or your AC.
Now if this device appeals to you, do mind the famous invite-only purchase system is still in play and you'll have to somehow get your hands on an invite before actually buying the phone. But as OnePlus promised getting an invite will be a lot easier. So go on and join the already 1 million users waiting for an invite by dropping your email at their site (insert link).
If you have anything more to add to let us know in your comments below.