In a world where smartwatches, except those from Apple, are struggling to attract customers, fitness bands seem more attractive. After all, they do last longer and do almost everything that you would want from your smartwatch. From syncing notifications from your phone to tracking your activities, they do it all. And yet, they don't do it all. There's obviously a reason why smart bands and fitness trackers are cheaper in comparison to smartwatches. This is where Samsung saw an opening and moved to fill it with the Samsung Gear Fit 2 Pro. It's a smart band with some smartwatch features.
For instance, the Samsung Gear 2 Pro gives you the ability to choose from hundreds of different watch faces. There's even a limited number of apps for the Gear Fit 2 Pro that you can install from the Samsung Galaxy Wearable app. The number of watch faces available can present the problem of too much choice. And yet, there aren't as many that you'll always find something you're looking for. For example, a nice, free, Superman watch face. Is that too much to ask? Anyway, here are 5 of my favorite watch faces for Samsung Gear Fit 2 Pro that you may love as well.
You can find all of these on the Galaxy Wearable app by searching for the names. The Galaxy Wearable app is available for your phone on the Google Play Store.
[googleplay url = "https://play.google.com/store/apps/details?id=com.samsung.android.app.watchmanager"]
Best Watch Faces for Samsung Gear Fit 2 Pro
1. FGF014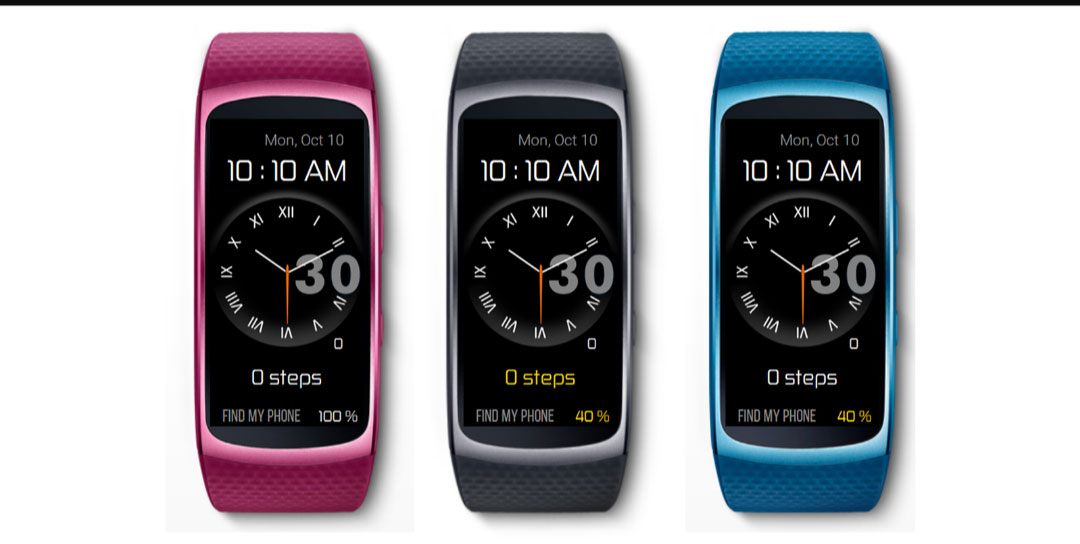 The Gear Fit to has a long rectangular face, which means it can show you more at once than something with a square or circular display. So why not make use of all that available screen real estate right? This rather awkwardly names watch face is one of the many that'll throw out a bunch of information on your watch. It includes an analog clock, a digital clock, the step count, and the battery percentage. Along with all of that is a little section at the bottom that lets you launch the Find my phone app.
2. FGF015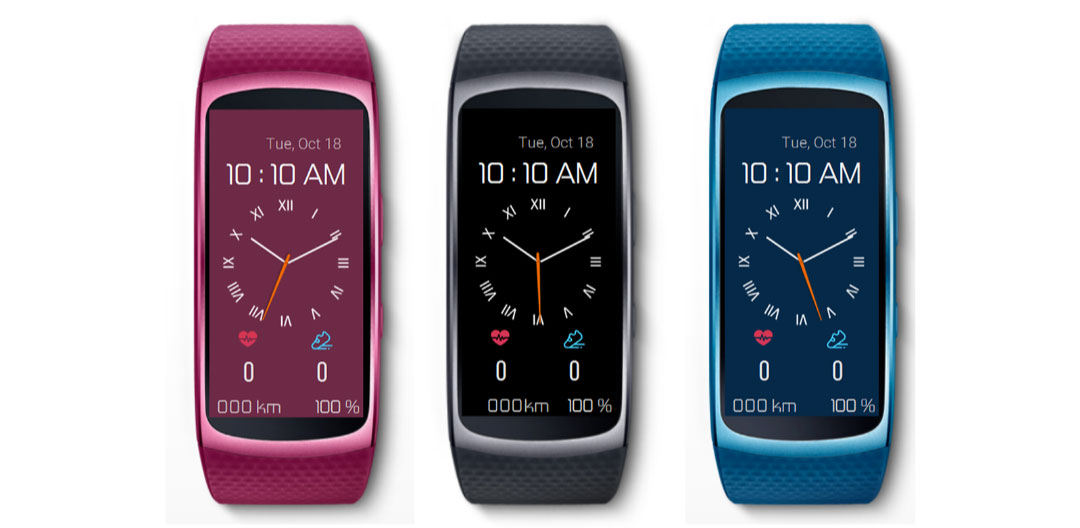 As you can tell, this is just another variant of the earlier mentioned watch face. It fits in a little more information that the previous one adding a counter for the heart rate and the distance covered in place of the Find my phone shortcut. The analog clock here is also a little less pronounced and to me, a bit classier. One of the advantages of having the analog clock, for me, is that I can see the seconds ticking. On a digital clock watching the seconds go by is not anywhere close to relaxing.
You may like: Get Galaxy S8-Like Always On Display Feature on any Android
3. India Flag Gear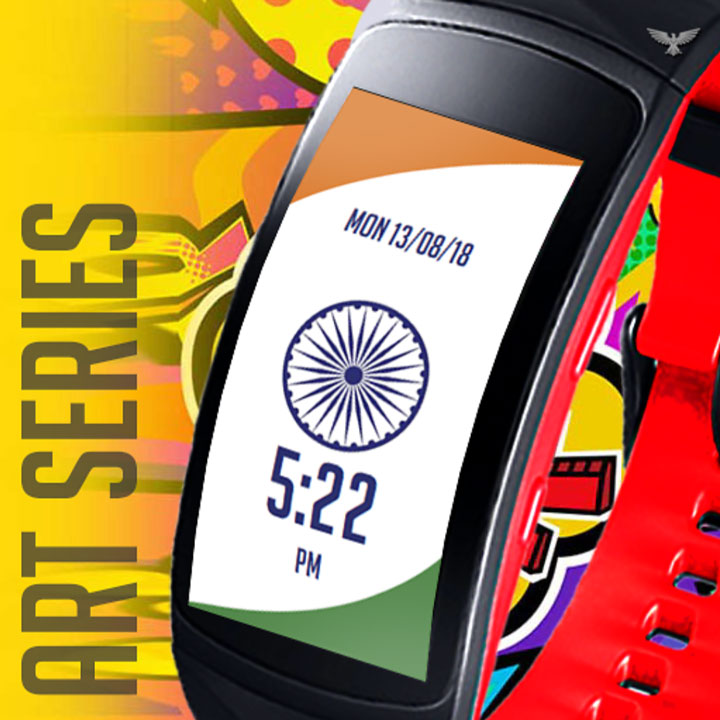 It may look a little too flashy with those colors but hey, everyone does love their country. To my eyes, this watch face looks just perfect to keep around, but not sport on your wrist all the time. The Galaxy Wearable app has many flag-based watch faces for different countries, there are a couple more for India as well. This is one the better ones though.
4. MinimalDark + Always on
The Samsung Gear Fit 2 Pro has an AMOLED screen which enables it to have an Always on display. While it does help suck the juice out of your battery faster, you should still be able to make it through the day without much problem. If you are sporting an always on display though, the default ones with most themes look horrible. This is why MinimalDark + Always on is quite necessary. It shows you the clock, date, heart rate counter, calories burned and the steps counter all the time once you turn on the Always on display in settings.
5. DQ015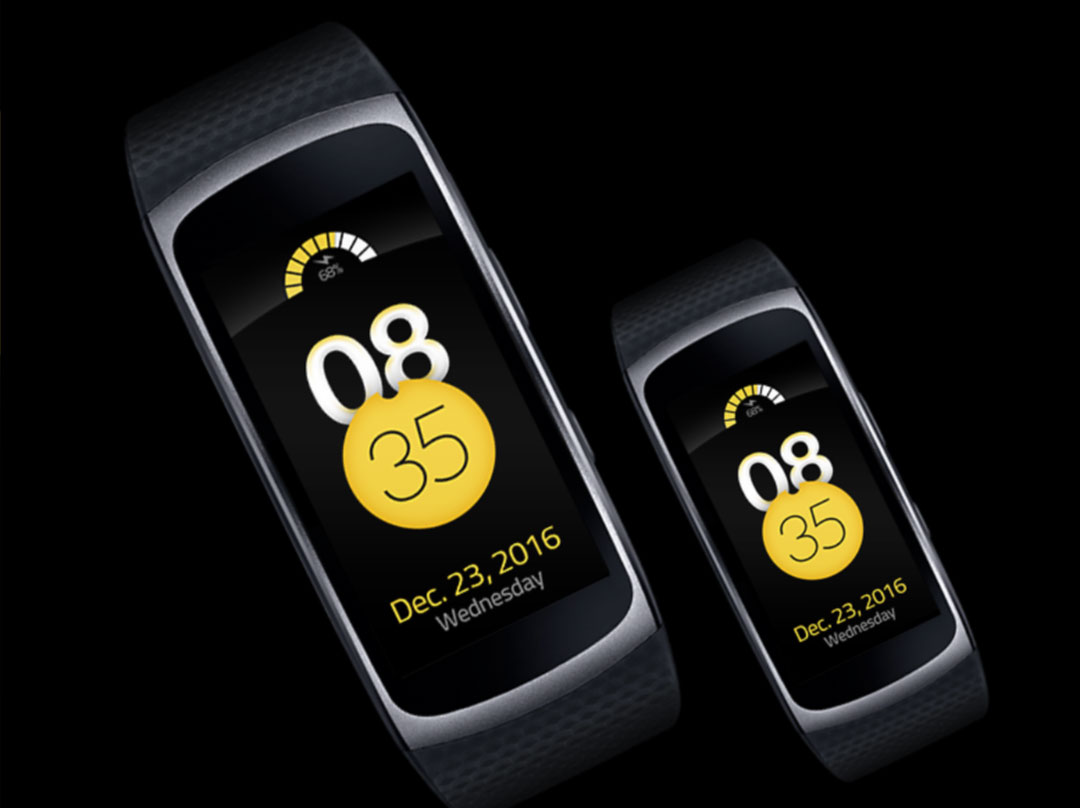 Sure the Samsung Gear Fit 2 Pro has a longer screen than most, but not everyone wants to be bombarded with information the moment they look at their wrist. If you're someone who would like just the bare essentials, this is the watch face for you. It shows you the date, time and battery and manages to look fancy. It is also one of the options for those who prefer a 24-hour clock over a 12-hour clock. A small circular cutout in the yellow minute circle revolves around the perimeter to display the seconds' clock.
Editor's pick: 4 Awesome Icon Packs You'll Love [#1]