I love Android, mainly because of its ability of heavy customization. I can completely change the look of my phone with rooting or jailbreaking it. Although rooting an android phone gives complete control over the device, a lot of customization can be done without the need of rooting. One of the easiest ways to freshen up my device is to install a new launcher.
For the uninitiated, a launcher is an app that lets you customize the look of your homescreen as well as your app drawer.
You must be familiar with few popular launchers like Nova, Apex, Aviate, Everything.me, and Apus, but here are a few launchers I've found that you may not have heard about. These launchers are not much popular but are as good as the popular ones.
1. ap15 Launcher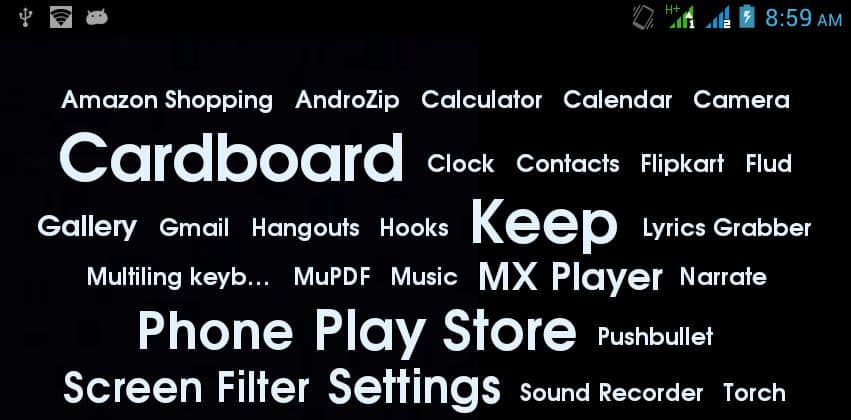 ap15 is a new launcher with just 500 downloads at the time of writing. It's very minimal and consumes very less RAM. It automatically puts your most used apps on the home screen in text format, based on the number of times they've been opened, and adjusts the text's color based on the luminosity of the wallpaper you've chosen for a better contrast.
[googleplay url="https://play.google.com/store/apps/details?id=com.aurhe.ap15″]
2. SickSky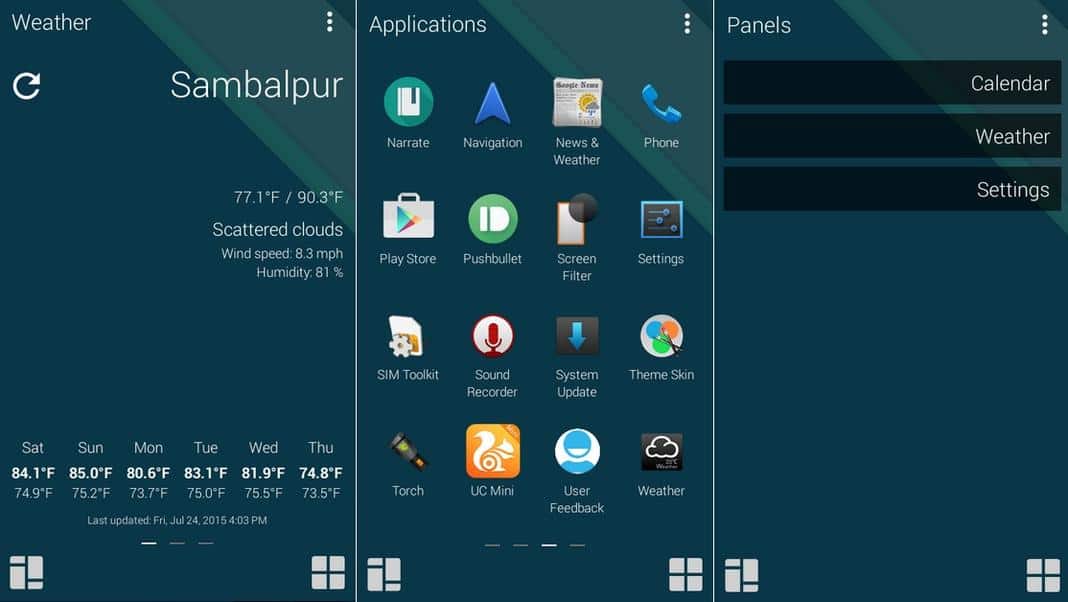 SickSky is a minimal and panel based launcher with the focus on optimization of the screen. The main screen is completely plain, just the wallpaper along with date and time. Swipe right to get weather information, left for the calendar event, down for settings, and up for apps. Swipes are configurable. Support for app folders isn't given. However, widgets and shortcuts can be added by creating another panel which will be accessible by swiping.
Update: Oops, the app is not available anymore!
3. Picoo Launcher
Picoo is a lightweight launcher which follows the material design. It's fast, smooth, and small. Very good for phones with old hardware. It organizes all your apps of same category into one folder. Although there is nothing new or innovative it provides very good experience. At the time of writing this, Picoo Launcher is not available in the Google play store. You can download it from here.
4. Launcher +
Launcher + is a fast, lightweight, and smooth launcher based on Android KitKat. It focuses on providing a clean experience which is close to the stock Android. All the basic functions like hiding apps, widgets, etc. are available.
Update: Oops, the app is not available anymore!
5. Noria Launcher
Noria is a minimal card based launcher. After launching the app for the first time, it'll ask you to create a card. For example – I want to create a card which will contain all my communication apps, so I'll name the card "Talk" and add the apps like Dialer, Contacts, Hangouts, Messenger, and WhatsApp – you get the gist.
[googleplay url="https://play.google.com/store/apps/details?id=com.squimer.norialauncher"]
Out of all the launchers, I liked ap15 and Noria launcher a lot. Both the launchers are very minimal and easy on RAM. Currently, I'm using ap15 launcher and I totally love the text-based homescreen.
Did you know about these Android launchers? Every day, there are new ones popping up. If you know of any Android launchers that are obscure but worth mentioning, feel free to share them in the comments.