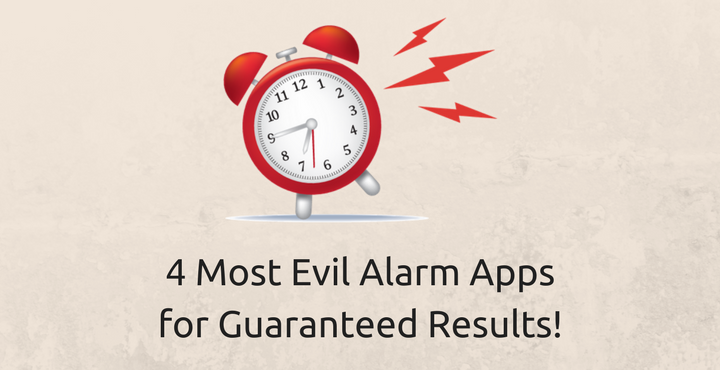 I am not a morning person. Ask me to stay awake till 5 in the morning, I can do it. Sleep early and wake up at 5 in the morning? It's a big no-no! For many of us, Alarm is the once thing that we need the most but also the one thing we hate the most. Some of us are heavy sleepers and we absolutely love the 'Snooze' button! But we can run away from responsibilities – can we?
I used to have like 5 or 6 alarms set for every morning to make sure that I reach my work on time. But now, there are some interesting new alarm apps available to make my mornings (and hereafter, yours too) little more painful (and productive!). Below is a list of 4 most evil alarm apps for guaranteed results!
Also read: How to Edit MP3 Tag and Album Art on Android
1. Alarmy:
What is the first thing you do in the morning as soon as you wake up? Okay, don't answer that. Everyone has a morning routine. Maybe you head to the kitchen to make a good hot cup of coffee or you head out for a refreshing morning jog.
The only way to dismiss the alarm (from Alarmy) is to take a picture of a particular place that you can preset. For example, you can set a picture of a particular place of your kitchen. Every morning, when the alarm goes off, you have to get out of the bed – go to your kitchen – take a picture of the exact same place to dismiss the alarm. I know what you're thinking and yes, that's evil! But hey, it works.
Get it from Google Play Store by click below:
2. Shake-It Alarm:
I guess the name kind of gives away what is special with this app. Yes, you need to vigorously shake your phone to dismiss the alarm. But, you can do it while lying on the bed and cheat it very easily, right? Right.
This is where the second option comes into the picture. According to the rules set by the second option, the only way to dismiss your alarm is to scream at your phone. Yes, you gotta shout repeated at your phone to make this work. There is a meter to measure your screams and when it reaches a certain point, the alarm gets dismissed. There is also an option to send a message to a friend to make sure that if the app does not wake you up, your friend will.
Must read: Open All File Types on Android with These Apps
Alternative title: How-to-scream-and-annoy-your-partner Alarm 😀
Get it from Google Play Store by click below:
3. Walk Me Up:
Walk Me Up. Get it? It's a word play on the words 'Wake Me Up', nice. This one doesn't make you scream at your phone or take pictures. Rather, in order to dismiss the alarm, you need to get out of your bed and walk. Don't even think of cheating, it counts your steps as you walk. I just installed it yesterday and tried to cheat it today morning but the app seems kind of smart most of the times. You should definitely give this one a try.
Get it from Google Play Store by click below:
4. I Can't Wake Up:
This app is aptly titled to reflect our mood every morning. If you don't like the apps that we have listed above, you should definitely check this one out. It has got some super annoying tricks up its sleeves, both mental and physical, to get you out of your bed.
There are memory problems, math puzzles, logical problems. It is one of the most customizable alarm apps available on the Google Play Store.
Don't miss: 10 Tips to Make Your Phone's Battery Last Longer
Get it from Google Play Store by click below:
Got any more of them evil alarm apps? What is your favorite alarm app? Let us know in the comments bellow!