The sweetest part of Android is its customizability. Whether you are a veteran or a noob, it has something for everybody. With Android, you get the freedom to alter each and everything and make your device dance on your fingers. You can easily put together something that's unique and different than what everybody else is rocking.
I bet I can't be the only one who gets bored of their setup after a week, two weeks at max. Since I've not rooted my device yet, the only form of customization I can do is changing stuff like launchers, wallpapers, and icon packs. That's the basic level of customization anyone can do even if you are just a beginner.
We, at DroidViews, are suckers for customization and share some awesome customization tips to help you freshen up your device from time to time. In this series, we will be focusing on icon packs, which, I think, is one of the easiest ways of breathing a new life in your device. With that said, here are 4 awesome icon packs you'll love for sure.
Blackdrop – Icon Pack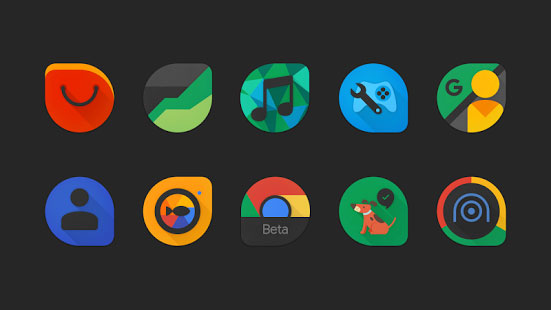 Blackdrop, by DrumDestroyer Themes, contains icons in teardrop shape which became popular recently among the rumors of the Google Pixel 2 and the arrival of Android Oreo. Now, there aren't many teardrop-shaped icons available in the play store. So if you want one, this is the best you can get.
If you've been following our icon pack series over the year, you know that I'm a big fan of DrumDestroyer Themes work. And, the main reason for that is the extreme attention to detail. So, rest assured, for a very little amount you are getting a very high-quality icon pack.
[googleplay url="https://play.google.com/store/apps/details?id=black.pixel.teardrop.ddt"/]
Serenity Icon Pack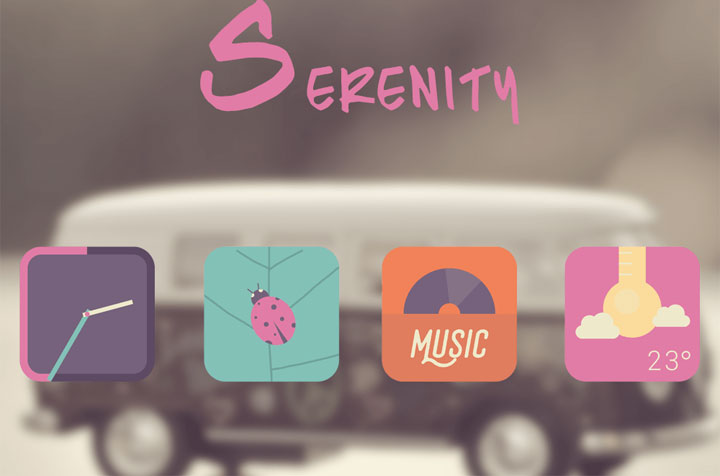 Serenity, by Not Just Another Designer, is a square-shaped icon pack with slightly rounded edges. The color palette of these icons are very light in nature or can be considered vintage/retro too. Whatever it may be, the fact is it looks cool when applied and is easy on the eyes.
Serenity contains more than 2000 high-quality icons along with 16 original wallpapers. You can get all of this for just a dollar.
[googleplay url="https://play.google.com/store/apps/details?id=njad.serenity.iconpack"/]
Around – Icon Pack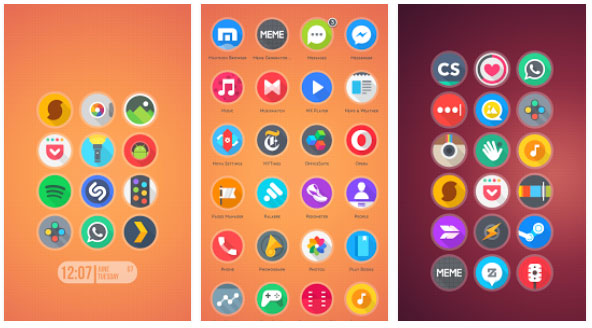 Around, by FLATEDGE, is one of my favorite round icon pack. It's created with extreme precision which is evident from the high quality work you see here.
Around consists of a lot of 192X192 high-quality icons. Each icon is round in shape and looks like it's pasted on a bigger and transparent circle along with sharp icons and long shadows which gives the icons a very simple and gorgeous look. The icon pack also comes with a few cloud-based wallpapers and support for dynamic calendar.
[googleplay url="https://play.google.com/store/apps/details?id=com.arounddonate.icons.flatedge.iconpack"/]
IconX – Icon Pack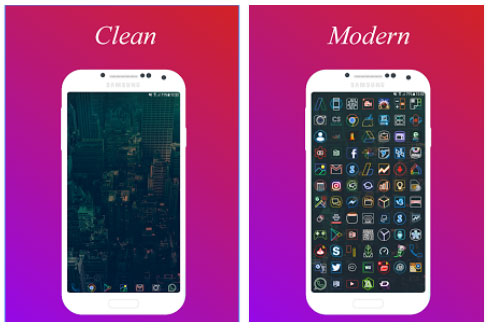 IconX, by MB Dev, contains more than 2500 icons and 140+ wallpapers all of which are very high in quality. The icons in this pack are very different than your usual icons as they are only made up of colorful outlines. This design, I believe, was first popularized by a developer called Mowmo with his TowPixel icon pack.
[googleplay url="https://play.google.com/store/apps/details?id=com.mbdev.iconx"/]