Funny story: did I ever tell you about the time when my phone was about to be seized in class? Yeah, my professor thought I was playing a game on it, but all I was doing was recording her lecture because it was way boring and I had no patience to jot down everything she had to say. Pfft.. Professors, right? Well, it's a good thing I talked my way out of it.
That story has nothing to do with this article, by the way. I just wanted to share a story from my funny, miserable life. Anyway, if you are looking for an audio recorder for your Android device to record lectures, interviews, or even your own thoughts; here are 3 of the best ones. Oh, don't forget to check your app drawer as some devices come with a built-in voice recording app that's pretty decent as well.
Cogi – Notes & Voice Recorder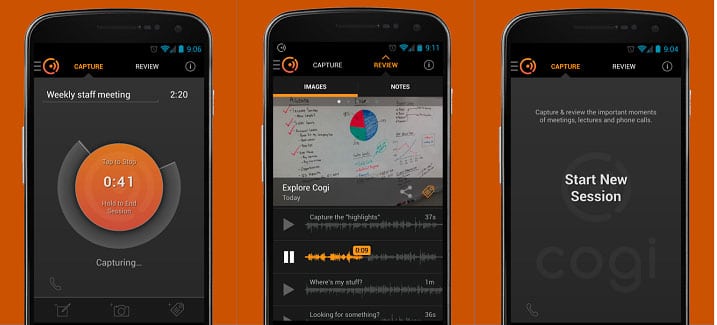 Cogi isn't anything like your usual voice recording app; so it will take some getting used to, but that's going to be worth it. Even though it can be used as a simple voice recorder, it has so many advanced features that using it as a simple voice recording app would be an insult to Cogi. My favorite feature in Cogi is manually telling it when to record and when to stop; it's pretty cool and useful once you get a hang of it. Other than this, you can add images and notes to the recordings, make use of #tags to categorize everything. It can record endlessly unless told to stop and also works in the background.
Overall, Cogi is a minimal and polished app which is worth a try if you want something more powerful than your usual voice recording apps, and it's free.
Audio Recorder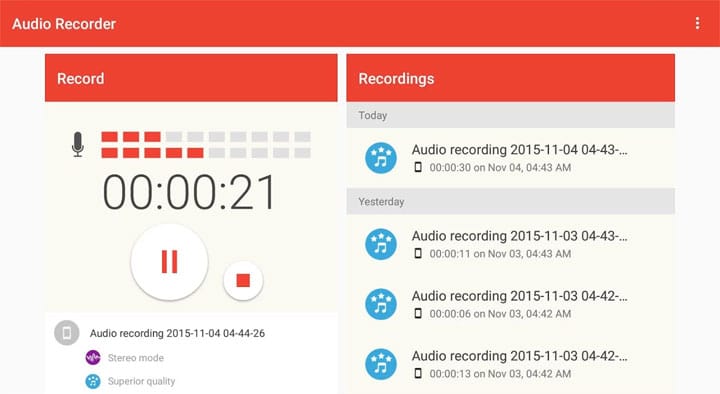 Audio Recorder, by Sony Mobile Communications, is the official voice recorder that comes in all Sony smartphones. It is a pretty simple app, just tap to start and stop recording. It's fairly clean and lets you play back the audio you record. It has a built-in engine that tries to improve the audio quality. Those who are pretty strict regarding their privacy may not like it as it anonymously collects statistics. But, then again, almost everyone collects required data to improve the product, so it shouldn't be a big deal.
Voice Recorder
Don't let this obvious name fool you, it is probably the best voice recorder available for Android. It looks good, has tons of features, doesn't have ads, supports Android wear, and it's completely free. What else can you possibly expect, right?
Just like Cogi, you can attach stuff like notes and images to your recording and categorize them using tags. One thing that makes it stand out is that it automatically makes a backup of your recording in DropBox.
With an In-App Purchase, you can get more features like noise suppression, echo cancellation, automatic gain control, etc.
There are so many amazing voice recorders in the Google play store that it was really hard selecting just a few. Other than the 3 mentioned above, Tape-a-Talk voice recorder and Voice Recorder by Alex Circus are 2 really great alternatives.
What's your favorite voice recording app for Android?