Being productive in whatever you do is important; nobody likes to waste their time doing useless things. But no matter how focused you are, distractions will occur. One solution or technique that proves to work all the time is taking breaks during work. Taking breaks is important because, come on, working all the time is an awful idea. You can only work for so long before you hit your breaking point, unable to do anything no matter how much you try to focus.
Pomodoro technique is a time management technique that helps you in doing efficient work. It does so by reminding you to take breaks. It works something like this – work for a set amount of time during which you are sure that you'll be able to give your 100% and after that take a break for few minutes. Traditionally, you should work for 25 minutes and then take a break of 5 minutes. Once the break is over, get back to work again for the next 25 minutes. Take a longer break than usual after completion of four consecutive cycles.
If you are up for the task then try these awesome apps which will help you follow the Pomodoro technique effectively.
Disclaimer: Since there are more than hundred apps that perform the exact same function I'm not including those apps which are already well known. I'm mentioning only those apps which are somewhat new and have good ratings and reviews.
Ovo Timer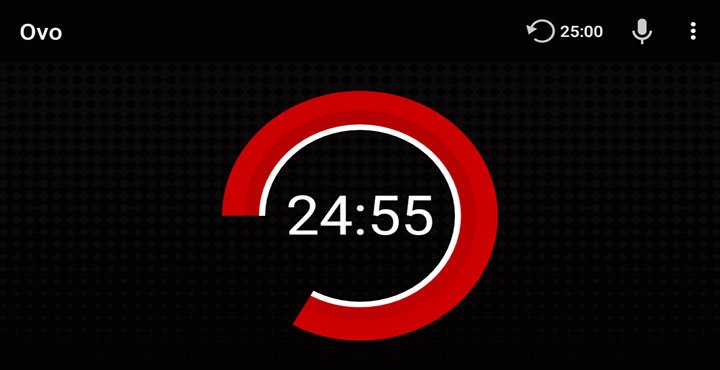 First, Ovo isn't new but I just have to mention it because of its simplicity. Basically, you just need a timer app that will remind you to take breaks after a set period of time. Ovo Timer is probably the best and most easy to use a timer for Android. To start using Ovo, just touch the screen and start rotating your finger clockwise. You will see the time that you are setting it for in the centre. The timer can be set up to 60 minutes. Once you set your desired time, take off your finger and Ovo will start counting.
It's one of those rare apps that does not try to cram up lots of features in one place. Instead, it limits the app to the required features. It does only one job and it excels at doing it.
Brain Focus Productivity Timer
Brain Focus Productivity Timer is a time management app that follows the Pomodoro technique in order to help you get your work done productively and efficiently. You can set a period of time until which you would like to work and then take a break. It keeps a track of all your work and break session and shows their statistics using graphs and numbers. It also lets you create tags for various activities and assign each activity a different time set. It also has a pure black theme for AMOLED screens.
It is one the simplest and easy to use Pomodoro app you will find in the Google play store. Go ahead and try it if you want an effective time management app.
ClearFocus: Productivity Timer
ClearFocus is another productivity timer that follows the Pomodoro app and claims to make you productive. It's similar to the above-mentioned app in many ways. It has a minimal and pleasing design. Work and break sessions are customizable.
One feature that I like a lot is its ability to block distracting apps. In order for it to work, you must install another app from the same developer called ClearLock. Once it is installed, you can select which apps are needed to be blocked and for how long, and you are good to go.
While the app is free, it does serve ads. In order to remove ads and unlock some extra features like a pause button and widget, you'll have to spend some cash.
That's it for this list. There is one more awesome app which you should try. It's called 5217. I didn't add it to the list because I wanted to add only free apps and that's a paid one.
Do you use Pomodoro technique? Do you find it useful? Tell us in the comments below.