With advancement in camera technologies, smartphone cameras have replaced full-fledged cameras for many. Since smartphones have become the major source of capturing photos these days, editing them on your smartphone itself instead of transferring them to your computer for editing makes more sense.
There are tons of photo editors in the Google play store and today I'm sharing with you 3 awesome photo editors. Please note that I'm not stating that these are the best photo editors available for Android. But they are really good and worth trying.
SKRWT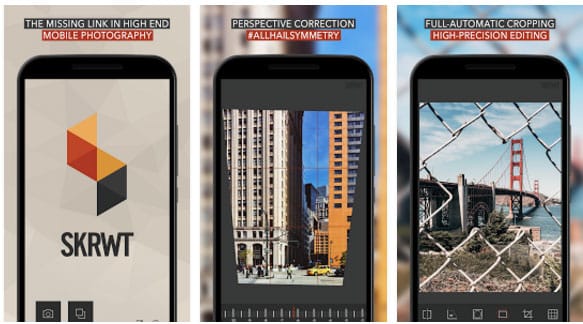 SKRWT is a highly respected photo editor from iOS that made its way to Android in mid-January of this year. The app packs impressive features and is simple and straightforward. It packs powerful features like 4 points image transformation, a wide array of lens correction, lens distortion, auto-cropping, composition assistance, vignettes, gallery sorting, non-destructive editing (for easy undo) and much more. One feature that I like a lot is EXIF Reader. It provides all the necessary information regarding a photo like an aperture, shutter, ISO and more.
An easy to use interface and impressive set of features make SKRWT a must have app if you are serious about smartphone photography. It costs less than a dollar in the Google play store and the price tag shouldn't stop you from buying this amazing app.
[googleplay url="https://play.google.com/store/apps/details?id=accky.kreved.skrwt.skrwt&hl=en"/]
Cupslice Photo Editor
Cupslice is a free photo editor that comes with basic editing features like collages, hue and saturation, crop, frames, brightness and contrast, black and white adjustments, and color adjustment options. It's fairly simple and has an easy to use interface. Its real power lies in its wide array of filters and stickers. It houses lots of impressive and powerful filters. In addition to that, most of the filters are highly customizable. And in terms of stickers, it has tons of updated stickers for various categories like funny, cute, vintage, quote, music, birthday and much more. Other than this it also offers lots of typography related to trending words or phrases.
[googleplay url="https://play.google.com/store/apps/details?id=com.cupslice&hl=en"/]
Bonfire Photo Editor Pro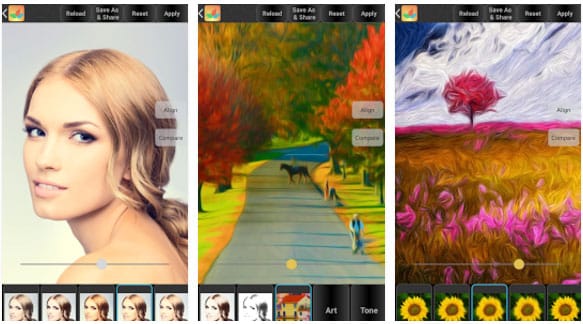 Bonfire Photo Editor Pro, just like Cupslice Photo Editor, offers basic editing features like rotate, flip, vibrant, temperature, highlights, shadows, RGB adjusting, brightness, contrast, saturation tools, etc. But it's real power lies in its wide amount of filters that it offers, more than 110 amazing filters to put a number. It has some unique filters like Funk filters that give your image a comic like an effect or Fancy filter that gives your image watercolor like effect.
[googleplay url="https://play.google.com/store/apps/details?id=com.gogoinv.bonfire.android&hl=en"/]
Do you edit images on your Android device, or do you prefer to use a computer? What photo editors do you keep around on your phone or tablet? Tell us about your favorite photo editors in the comments below!