Multitasking on Android is pretty sweet. With recent flagships packing 4 to 6 GB of RAM, things have only got better.
It doesn't matter if you are a heavy user or a basic user, you definitely make use of the multitasking functionality on your device. After all, we do so much on our smartphones that multitasking across multiple apps is a must.
Although the recent apps menu is quite good, the third-party apps are a little bit better. That's why we have compiled a small list of 3 awesome app switchers for Android to help you reach your favorite apps easy and quick.
Sesame Edge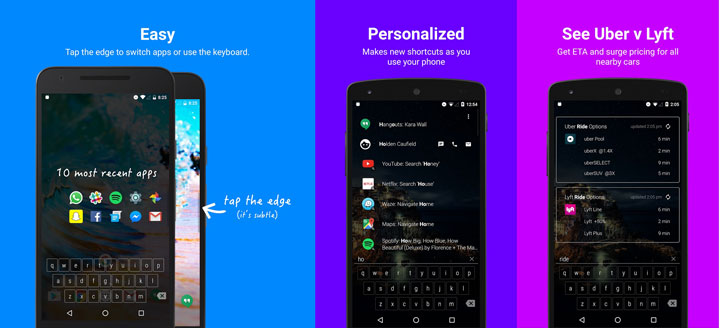 Sesame Edge is a powerful app switcher which aims to make multitasking more powerful by helping you reach your apps and a lot more in just a few taps. Once installed, it adds a trigger (on the lock screen and home screen) on the edge of the screen, which is very subtle and matches with your theme.
It just sits there without causing any distractions. Whenever required, just tap on the trigger and it will show you 10 of your most recent apps. Below these apps is an onscreen keyboard that lets you type and search for anything on your phone. Other than that, you can also create certain shortcuts to get the work done faster. As of now, it supports personalized shortcuts for Uber, Lyft, YouTube, Reddit, Play Store, Spotify, Whatsapp, Hangouts, Contacts, Chrome, Netflix, Maps, Waze, and Google Now. And you can get an ETA and estimated price for ride services (Uber and Lyft) nearby as well.
[googleplay url="https://play.google.com/store/apps/details?id=ninja.sesame.app.edge&hl=en"/]
Circle SideBar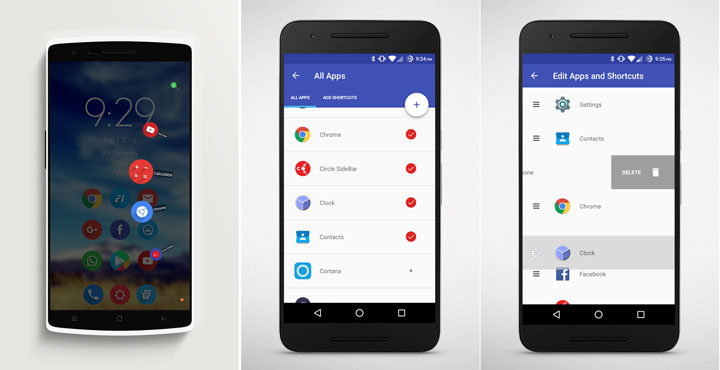 LMT Launcher and Lazy Swipe has been my favorite app switcher for years. Now I have a new favorite – Circle SideBar. It has very simple controls and is highly customizable. You can customize the trigger position, height, and width. Your favorite apps can be added, and icon packs can be applied for apps in the sidebar. The icon size is also adjustable. It is accessible via just a swipe, it can be accessed from any screen – even within other apps.
Circle SideBar is also available in Pro version. With Pro version, you can add shortcut activities in the sidebar. Certain apps can be blacklisted too.
Other than apps and shortcuts, you can access certain quick settings like Wi-Fi toggle, Bluetooth toggle, screen rotation, flashlight, brightness control, airplane mode, music playback controls, etc. via the sidebar too.
[googleplay url="https://play.google.com/store/apps/details?id=com.zeeshan.circlesidebar&hl=en"/]
Ivy (Sidebar, Widget, RSS)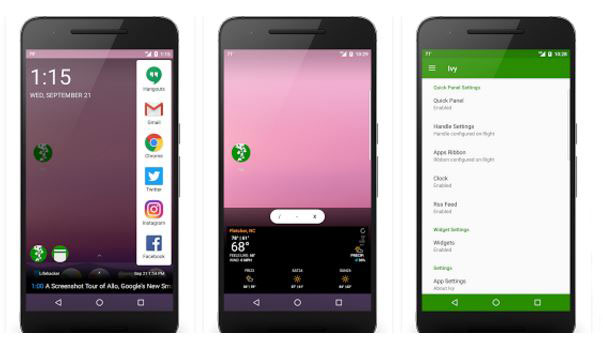 Ivy is a bit different than other app switching apps as it not only provides you access to multiple apps among which you can switch quickly, it also shows you time, contacts, date, app drawer, etc. With Ivy, you can add widgets and RSS news on the quick panel. For RSS, you get a number of topics like technology, sports, etc. and each topic has multiple news sources. The quick panel provides snippets of valuable information to give you glimpses of the things you need to know without the need to go to another app. Stay up on news or stocks without ever needing to launch a specific app, or get the information you need from widgets without the need to go all the way to the home screen.
[googleplay url="https://play.google.com/store/apps/details?id=com.stinger.ivy"/]