We all need to have a good PDF reader installed on or device. While Adobe Acrobat Reader is the most popular PDF viewers across all platforms, there are some great Adobe Acrobat Reader alternatives for Android that are worth a try.
Portable Document Format (PDF) is a file format created for the distribution and presentation of documents independently of software, hardware, and Operating Systems. It has been around since 1993 and it has been in use long before the introduction of the World Wide Web and Web Technologies. Today, it is still used by corporations, educational institutes, and others for easily distributing documents with text, image and video content. While Adobe was the original creator of this document format, many third-party applications and libraries for viewing and editing PDF files were created after the standardization of PDF format and the release of the PDF specification.
As with other widely used Operating Systems, Adobe provides its own solution for PDF files on Android. It is available on the Play Store as Adobe Acrobat Reader. Although Adobe Acrobat Reader for Android is a free App, advanced features like conversion and creation of PDF documents require an in-App purchase. Moreover, the size of the App and its complexity make it quite heavy for lower-end devices. As with any other platform, high-quality third-party tools are available for PDF documents on Android. Some are designed to be drop-in replacements for Adobe's solution while others follow their own route and provide interesting custom features.
Following is a list of third-party alternatives to Adobe Acrobat Reader on Android.
1. Foxit PDF Reader & Editor (Foxit MobilePDF)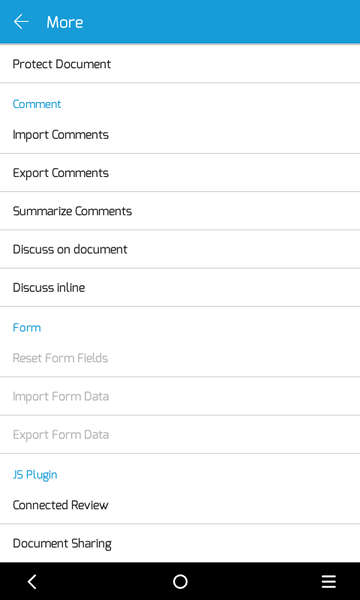 Price: Free / Advanced Features available with paid Subscription
PDF Annotator Features:

Underline/Highlight/Strike-through/Squiggly Text
Inline Comments
Foxit is a company that specializes in PDF manipulation software, with its desktop products enjoying a big user base. Their products have a tradition of being fast and offering features not available on rival products. Foxit PDF Reader & Editor continues the company's reputation: It is fast, lightweight and 100% compliant with PDF format specification. It comes with a very easy to use interface, with multiple tabs view on tablets. It supports annotating, stamping, signing and printing of PDF documents, as well as filling and saving PDF forms.
Moreover, Foxit PDF Reader & Editor supports saving, synchronizing and accessing PDF files on Google Drive, OneDrive, Dropbox, Box, and Foxit Cloud Reading. Audio and video included in PDF files play directly inside the App. Also, for users of Foxit's business PDF solutions, there is an in-App converter to Foxit's ConnectedPDF format.
Don't miss: 4 Best Android Apps You Should be Using Right Now (Part 5)
While all the above features are available for free, the App also supports some Advanced Features, unlocked by subscribing to Foxit MobilePDF (paid subscription). If the user is already subscribed to Foxit PhantomPDF for the Windows Foxit Application, Advanced Features on the mobile App are also available for free. Advanced features include the following:
PDF document protection with certificates, passwords, and Microsoft Rights Management Services
Creating and combining PDFs
Signing of files with digital certificates
Optimization of PDF documents
[googleplay url="https://play.google.com/store/apps/details?id=com.foxit.mobile.pdf.lite"/]
2. Xodo PDF Reader & Editor
Price: Free
PDF Annotator Features:

Highlight/Underline/Strike-through/Squiggly Text
Draw Lines/Arrows/Circles/Custom Shapes
Write Text
Multiple color and size support for all Annotations
Comment anywhere on the document
This App offers a fast PDF reading engine and supports all of the extended features like annotations, signing of files and filling and sending forms. Moreover, it supports opening .docx and .ppt files, annotating and saving them as PDF. Other special App features include scanning a page with the camera and saving as PDF, and creating PDF files from image files.
Must read: Prioritize Your Tasks with Ike App for Android
Xodo's PDF viewer window is easy to use and highly configurable. It provides a tabbed interface and also offers a night mode for comfortable reading in dark. Printing documents is just a click away. Finally, the user can easily sync their files on Google Drive, OneDrive, and Dropbox directly through the App.
Overall, Xodo PDF Reader & Editor is a fast PDF viewer that integrates a very powerful PDF annotator. All the App features are provided free of charge and the company is inviting users to collaborate by submitting reviews and new ideas. There is also a BETA testing program for upcoming versions of the App.
[googleplay url="https://play.google.com/store/apps/details?id=com.xodo.pdf.reader"/]
3. Google PDF Viewer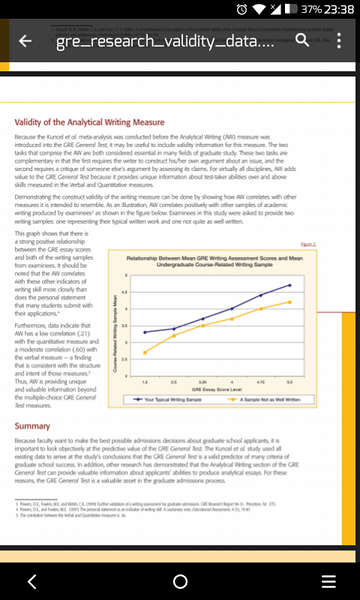 As with most software, Google provides its alternative PDF viewer software for Android. This App is as simple as it gets. Only features provided are searching, selecting and copying text and printing. There is not even a Launcher icon since this App is actually a helper App and not a standalone App.
Google PDF Viewer wins a place in this list because it represents the best PDF viewing solution for low-end devices. It has a minimal footprint and a small download size. Its rendering engine is fast and can handle big files adequately. If a user just needs to read PDF documents on the go, Google PDF reader is the best candidate for download. It's one of the best Adobe Acrobat Reader alternatives you should give a try.
[googleplay url="https://play.google.com/store/apps/details?id=com.google.android.apps.pdfviewer"/]