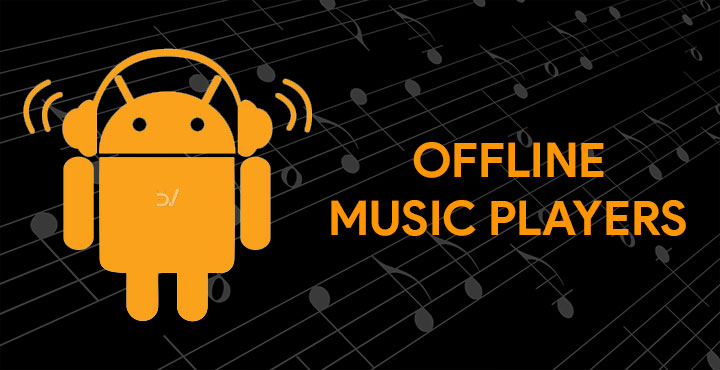 Music is for the ears, and a music player should first and foremost make sure that the sound output is great. Although, while music is for your ears, the music player itself is for your eyes to see. Nobody wants a feature-packed music player that won't look good. There are many music player apps on Android that are great all around. And here are some of the best offline music players for Android available at the Google Play Store. Note that yesteryear's champions such as Poweamp and PlayerPro Music Player have not been included since those are pretty dated in terms of looks.
1. Pulsar Music Player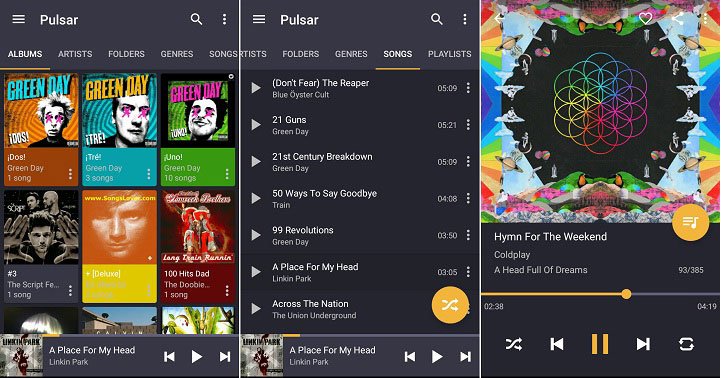 Pulsar music player is a simple, lightweight, and elegant music player with almost all the features that you might want or use in a music player. With the color combinations and slick animations, it follows the material guideline established by Google perfectly. It comes with three built-in themes and more themes can be unlocked by upgrading to the pro version. It downloads the cover for songs, if missing, automatically. The free version has features like gapless playback, folder browsing, and smart playlist. If you go with the pro version you'll get 5-band equalizer controls, 9 pre-built equalizer presets, bass booster and much more.
If you are looking for innovation, you won't find that in Pulsar music player. But this music player surely presents what is already available in a user-friendly and sleek manner. Definitely one of the best offline music players on Android.
2. Black Player
Black Player is quite popular among Android users. It offers a flat and minimalist user interface and is pretty fast. Moreover, it includes features like an ID3 Tag editor, gapless playback, and a built-in equalizer with bass boost and 3-D surround visualizer. Black Player can play any audio format supported by the Android version it is running on, as it depends on the Android's built-in media playback engine. This means it will play .MP3, .WAV and .OGG on most devices and .FLAC files on Android 4.1 and up.
Similar post: Eon Player Pro is One of the Most Customizable Music Players
Black Player is a good choice if you would like to use a music player that is under active development and do not need playback support for rarer audio formats. It nicely runs on smaller screens too.
3. Musixmatch
Musixmatch music & lyrics isn't one that many would bring to a conversation about offline music players because its main features are only useful when you're online. The player brings together music and lyrics with the largest lyrics catalog or as they claim. It syncs all your music files from your music folder and syncs lyrics for them too from their database. It has a beautiful design for playing music and displaying lyrics as well. But Musixmatch lets you enjoy diverse music with lyrics even when you are offline. It downloads lyrics for offline use and shows up when music is played.
It plays all your offline music content whilst showing you lyrics and it can even add missing ID3 tags or correct the incorrect ones.
4. Shuttle Music Player
This is one of those that will always come up in a list of the best offline music players. Shuttle Player is a simple, lightweight and feature-packed music player for your Android device. It has a good looking User Interface and runs smooth overall Android versions. The free version comes with many useful features and other features can be unlocked when you buy it.
Shuttle Music Player comes with the popular Material Design and tons of theme options to choose from including lightweight & dark mode. It customizable widgets that look amazing on your screen. It has built-in 6 band equalizer with bass boost, gapless playback, lyrics support, auto album art download etc.
5. doubleTwist
doubleTwist Music Player is a popular music player among iTunes users. It syncs across iTunes and Android with features like podcast, AirPlay, etc.
This player has a beautiful and easy to use interface and you can browse music based on genre, artists, albums, and songs. The free version has good features and to unlock more features like AirSync, AirPlay, DLNA support etc. you need to purchase them from within the app. So this is a music player as well as a podcast manager that includes a full featured podcasting client.
6. Retro Music Player
Overall the app is excellent and one of a kind.  The queue management is nice and tidy, over the edge. The tag editing feature and the spontaneous UI makes it difficult for any user to stay away from it. The transitions are smooth and fluid, leaving the user with a sense of satisfaction. The player looks really different from anything else out there with its rounded corners and card design.
When it comes to keeping things well organized this app does a pretty solid work. The app can display your collection in four various ways. This includes displaying all the songs at once, displaying the albums, displaying the songs by artist and finally displaying the songs by genre. There are a ton of customization options as well.
6. Rocket Music Player
This is another well-known Music Player that also provides support for older Android versions. It packages playback support for .WAV, .OGG, .MP3, .3GP, .MP4 and .M4A formats. Support for advanced formats requires buying the premium version of the App. Rocket Player also provides tag editing, an equalizer with a number of presets, the material designed interface and playlist support. Overall, this App offers features on-par with Black Player, with some extra features unlocked by buying the premium version.
7. Phonograph
Phonograph Music Player, earlier known as Gramophone, is a beautiful sleek and overall aesthetically pleasing visual example of what a material design music player should look like. It steals the heart with its beautiful and clean user interface. The app is easy to use and offers a lot of features without becoming overloaded menus and options. The color of the UI changes automatically to match the dominant color of the album art picture.
The app integrates Last.fm for online music streaming and lets you jobs like editing the tags of the music tracks, downloading album arts, and creating and adding playlists. Besides, Phonograph also offers a homescreen widget and lockscreen music controls for easy access.
8. Jair Music Player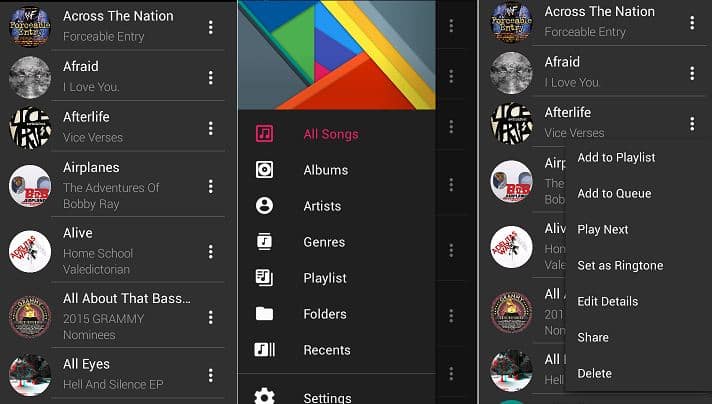 Jair player offers everything one looks for in a music player. It is completely feature-packed, nothing innovative though, but it offers a satisfactory music experience. It is a simple and extremely polished music player. Jair Player comes with a 5-band Equalizer. It also has custom made equalizer settings fit various music genres like heavy metal, pop, jazz, etc.
Don't miss: Utilize Sides of Your Phone's Display with VolumeSlider
Some other features include gapless playback, ID3 tag editor, visuals, last.FM scrobbling, etc.
9. jetAudio HD Music Player
From customizing the user interface to adjusting equalizer presets, jetAudio shines in sheer brilliance from other offline music players out there on the play store. It's the one-stop Android app for music enthusiasts and audiophiles.
When it comes to the music player file support is enormous. You get support for files like .wav, .mp3, .ogg, .flac, .m4a, .mpc, .tta, .wv, .primate, .mod, .spx, .wma. It has a 10/20 groups equalizer accompanied with jetAudio HD sound effects and also some other sound enhancement options like AM3D enhancer and Bongiovi DPS enhancements. Many would be content with the free version as it provides numerous presets and plenty of tweaks.
10. Eon Player
Eon Player focuses more on the interface and customizability. It is not the most advanced offline music player app. It doesn't let you download or edit the song info, i.e. meta tags. But it does have all the other music player features you could want such as support for Chromecast, automatic album art download, playlists, lyrics download, etc. When it comes to customizability, there's no match for it really but the lack of third-party themes does hurt a little compared to Player Pro or Poweramp.
A lot of the customization is locked in the free version but if you like the player, the pro version justifies its price tag.
Read Next: Best Music Players – Re-purposing Old Android Devices