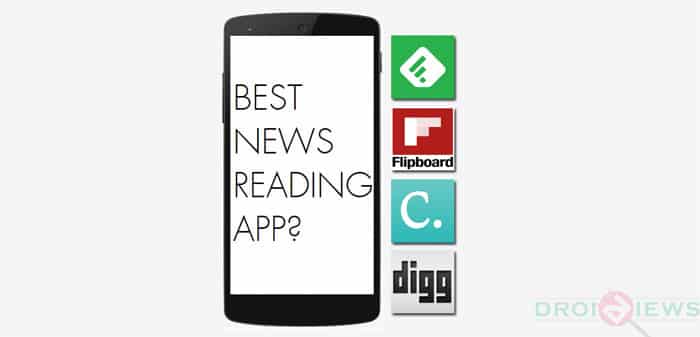 Ah, time before android when reading news meant jumping from one tab to another and entering URLs after URLs to get the news of the day. Now, fast forward to today and the scenario has completely changed. Rise in the popularity of smartphones has changed the way we read news. Today's mobile news reading apps works with ease and style without compromising with essential features. You can customize the apps the way you want and make them truly yours.
There are dozens of apps available in the Google play store which lets you read news the way you want. In the above sentence, my focus is on the word "dozens". Yes, there are a lot of apps available for the same purpose and each one claiming to be the best.
So today I thought of comparing 4 of the best news reading apps and finally deciding which one is the best. I have chosen only those apps which are completely free.
Testing Basis
Each app is rated out of five; based on the depth of features, ease of setup, usability, and quality of news. The apps have been listed in order of preference.
1. Flipboard
Flipboard could be the most visually stunning android app in the Google play store. As the name suggests, you flip through virtual news boards. There is a wide range of topics available for you to follow. You can choose the topics at your first launch or later and it builds a personalized magazine around your interests. Navigation happens by swiping up, with snippets of news providing options like read, ignore or save for later.
It also lets you integrate social networking components; meaning the app provides support for your Facebook and Twitter feeds, while Google+, Instagram, Linkedin and many other networks are supported.
Although it is a perfect news reading app I find it little bit slow in fetching news compared to other apps in the list. It could be because of the internet speed but other apps are also tested on the same network.
Ratings : 4.5
[googleplay url="https://play.google.com/store/apps/details?id=flipboard.app"]
2. Feedly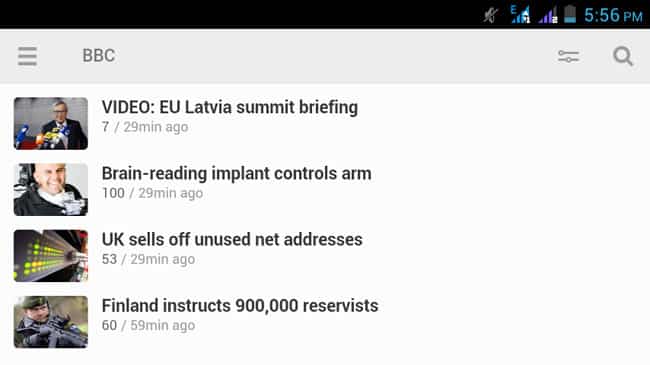 Feedly is my favorite news reading app. I use it every day. Feedly delivers news from RSS feeds. Choose contents from your favorite blogs (it removes the challenge of finding, copying, and pasting the feed URL in the app). It's highly customizable and battery friendly. If you want to save news for reading later, it plays well with pocket and other apps of same kind. It is a must have app if you want quick access to various news sources.
Ratings : 4.5
[googleplay url="https://play.google.com/store/apps/details?id=com.devhd.feedly"]
3. Digg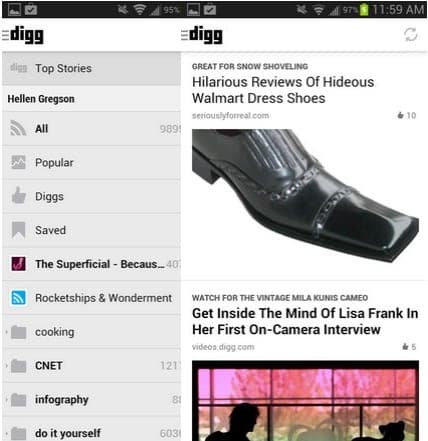 Digg was once known as the source of best stuff on the internet, and then everything changed. It started losing its user base slowly. But it has been regaining its lost essence with its mobile app. It's good looking yet minimal. Performance is good too. Along with creating your own newsfeed, you can also check news from other topics delivered by the digg community. The only thing I didn't like about the app is that it only shows the snippet, to read the complete article you have to leave the app and use a browser. But it has the potential of becoming the best news app.
Ratings : 4.0
[googleplay url="https://play.google.com/store/apps/details?id=com.diggreader"]
4. Circa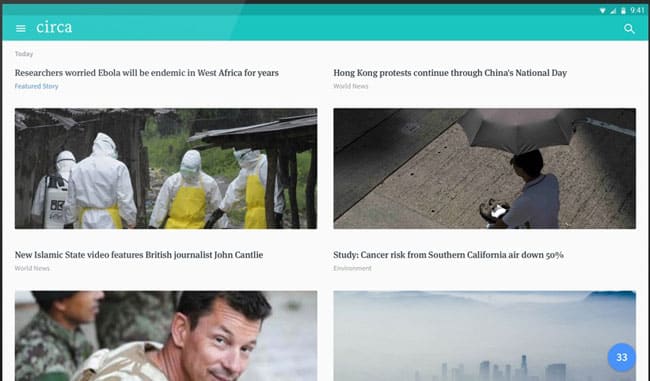 Circa is the first news app with curation feature I used and I loved the idea. Although other apps of same kind were also available but I never used one. After using Circa and some other apps of same type, I think that the quality of news curation is better than any other app. It feels like the news has actually been read, curated, and approved by humans and not some algorithm. You should try it if you don't want to read the whole new but still want to stay informed.
Ratings : 4.2
[googleplay url="https://play.google.com/store/apps/details?id=cir.ca"]
Final Verdict
If you choose apps based on beautiful looks and slick presentation and don't have any problem with few sources, you should choose Flipboard. Need news from a lot of sources without getting confused what to read? Feedly is the app for you. You should choose digg if you want news from sources you wouldn't have thought of. It works like surprise. Finally, you should choose Circa if you don't have time for reading the full news but still want to stay informed. Two other great apps in the same category are News Republic and yahoo news digest.
There are a lot of apps and choosing one depends on your liking and usability. One which fits your needs is the best one for you. For me, it's feedly. So, what's your favorite news app?