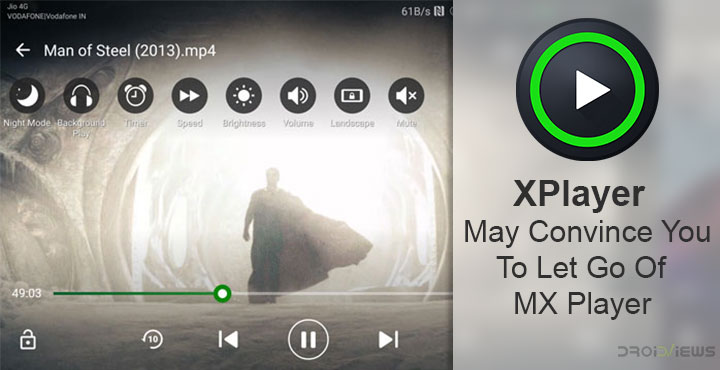 MX Player has been around on the Android scene long before any of the popular desktop media players, such as VLC. Even though VLC took its sweet time coming to Android, it still lost out to MX Player for a number of different reasons. MX Player's rise to popularity was its ability to play any kind of video, in any format on your Android device. Back then, there were mostly two such video playback apps, now there are many. Yet MX Player reigns supreme because we're used to its style. XPlayer is just a tad bit better than MX Player and even beats it in terms of features.
This won't be as much of an app review as much a comparison with MX Player which has managed to stay on top for all these years and probably still will.
Video Playback is alright
As already mentioned, there is no lack of video player apps today on Android that can play videos of any format. XPlayer is even named Video Player All Format on the Google Play Store to highlight this functionality. The actual playback is on par with MX Player if not better. It has been a month or more since I've been using this app but I don't watch as many videos on my phone as I used to back in the day. That is to say, I wouldn't claim to have extensively tested the app, but I highly doubt you'll encounter any playback issues.
MX Player mops the floor with XPlayer in terms of features
MX Player is a video player packed with features. There are so many of these that the developers had to categorize them in order to not confuse users. Yet, I can bet money that most of its users will find themselves lost for a while if they were to go through the extensive settings list. If you're someone who wants to have each and every one of those features, you'll find XPlayer seriously lacking in this department.
That can be a bad thing for some people, but not most. The most used MX Player features such as a volume boost when playing a video using SW decoder, or the ability to choose between HW and SW decoders is still there. You can still enjoy background playback, resume where you left, and swipe to control various functions such as volume, brightness, seek, etc.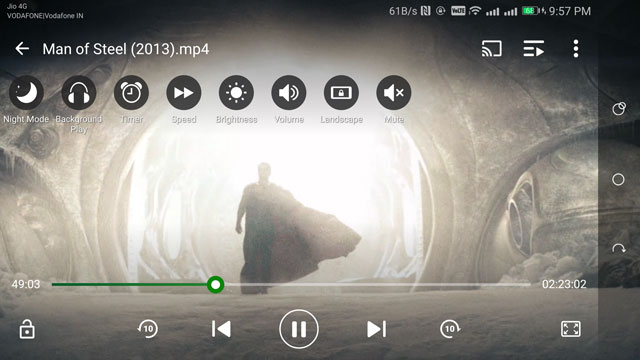 All in all, most of the features someone would want are already here. More advanced features such as themes and an extensive list of customization options that MX Player offers are nowhere to be found. Similarly, you can't network stream, or use it for playing music files, edit subtitle settings, etc. There's a lot that MX Player has but XPlayer doesn't.
Why XPlayer then?
Don't let the serious lack of features hold you back though. On paper, XPlayer is no match for MX Player but you have to ask, do you ever really use those features? Many power users probably do but I'd be surprised if most people do. After all, it's a video player the more out of your way it is the better. Spending hours customizing it surely isn't my cup of tea. XPlayer does offer the choice between a light and dark theme by the way.
It has been over a month and I've never even accidentally looked for MX Player, an app I've been using since I have known Android. And it isn't like XPlayer just gives you no reason whatsoever to switch. If you're a Chromecast user, XPlayer supports casting your local videos to your Chromecast. This is one feature MX Player just won't have, and I've been waiting for more than a year. This is the only reason I ever gave XPlayer a try in the first place.
Sure, you can always cast your screen but then you can't do anything else with your phone while you watch the video. Not to mention incoming notifications can spoil the fun, might as well be a privacy risk. Or you can download another app to cast your local videos on Chromecast. Thus, adding to a growing list of apps.
Furthermore, if you haven't bought MX Player Pro, the ads on the free version are really bad. There was a time when they were not obtrusive but that time is no more. Like MX, Xplayer is also ad-supported. Yet, unless you notice the small floating giftbox icon you'd probably never know it has ads.
There is also a private vault, of sorts. It lets you can lock videos behind a PIN, in case you need it. And by the way, no, InShot Inc., the developers of XPlayer haven't paid me for this.
Also see: How to Download Videos from Instagram, Facebook and Twitter on Android
Install Video Player All Format (XPlayer)