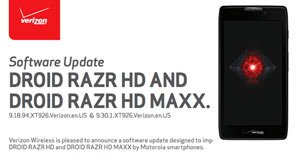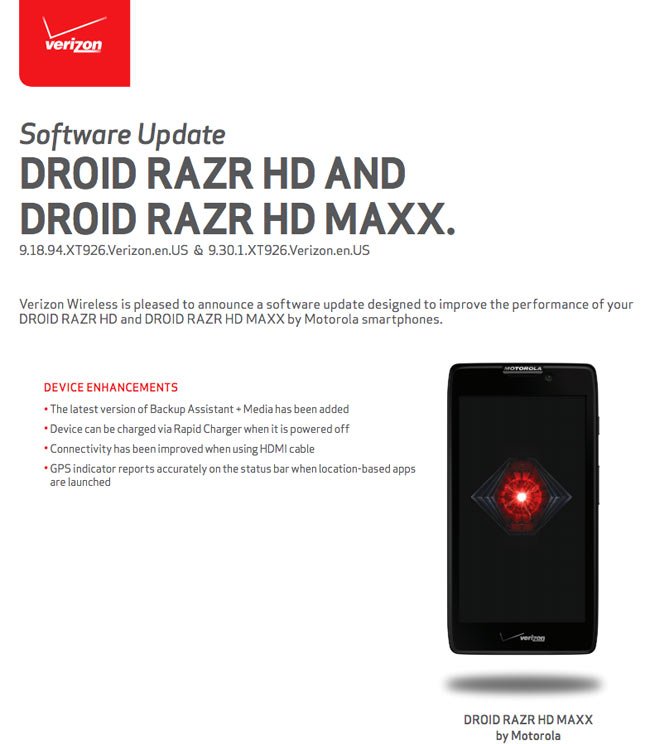 For those of you folks that still own the year+ old infamous Kevlar-clad Droid Razr HD and Droid Razr MAXX HD from Motorola and Verizon, we have good news for you tonight. Looks like you guys are finally getting another OTA update from Verizon updating your device to build version 9.18.94 or 9.30.1 (depending on your device variant). Unfortunately there are no major changes here other than a few bug fixes and maintenance updates.
We're still still crossing our fingers in hopes that a new Android update will be coming soon (Motorola hasn't announced that this device will be remaining on Android 4.1.2) but for now, at least, it a good sign this device is still being supported. Changelog for the update is listed below.
Changelog
The latest version of Backup Assistant + Media has been added
Device can be charged via Rapid Charger when it is powered off
Connectivity has been improved when using HDMI cable
GPS indicator reports accurately on the status bar when location-based apps are launched
Be sure to be on the lookout as this OTA should hit your device any moment and let us know if you guys find any other improvement on your end.