Some people like to keep the same wallpaper on the home screens of their smartphones for weeks or even months. But there are others who get bored looking at the same wallpaper day in day out. It's fairly common for these people to search for new images on the web, download them and set them as their phone's wallpaper. If you are one of those people who like to change their smartphone's home screen image frequently, then may we suggest a nifty Google app called "Wallpapers" that automatically changes your phone's wallpaper every day
The Wallpapers app allows you to make your phone's display even more beautiful by choosing images from a huge collection of pictures from Google Earth, Google+ and a few other categories (like Landscapes, Textures, and Citiscapes) and set them as your phone's wallpaper. One of the best features of the Wallpaper app is that it lets you choose different images for your lock and home screens. Most importantly, it also lets you change the wallpaper of your phone automatically every day!
In order to ensure that the wallpaper on your Android smartphone is updated automatically every day, follow these simple steps:
Open Play Store, search for "Google Wallpapers", download the app and then open it. It will show a few categories of wallpapers which contain a huge number of images and wallpapers for you to use.
When you tap on a particular category, say Earth, then it shall lead you to a fancy collection of images taken from Google Earth. In the screen that opens up, tap "Daily Wallpapers" (in that same category).
Since, by doing this, you opt to have your smartphone's wallpaper changed every day, you need to specify whether the app should download wallpapers over your WiFi network or your cellular data. So, after you tap on "Daily Wallpapers", you'll see a small dialog box with a checkbox saying "Download future wallpapers on Wi-Fi only".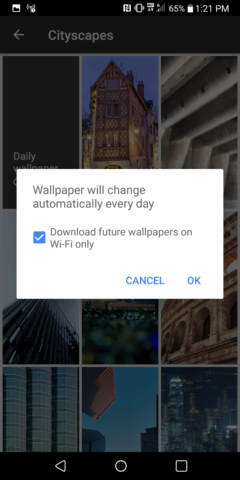 If you check this box, the app will download future wallpapers only when you're connected to a WiFi network. However, if you leave it unchecked and tap Ok, then future wallpapers would be downloaded over your cellular data too.
That's all you have to do to ensure that your phone has a new, different wallpaper every day. This is a pretty neat app, especially for people who like to change their phone wallpapers frequently, and hate the process of searching for new wallpapers, downloading them and finally setting them onto their home screens.