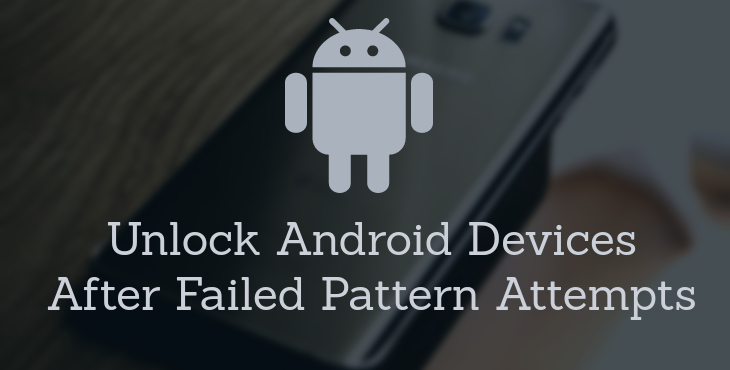 Nowadays, everybody uses pattern or PIN lock on their Android Devices. This is done in order to ensure that their data is not access by other people. But sometimes, even we, the owner of our devices forget the PIN or Pattern lock and get stressed. But we don't need to because Android provides us a simple procedure which we have to follow and get back in. So, here's how to unlock your Android device after failed pattern attempts.
Method 1: Using Android Device Manager
This is the best method to unlock your Android Device. It works for Android 2.3 and up. This method will work for you if you have logged into your Google Account on your Android Smartphone.
Just log into the Android Device Manager on your computer, and select the device which you want to unlock from the list of devices associated with your Google account. Tap "lock". Enter the new code. Once you set a new code for your device, it will replace the old password i.e. the pin or pattern which you have forgotten. Now, you can access your Smartphone normally.
Method 2: Smart lock
If you have set up a small lock for your device like any secured location (for example your home Wi-Fi) or any recognized device, then just use them and you will not require a pattern or PN to unlock your device.
Method 3: Using Security Options by Smartphone Manufacturers
Some device manufacturers like Samsung include their security options into their device. For example Find My Mobile by Samsung. You can use it to unlock your device by visiting the corresponding website of the smartphone manufacturer from another smartphone or a PC. The only requirement is you should have set up these security options beforehand.
Method 4: Factory Reset
This is the ultimate and final solution for resetting your PIN or password. Use it only when you have tried all the above methods, because this method will erase all the data on your Android device. The easiest option to perform a factory reset is by logging into the Android Device manager. You will find an option to perform complete factory reset there.
If for some reason you can't access factory reset option from Android Device Manager then you should perform Hardware Reset. You can perform that by heading into the recovery mode of your device. Just go to recovery mode by holding power button+volume button at the same time after switching off your device. In recovery mode, you will find an option to factory reset your device. Navigate to that option by using volume keys and then press power key to perform the factory reset.
We are sure that at least one of the methods will work for you. If your problem still persists, ask by dropping down a comment below.