We may take remote controls for granted today but there was a time when they weren't there. Life has been made so much easier thanks to them. Most remote controls work on Infra-red but others can work with better technologies such as Bluetooth or even WiFi. Your TV has a remote, your AC has a remote, even your car has remote unlock but somehow, your PC does not. You still need to be near it to use it. If you use your PC to mirror content on your TV, there's no denying you have felt the need for a PC remote. Unless you're sitting on the couch with a wireless mouse and keyboard, you have definitely wished there was some way you could control it without having to get up. Unified Remote solves that problem and in a magnificent way too.
Install Unified Remote on Android
Install Unified Remote on PC
You can use either an Android or an iOS device as a remote after having installed the app. But before you can, you'll also need to install the app on your PC. Unified Remote is cross-platform meaning it works on Windows, Mac, Linux and even Embedded (Raspberry Pi). Support from ChromeOS is not here yet but it will sometime in the future.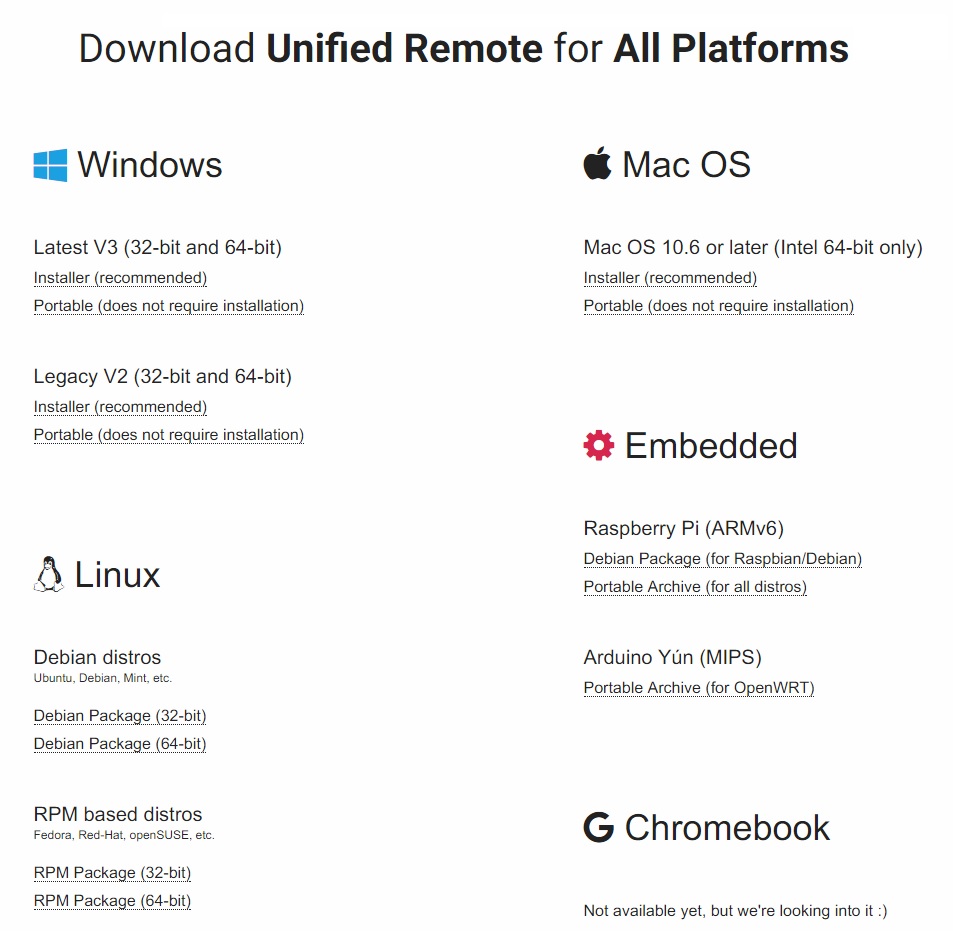 To download Unified Remote for your PC, visit the link below and then click on the appropriate version you want to download. Once downloaded install it like any other app or program on your PC. Things work pretty much the same regardless of the Operating system on your PC once you have it installed. Since Windows has the largest number of users we'll be using that as a reference from here on.
Also see: Access Your Computer from Anywhere Using Chrome Remote Desktop App
Control your PC from anywhere
Once installed, you will see the Unified Remote icon in your system tray on the PC. This signifies that the server is running which is what installing the app on the PC was all about. By default Unified Remote will start up automatically when you start your PC but you can change that behavior. In order to control your PC anytime from anywhere though, it is best that you let it start automatically.
There is no other set up required here and you can just launch the app on your Android and start using it. On the main page, you will find a list of available remote controls. Some are pre-installed while you can add more by tapping the floating + icon in the bottom-right.
You're most likely to find remotes for almost every popular desktop apps like VLC, Google Play Music, Chrome, Firefox, Amazon Prime Video nicely categorized so they are easy to find. Much of Unified Remote's functionality is locked behind a one-time payment and so are a few of the special remotes. Here are a few popular apps and services that can be controlled by Unified Remote:
YouTube – Play, pause, next and last playlist track, and volume.
VLC – Play, pause, volume, next and last video, video scrubbing.
Spotify – Play, pause, next and last track, and volume.
Spotify Advanced (Paid) – Playlist control, search, volume, shuffle and repeat.
Hulu Desktop & Web (Paid) – Volume/pause for the web, navigation controls for Hulu Desktop.
Amazon Prime Video (Paid) – Volume down, mute, volume up, navigation, play/pause.
Netflix (Paid) – Play, pause, back and forth scrubbing, fullscreen and volume.
Pandora (Paid) – Play, pause, volume, thumbs up and down.
XBMC (Paid) – Navigation control, play, pause, volume, media file navigation.
The best part is, you don't necessarily need to drag the cursor around and launch the apps first. You can directly launch an app from its remote. Apart from these specialized remotes, you have your basic mouse and keyboard controls as well as direct Power controls for your PC. As before, you don't have to drag the mouse over to the start button and select stuff, you can simply send a power off command to your PC with one touch.
If all of that is not yet convincing enough for you, Unified Remote also lets you browse your PCs file system right from your phone. You can browse the folders and open files on your PC so much easier than it could be, were it just a mouse and keyboard alternative.
At $3.99/₹270 the pricing does seem a little steep. But if you regularly use your PC to mirror content on other devices Unified Remote is so worth it. Don't trust us, try the free version yourself. And if you like it, you can always buy Unified Remote Full from the Play Store.