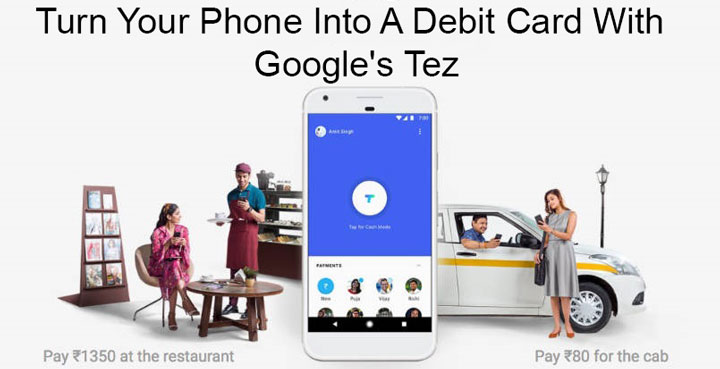 Google officially unveiled its first big foray into mobile payments in Asia. The search giant has unveiled a new mobile payments app called Tez for its growing Indian customer base. Tez will allow users to link their bank accounts to the app working with the growing Indian UPI standard. Tez can let users pay for goods securely in physical stores and online, and also allows person-to-person money transfers. But Google already has Android Pay, so why Tez?
Well, the majority of Indian smartphone users don't have a smartphone with NFC. As such, NFC based solutions like Android Pay will have a hard time catching up. Tez, on the other hand, makes use of the UPI standard that has already been adopted by over 50 banks throughout the country. There's built-in two-factor authentication, too, so users don't have to fear being scammed. The app is available for both iOS and Android right from day one.
Send money home to your family, split a dinner bill with friends, or pay the neighbourhood chaiwala. Make all payments big or small, directly from your bank account with Tez, Google's new digital payment app for India
What's the difference?
Tez, unlike other payment solutions available in India, is not a mobile wallet. That is, you won't be able to, or aren't supposed to store money in the app and top it up to use it. Tez is more like the payment solutions in the west, like Apple Pay or Android Pay, only without the NFC. Meaning it simply provides you a way of linking your phone to your bank account. Thus, allowing you to pay directly from your bank account using your phone to deduct balance. In other words, it is simply an app that turns your phone into a debit card.
Support
Since Tez uses API, naturally it works with many banks such as Axis, HDFC Bank, ICICI and State Bank of India and others that support UPI. Google is working with large food chains like Dominos, transport services like RedBus, and Jet Airways to allow payments using Tez. The company has also unveiled an API that will allow any merchant to support payments with Tez going down the road.
UPI is an initiative by the Indian government to bring more integrated banking services in a very fragmented market. And one of the many ways that the Indian market is fragmented is language. Naturally, Google's app has support for English, Hindi, Bengali, Gujarati, Kannada, Marathi, Tamil, and Telugu.
Like all other UPI apps, there is a limit of ₹1,00,000 on money transfers and 20 transfers in a single day.
Google has already trademarked the name in other Asian countries such as Indonesia and the Philippines. This could mean that Mountain view plans to bring the app to other markets in Asia as well.