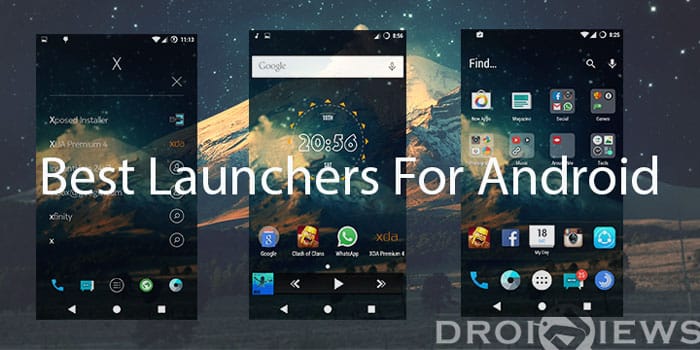 Android users are privileged to enjoy the advantages of personalizing their smartphones according to their needs and liking and custom launchers plays important role in doing so. The stock launchers might not appeal to everyone and lack customizing options, the reason being most of us end up installing 3rd party launchers, since they offer better customizability and user experience.
If you haven't installed or used a custom launcher before and you are intrigued to try out one, here's a list of few of the best available on the Play Store. The list is in no particular order, since no launcher is perfect one has some features that other might not have while other would have a good looking UI. So decide what's right for you.
1. Nova Launcher
Developer: TeslaCoil Software
Nova is one of the most used launcher around the world and my favourite one also. It has far more options to customize than any other launcher. It offers stock Android look with smooth experience. You could change almost anything that can be changed in a launcher whether it is Grid size, Icons, Animations, app drawer etc. Nova also has extensive list of icon packs available on the Play store enabling you to make your phone look even nicer.  With never ending list of customizing options and fast and responsive UI Nova is one of the most used launcher on Android.
Features
Icon Themes: Choose from thousands of icon packs available exclusively for Nova launcher.
Customize App Drawer: Custom Tabs, horizontal and vertical scrolling, create folders
Infinite Scroll: Jump to first page directly from the last one of your home screens or App drawer.
Scrollable Dock: Create multiple dock pages and scroll through them.
Widgets in Dock: Place widgets in dock, such as 4×1 music widget.
Backup/Restore: Backup desktop layout and launcher settings and restore them.
Gestures: Add gestures to to perform specific tasks.
Ok Google detection: Enable OK Google detection from Nova itself.
Screenshots
Nova has been my default launcher for a long time simply because of the customizations options available on it. Also the launcher UI gets updated according to Google's stock launcher (AOSP) UI. With resizable and overlapping widgets you could create great looking home screens easily. With the prime version you get gestures support which adds to the productivity of the launcher. If  you like the AOSP/ stock Android UI or want to change just about anything you wish in a launcher Nova is heavily recommended to you.
Nova Launcher has a free version which performs pretty good, but if you are bit more into customization you better buy the pro version to take the full advantage of the launcher.
2. EverythingMe Launcher
Developer: EverythingMe
EverythingMe is a smart launcher that surfaces the apps, contacts and information you want based on your context: your location, the time of day, your individual preference, and more. It predicts what app you might need at particular time of day or at a particular location based on your usage. The prediction becomes accurate the more you use it. All the apps are organized in the smart folders according to the category you choose. With several other useful features mentioned below EverythingMe has the ability to become your default launcher.
Features
Smart Folders: Automatically organize apps into folders you choose
Quick Contacts Panel: Your favourite and frequently used contacts are just a swipe away.
Customizable Gestures:
Context Feed: Access your missed calls, recent photos, calendar and more with just one tap on your homescreen
Prediction Bar: Anticipates your needs and delivers apps you might need right now
Daily Wallpaper: Automatically change your wallpaper daily
Contextual App Discovery: Suggests apps to install you might like in smart folders.
Screenshots
EverythingMe does what it says, the prediction bar showed almost the right app when I needed it. It is smooth and doesn't lags and also looks good. You could just long press on homescreen to enter launcher  settings. Quick contacts also works great and context feed also comes in handy quite a few times. Also just a swipe down to search (like iPhone does) anything, apps, contacts, web search etc. This is a convenient and organized launcher which provides great user experience. Go ahead and try it out.
3. Z Launcher
Developer: Nokia Apps LLC
Nokia's Z launcher is still in beta stage but has managed to impress several Android users. It has a simple 3 screen user interface, one screen contains list of installed apps sorted alphabetically, on other you could add widgets and third one is a unique home screen that suggests apps you might need at a particular time, you could even draw letters to search apps/contacts.
Features
Scribble: Scribble a letter to find what you want.
Adapts: It learns from your usage and suggests you right things at right time.
Launch: Launch frequently used apps/contacts with just a tap
Nokia Z launcher learns what apps and websites you use and which people you contact in different contexts and puts these items in front of you for quick access when they might be relevant. To do this, app requires contextual processing of information about the way you use your device, for example your call and other communication history, browsing events, contacts, location data and use of other apps. The launcher seems invade your privacy but all these info helps the launcher make better suggestions. By the way, there is an option to turn off sending this sensitive data to Nokia.
Screenshots
Z launcher is simple to use and enables you to access applications and contacts very fastly. You could just draw a letter on the homescreen and related items will be in front of you. With the recent update you could even add widgets on your homescreen. If you need a simple and fast launcher try this one. Well, be ready to expect few minor bugs as development is still in beta.
4. Action Launcher
Developer: Chris Lacy
Action Launcher is based on Lollipop's material design. It has many features which makes it different from others in a good way. With the recent update it received the Quick Bar which enables you to customize the search bar to add various options to it. You do have the app drawer in the launcher but most of the time you would end opening quick drawer which is just a left swipe on the homescreen. Here's the list of other features:
Features
Quick Bar: Edit search bar to include more options or remove few extras
Quick Theme: Your wallpaper decides the theme for your launcher
Quick Drawer: Instantly access all your apps
Covers: An innovative take on folders that lets you launch apps and shortcuts without compromising the look of your carefully crafted home screen.
Shutters: Swipe an icon and widget for that app would be automatically created and displayed
Backup/Restore: Backup and restore launcher settings and desktop layouts.
Screenshots
Action launcher has quite unique set of features and customization options which sets it apart from others. Shutters is definitely the feature you would like to have. Also covers makes folders more interesting, you could tap on folder icon to open a app while you swipe on the icon to open the folder.
Although Action launcher includes tons of features and customizations, pretty much most of them need to be bought. You need to buy the Plus version to use gestures, Shutters and even to apply icon packs with few more. With that said you better buy the launcher if you can for $4.99 in order to enjoy a better experience.
5. Aviate
Developer: Yahoo (Formerly ThumbsUp Labs)
Aviate is another smart launcher which organizes your apps according to the category they belong to. This one also has a simple user interface with no app drawer, rather there's app list on the extreme right page of the launcher, the apps are grouped alphabetically. There's Google Now like screen on the extreme left of the launcher, just like in Google now launcher, developers call it the Smart Stream. It does pretty much what Google now does, but this one looks better and also performs better.
Features
Simple, beautiful navigation: Clutter-free, easy-to-navigate screens make every interaction faster and more efficient.
Smart Stream: An intelligent stream of useful cards to the left of your home screen: battery saver, upcoming events, sports scores, nearby attractions and so much more!
Organized: Apps get organized by function; you decide which ones you see.
Favorite People: Swipe up instead of digging through your contacts.
Search: Convenient search box allows you to quickly search the web, contacts, and your apps – or jump directly to a specific set of cards.
Never Miss a Thing: Log in to see package notifications, bill pay reminders, and more personalized information.
Screenshots
Aviate is a good option to set your default launcher, it has simple UI and quite a few  useful features like swipe down o enable Google search, swipe up to launch favourite contacts. You could get various suggestions on the smart stream including places around you, daily news and even a collection of good looking wallpapers. The only thing I disliked was the lack of space to add widgets, there's only one screen to add widgets, well for me that's not enough. If you don't worry about widgets, the launcher is definitely recommended by me because of its simplicity and beautiful UI.
There are many good launchers available at the Play Store but we somehow managed to narrow down to 5 that are mentioned above. Tell us which one is your favourite and don't be offended if your favourite is not in the list just share with us the one you like.