Later last year, Google announced its latest, and the most anticipated version of Android, which was know as 'Android L' for a very long time. But, after its final release, it was named Lollipop, which was quite obvious. Before its initial release, people made all kinds of concepts about Android Lollipop. Many of us thought it would be a point upgrade, like 4.5, and not 5.0. This made us think that not much would change in Android Lollipop. Google sure did surprise us all by releasing Android Lollipop as a major upgrade, which got us into thinking about all the amazing features that came with it.
Of all amazing features present in Android Lollipop, the one feature because of which people need Android Lollipop on their not-yet supported device is the invasion of Material Design. With Material Design, users can now experience a much fluid and beautiful way to interact with an application. Obviously, to be able to experience Material Design, you need an Android device running Lollipop, like the Nexus 6.
Although you cannot get the taste of Material Design on your non-Lollipop Android device, you can still use some of the most amazing Material Designed applications available on the Google Play Store. We've tested all of the best Material Designed applications available to download, and in this article, we present them to you! These are the top 3 Android apps with Material Design, and don't require you to run Android Lollipop.
3. Numix Calculator
Check the built-in calculator application on your Android device. If you're not using Android Lollipop, you may find it a little bit ugly and awkward to use in in front of the already-Lollipop users. While you can just port the stock Lollipop calculator application on your non-Lollipop device, you can directly download a ton of such applications from the Google Play Store. We had a look at all the top Materialized calculator applications available on the Google Play Store, and we found that Numix is the best Calculator application with Material UI to suit your needs.
Following the path of Google's new and improved UI, Numix provides the user with all the basic functionality that the stock calculator provides. Take a look at the screenshots below to get an idea of how beautiful the calculator application looks!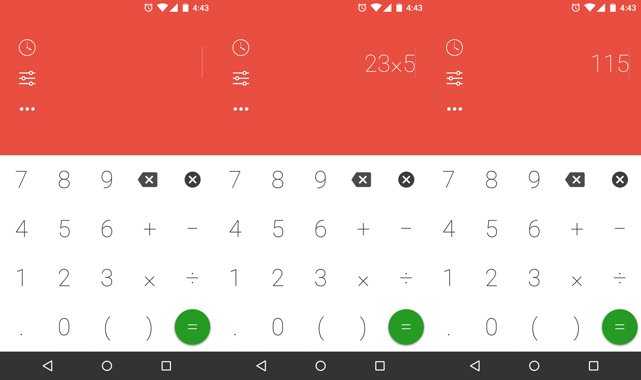 Not only does Numix has a beautiful UI and responsiveness, but the way you use it is also just awesome. Just like the stock calculator, you need to swipe in from the left and right to get into the advance settings. Swiping in from the right will bring you to the screen where you can calculate trigonometry problems in a go! Swiping in from the left will bring you to the screen where you can manage all the decimal and HEX values easily.
While simply swiping in from the left and right will get your job done, you can tap on the menu (three dots) to get into the advance mode of calculating. Every tap of yours will give you a nice and beautiful response. Have a look at the screenshots below to examine the various calculations the application can do with style!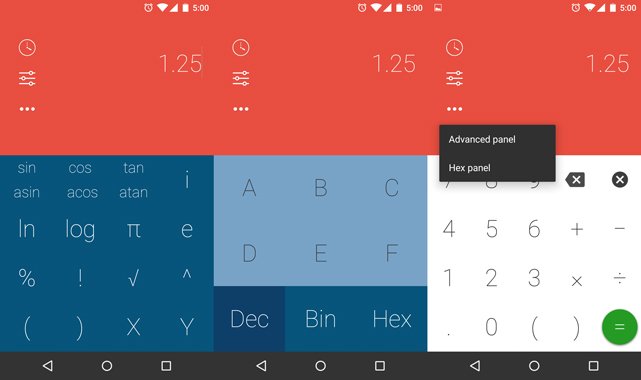 If you're more of a math person, and need calculator as your daily driver, you can add Numix Calculator on your Home Screen as a widget too! So, there is no need for you to fire up the application in order to calculate simple stuff!
Currently, Numix Calculator is available in two different versions – Free and Paid. While you can pass your living by using the free version of this application, we recommend you buy the Pro version to get access to special features such as to view your calculation history. You can download Numix Calculator by clicking the following link below:
2. Pushbullet
Have you ever encountered such an incident wherein you have a link stored on your computer, but you instantly need it on your Android device? Well, in such a case, a small link will be easy to type into the address bar of the browser in your Android device, but it will be quite hard for you to write the exact same thing for a bigger link. Coming on our top number 2, Pushbullet helps all of your devices work together, and better. Now you can send links directly from your computer to your Android device, without the need to use Dropbox, or Gmail. Among the many lucky applications on the Google Play Store, Pushbullet has also been updated to the Google's latest Material Design to provide the already loving users with a much better interface. Take a peek at the screenshots below to examine the beauty of this application!
In order to use Pushbullet on the various devices of yours, you need to download and install it first! On Chrome users. you need to log into the account you are using on your other devices, and then download the Chrome extension available. It is that simple! Once you do that, you can now seamlessly view all your links, posts, or notes on your computer too! When you hop into the Android application, you can send yourself on any other device, a link, a photograph, a note, and even a file. Sending files from one device to the other has never been so fun!
If you're a true Android enthusiast like me, you must have tried installing an APK file on your Android device, and you might have surely experienced the pain to connect your Android device, and then transfer it from your computer. Now, you can send an APK file directly to your Android device from your computer or from any other device.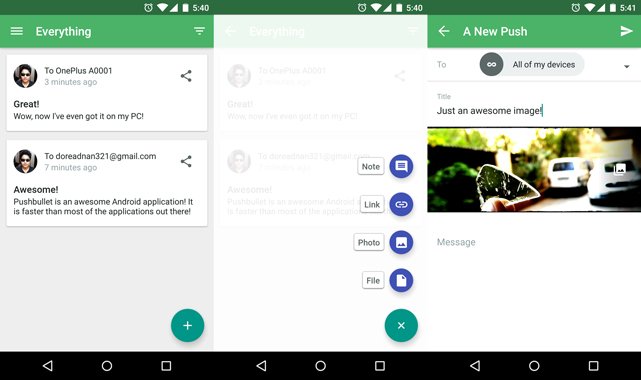 You can download Pushbullet for free from the Google Play Store by clicking the following link:
1. Chrome Beta
I bet, about 75% of the viewers reading this post are reading it on a computer, and on Google Chrome. Statistics show that about 700 Million people rely on Google Chrome as their daily driver when it comes to surf the internet. Google Chrome has been a really recommended choice when it comes to browsing, no doubt about it. Chrome for Android has been in the Google Play Store for quite a while, and it sure is the best browser for any mobile device you have right now! While Google Chrome is a very stable browser to rely upon, Google likes to take risks with its applications, and hence Google released another Chrome application on the Google Play Store, known as the Google Chrome Beta.
As its name implies, this is a beta version of the Google Chrome. But why would they release a Beta version of it? Currently, the Google Chrome application has more of a web-like UI, and Google wanted to test Material Design on it, with some other Beta features. So, Google Chrome Beta might not be a recommendation for the people who use it as a daily driver, but if you really need that Material Design on your browser too, Google Chrome Beta is the one browser for you! Have a look at these screenshots below to examine the crisp-looks of the Google Chrome Beta!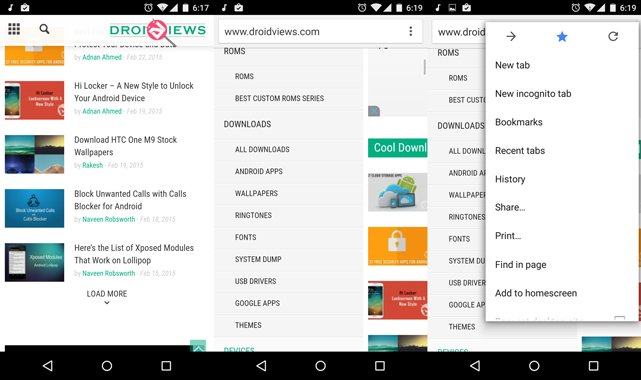 While, all of the other features are the same, and there is no such big and noticeable difference between the two Google Chrome applications, the Chrome Beta is said to perform better and faster on your Android device. If you want to taste the new Material Design on your browser of your Android device too, click on the link below to download Chrome Beta off the Google Play Store for free:

So, this article was made specifically for the thirsty Android enthusiasts who are waiting for the new Material Design on their Android devices. If you have any queries regarding this article, feel free to leave a comment below!