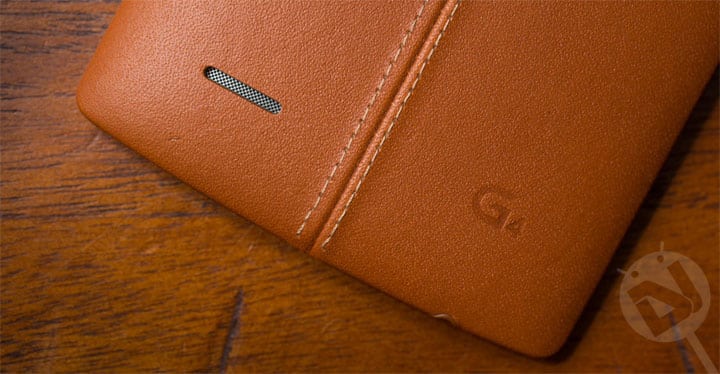 This year, 2015, has been a really compelling year for both the smartphone manufacturing OEMs, and for us Android enthusiasts, who are always keen in trying out the latest devices. The basic highlights since the start of this year have been Samsung, HTC, and LG. Three of the monster OEMs unveiled their flagship devices for this year, and it hasn't been so much fun ever.
While Samsung has recently unveiled two of its flagships (Galaxy S6, S6 Edge), HTC has made only one available for the US market to buy (HTC One M9). Both Samsung and HTC had similar dates of announcing and releasing their flagship killers. However, better late than never, LG announced the long anticipated LG G4. The G4 sure does pack some high-end specifications inside a really small (and expensive) piece of plastic (or leather).
The LG G4 is probably the phone with the best camera on Earth right now, with comparisons to the Galaxy S6. However, every OEM tries to improve their flagship not only in the hardware department, but also in tweaking the software a little bit. Just the way Samsung pulled off Samsung's TouchWiz which runs on Android Lollipop now, and HTC's Sense 7 UI, LG has also updated its UX for the G4 specifically, adding more amazing features to it.
Also, not only is the LG G4 one of the best picks in the market right now, but it comes with a lot of software enhancing experiences, which the other OEMs lack. If you happen to be an Android enthusiast who owns the LG G4, you might want to have a look here. We have gathered the top 4 things which you can do to enhance your life with your LG G4. This includes both, Software tweaks, and hardware enhancements (if any).
Use KnockCode
This feature has been well-known since LG first offered it in the G2. However, with the LG G3, the KnockCode feature has been specialized a little bit, and has been improved a lot. What this essentially does is asks you to set-up a specific pattern of taps on the screen of your device. The minimum amount taps is 2, while you can set it up for 8 taps at the maximum too. You can set up the KnockCode the way you like it. This absolutely increases the amount of security you have on your LG G4. To set up a KnockCode on your brand-new LG G4, and make the most out of it, follow the simple guidelines below :
Navigate to Settings > Lockscreen, and then tap on 'Select Screen Lock' from the various options listed.
Amongst the variety of screen-locking options available, you might be interested in the one feature labelled as 'KnockCode'.
You will now be able to have a look at the screen where you will be required to insert the choice of your tap-codes. Tap a few bunch of times in a pattern you might remember, and then proceed.
Creating a backup PIN is probably the most important thing which you will be required to do, just in case if you forget the pattern of your knocks on the screen (that'd be pretty dumb).
Once done, you will now be able to use the latest and greatest Knock Code on your LG G4!
The fact that many mobile OEMs (looking at you, Samsung) still use the fail-proof off-screen capacitive buttons kind of itches the Nexus users. Google has been a good cop, with the introduction of the Software keys, instead of actual keys taking up any extra space on your device's screen. We have seen popular devices such as the Nexus range, or even devices like the OnePlus One, which offer the user on-screen navigation buttons.
With the latest UX 4.0 update, LG decided to throw in one of the most anticipated options in the LG G4. We all do know that the LG G4 comes with on-screen navigation buttons, but what if you could customize the way you want to (as in CyanogenMod)? Now you can! LG also pulled off the latest feature wherein you can customize how your navigation buttons look, and how they react when you touch them.
This nifty little feature can be found by navigating to Settings > Display > Home touch buttons, and then selecting Button combination. You can now add on-screen buttons, drag to rearrange them, and even eliminate the one's you never use.
Organize Your App Drawer
What most distinguishes iOS from Android, is its lack of customizability. With Android, there's more to do than you've ever thought. Adding icon packs, changing themes, and even replacing the font types is just a casual task for an Android user. One of the biggest boons for an Android users is the fact that you can store specific applications onto your homescreen, rather than placing all of the icons on a common place as seen on iOS.
LG is quite known for its infamous skin on top of Android, and it really has been working hard to keep its good side of reputation. You can now create folders in the App Drawer itself with the new LG G4. While this mightn't be a heck of a deal for LG users, it is for Stock Android users. Again, rearranging icons in the App Drawer itself is a nice little feature. However, adding folders in the new LG G4 isn't as simple as just placing an app over the other, there's a secret menu inside of the App Drawer.
Open up the LG G4 App Drawer, and tap on the little 'Hamburger' bar on the top-right corner.
With the various options, select View Apps, and then select Custom.
Now tap on Select/Edit from the hamburger style menu again.
Now, creating a folder is as simple as just dragging an application, and placing it on top of another one.
Renaming folders is what you should keep in mind to organize your App Drawer even more.
Multi-Task To Ease Up Your Needs
Samsung and LG have been one of the most versatile OSes of all time. Especially once it comes to features like SmartView, and S Pen. One such feature is Multi-tasking. With Samsung's flagships, we have seen that multitasking makes most of your tasks very less time consuming, and hence is one of the most needed features in today's world. With the LG G4, you are greeted with a gorgeous 2K display, which you can utilize for specific tasks which require multi-tasking! Here are some simple steps to do so:
On any app/homescreen, long press on the back button.
From the given list, select the desired application of your choice which will be your top-most window.
Do the same to select a specific app to fill up the remaining half of the device's screen.
Voila! In this manner, you can multi-task your way out of your LG G4's blissful experience! Some notable applications which might create just the best combo on your G4's screen are the Notes app, and why not a YouTube video playing on the other half of the screen.
That's it for today's guide, have you have tried all of those amazing features out yet? If you happen to be an LG G4 user, please do take out some time in sharing with us something you find really amusing. If you have any queries regarding this article, feel free to leave a comment below.