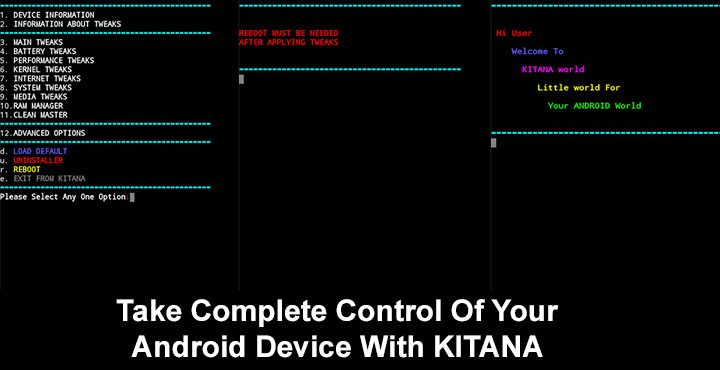 Android is probably the most customizable OS in the world if you just have the know how. That is an established fact thanks to the open source nature of the platform. But being sourced does not directly result in customizability. It just allows other people to take control of the software since they have all the code readily available to them. Those with the knowledge, then, can make adjustments to any elements of the software, visual or non-visual.  It is because of this very reason that there are so many Android mods and custom ROMs. Today, we want to share with you a mod called KITANA that makes it easier for you, the end user, to take complete control over your Android device.
KITANA is a command line based mod developed by XDA senior member tanu548 capable of tweaking various settings on your Android. These include performance, battery, kernel tweaks, I/O and a lot many other tweaks. To use KITANA, you will need a command line tool such as Termux or Terminal Emulator. But before that, you will need to flash a zip file using a custom recovery. Obviously, a rooted Android device is also a must in order to use KITANA.
Requirements
A rooted Android device.
A custom recovery, such as TWRP recovery must be installed on the device.
A command line tool such as Termux or Terminal Emulator.
Also see: How to Fix Google Play Services Battery Drain
Screenshots
Features
Here's a quick rundown of all the tweaks KITANA can perform for you.
BOOST: Drops cache to free up RAM.
FSTRIM: Fixes the trim lag bugs.
BATTERY CALIBRATION: You should make battery calibration only if you have problems with your device's battery life without objective reasons.
STATS RESET: Wipes your device's battery status.
BATTERY SAVER: Saves Battery without reducing device performance.
DISABLE DEBUGGING: Disables R/W debugging resulting, theoretically, in improved battery & performance.
DISABLE KERNEL PANIC: To avoid the annoying reboot if the kernel is buggy or unstable.
KERNEL SLEEPS : Improves kernel sleeps, saves battery.
DISABLE I/O STATS: Reduces CPU use & save battery.
FLAG TUNER: Good for low ram devices but you can get unstable performance.
MULTICORE POWER SAVE: Can save battery but needs kernel support.
PERFORMANCE TUNING: Fine tunes the device's performance settings. Better performance results in more battery drain.
FPS UNLOCKER: Improves performance, reduces battery usage by enabling a new FPS algorithm.
IN-CALL DELAY: Reduces the call delay to received or end a call.
IMPROVE RENDERING QUALITY: Improves the graphics, but results in more battery usage.
GPU RENDERING: Offers better performance at the cost of battery life.
LIQUID SMOOTH UI: Optimized touch pressure scale with a little impact on battery life.
BETTER SCROLL: Improves scroll response & speed.
HEAP OPTIMIZATION: Optimizes heap sizes.
HIGH QUALITY GRAPHICS: Use when your device is in low ram flag mode for optimized visual effects
RUNTIME OPTIMIZATION: Tune Android runtime for better performance.
KERNEL TUNING: The All In One Kernel Tuner for Battery, Balance & Performance.
CPU OPTIMIZATION: Optimize CPU for performance, might result in more battery drain.
SDCARD R/W SPEED: Boosts SDcard speed.
I/O BOOST: Boosts I/O for performance & Battery.
I/O QUEUE: Boosts performance at the cost of battery life.
FAST CHARGING: Enables Fast Charging, needs kernel support.
CACHE ALLOCATION: Allocate the amount of ram to be used for cache allocation.
CACHE RECLAIMING: Control the tendency of kernel to reclaim the memory.
WAKE CONTROL: You can enable or disable doubletap2wake and sweep2wake but this needs kernel support.
OOM KILLER: Improves performance when system is out of memory.
NET SPEED+: Improves Download/Upload speed at the cost of battery.
TCP TUNING: Boosts data transfer.
GOOGLE DNS: Changes Public DNS to google DNS.
RIL TUNING : Improves mobile data transfer.
IMPROVE BROWSER SPEED: Improves browser speed by buffering. Small buffer is good and stable while large buffer offers performance thus obviously depleting the battery faster.
IMPROVE VIDEO STREAMING: For smooth video surfing.
IPV4 & IPV6 SUPPORT : For ipv4 & ipv6 support.
FAST DORMANCY: Increases network speed but if not supported by network operator it can simply result in battery drain without providing any advantages.
YouTube TUNING: Enables watching high-resolution videos from any devices but some devices might become unstable.
DISABLE SYSTEM LOGGING: Stops logging and logcat and should result in a better battery life.
DISPLAY QUALITY: Improves the display quality using a special binary.
TOUCH IMPROVEMENT: Increases touch sensitivity at the cost of the battery.
DISABLE BOOT ANIMATION: Disables the boot animation for fast reboot.
REMOVE ADB ICON: Removes the adb icon from status bar when connected to adb.
LOCK HOME LAUNCHER IN MEMORY: Keeps the default launcher in memory but results in battery drain. The developer says he's working on a fix.
BLACK SCREEN FIX: Fixes the black screen issue after a call ends if you have one.
KILL MEDIA SERVER: Kills just the media server.
KILL MEDIA SCANNER: Totally disables the media scanner. Results in a better battery life but you will have to restart the device every time you want to see your newly added media in your music player, gallery, etc.
START MEDIA SCANNER: Needless to say, restarts the media scanner if you've disabled it.
CAMERA CAPTURED QUALITY: Increases camera, and flash light quality, in theory.
LOW MEMORY KILLER: Lets you control the RAM management on your device to some extent.
LOW RAM FLAG: Can save battery but you can also get unwanted problems.
ZRAM: Good for low ram devices but can make the device slow, needs kernel support.
KSM & UKSM: Good for low ram devices but might drain the battery, needs kernel support.
CLEAN MASTER: Free up device space by wiping data & cache partitions.
GOOGLE ASSISTANT: Enables or disables Google Assistant.
PARTITION REMOTE: Remounts all partitions for performance, only for EXT4 users.
SCHEDULE TUNING: Can Increase performance & battery life.
SDCARD R/W FIX: Fixes SDcard r/w problems.
ENTROPY GENERATOR: Improves r/w performance but can kill battery.
ZIPALIGN : Improves speed & performance.
SQLITE OPTIMIZE: Optimizes sqlite databases for performance & speed.
CONTROLER: Lets you change CPU governor, Scheduler and TCP. Changes remain persistent at each boot.
PROFILES: You can choose what kind of settings you want
Download
Must read: Unlock Android Phones If You Forgot PIN or Pattern Lock without Losing Data
How to install
Download the KITANA flashable zip from the link above and transfer the file to your device's storage.
Boot your device into recovery mode.
Select Install in the TWRP main menu and select the KITANA flashable zip.
Swipe at the bottom to flash it.
Tap on the Reboot system button that appears at the bottom.
To some, actually many, a command line tool might sound too complicated. But using KITANA is not complicated at all. Once you have it installed, launch Termux (or Terminal Emulator). Enter the commands given below, one by one to launch KITANA.
su
KITANA
Beyond this, you never have to type anything but the numbers corresponding to the option you wish to select. It's more like the USSD code based services your telecom operator provides. Keep in mind though that these settings can make or break your device so never change something that you don't know about.