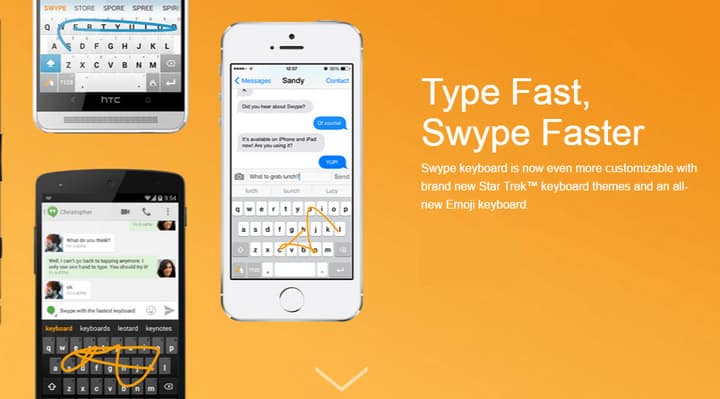 More and more Smartphone users are moving towards gesture typing as it serves comfort and faster typing experience. All you need to do is swipe your fingers through the letters on keyboard and your word gets typed automatically. As gesture typing uses the built-in dictionary and word predictions of a keyboard, spelling mistakes rarely happen.
Tapping is slower and more prone to spelling mistakes than the gesture typing. And that may be one of the reasons why gesture typing has gained more popularity in the last few years that, even manufactures have been providing gesture typing support for their firmware.
Swype was one of the very first keyboard app that kicked off gesture typing into Android world. Swype has gathered much attention with its new typing experience and has over a million downloads in the Play Store itself. Now, Swype has yet again introduced new features with its 2.0 update.
Swype now features an all new Swype Store where you can get new gorgeous themes including Star Trek and more. Swype has also included Emoji Keyboard dedicated just for emoji. The full summary of the update is here.
WHAT'S NEW

v2.0:

Emoji Keyboard

New Swype Store with premium themes featuring Star Trek

New Languages – Lao and Uzbek Latin

Improved auto-correction

Various crash and bug fixes
To get into the Sywpe Store and customize your Swype keyboard, you need to press and hold the Swype Key. Swype's new Emoji Keyboard allows you to quickly browse through hundreds of emoji's and express your emotions visually and that can be accessed by pressing and holding the Enter key to quickly access the new Emoji Keyboard.
Swype lets you customize your keyboard including long-press delay, vibration duration, keyboard height and mini left/right keyboards in landscape mode. With Swype, you can backup your personal dictionary to the cloud and synchronize it with any Android device. So you can access your personal dictionary even if you change your handset.
Swype Living Language feature gives you immediate access to Swype's continuously updated language dictionary and keeps you always up to date with a real-time, crowd-sourced and news derived language model. Hot Keywords feature provides instant access to the hottest words and phrases that people are using at that moment.

Some useful features of Swype Keyboard:
The most powerful language models on the market train your device to learn your unique vocabulary and predict your words based on previous usage, Swype can predict commonly used words and phrases.
Swype supports more than 80 downloadable languages and dialects.
Swype now lets you enter words from two languages at once! Words suggested by Swype will automatically adjust to your bilingual language preferences.
Swype features three unique tablet keyboard designs: a full screen keyboard, a small and moveable keyboard, and a split screen keyboard.
Swype comes with best-in-class voice recognition so you can go hands-free and dictate text quickly with a simple press of the voice key on the Swype keyboard.
Swype supports Android's "Talkback" and "Explore by Touch" accessibility features. When accessibility features are enabled the user's entered text will be spoken back.
Swype sports gesture settings for everyday tasks such as Select All, Cut Copy, Paste and Search.
Swype provides you with fast and comfortable typing experience with all its unique features and thus making your work productive. You can get the app on Play Store with free and paid versions.